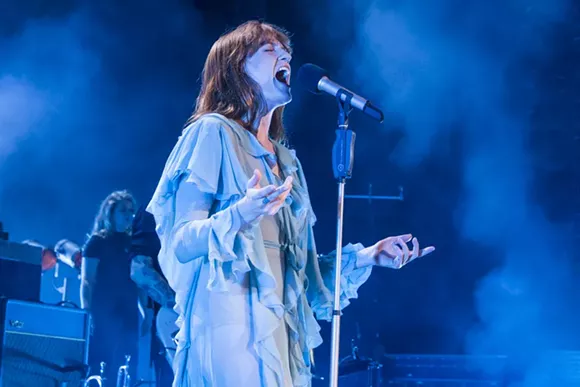 This post was supposed to happen yesterday, the day after Florence + the Machine's breathtaking show on Saturday night. This post was supposed to recount the joy that I felt Saturday night, along with about 15,000 other people at DTE Music Theatre. This post was supposed to be about love, about music, about life.
And it still is.
While I woke up to the news of the horrific shooting in Orlando on Sunday and felt unable to write, unable to anything other than sit in shock, I started seeing some friends' posts on social media and they reminded me of something Florence told the crowd during the show.
Before launching into a beautiful cover of The Source's "You've Got the Love," she told the audience to take all of this love that was present in the amphitheater and spread it out in the world. That love is the only way that we can make change in this world. That love will see us through. It was really hard to put a smile on my face yesterday, but remembering the feeling I had during the concert gave me a little bit of hope. It made me feel a little bit of peace amidst this ever-increasing chaos.
So other than making me feel love and positive energy — lead singer and true Goddess Florence Welch was truly captivating and magical during her show Saturday night. Opening with the ethereal "What The Water Gave Me" from her 2011 album
Ceremonials
was the perfect opener to let Florence's vocals and mystique creep up on the crowd, most of whom were seeing Flo for the first time since this was only her second show ever playing in the Detroit area.
Her set continued on with songs from her latest release
How Big How Blue How Beautiful
and before performing the title track she told the crowd (very politely) to put their phones away and enjoy the moment in real time. This is something other artists have begun to do as well, and it's a trend that I hope picks up speed.
Yes, it's fun to share videos and photos so you can remember that chunk of time (or maybe you wanna create that epic Snapchat story), but staring at a phone trying to capture a moment is ultimately an empty action. Sure, you can see what happened but you can't feel it. The joy I felt during the show cannot be encapsulated in a 10-second blurry video, and you can't get that raw and emotional bliss from staring at a band through the screen of your phone. You simply can't.
The show ended with an explosive "Dog Days Are Over" that had all of DTE jumping and twirling articles of clothing in the air per Florence's request. After a loud as hell encore break, Flo and her Machine came back on the stage to give us pure rock energy with "What Kind of Man" and "Drumming Song." It's like the entire crowd was exercised by Florence's spell and we all left feeling a little bit magical.
Florence Welch isn't the first woman to do this (yeah, I'm looking at you Stevie Nicks), and she won't be the last. Saturday's show was my fourth time seeing her perform, and I've never seen a crowd so loud and excited to be there.
So today, in somber moments, I remember what I felt that night and urge all of us to savor those moments we're granted and spread them, to spread love everywhere we can.