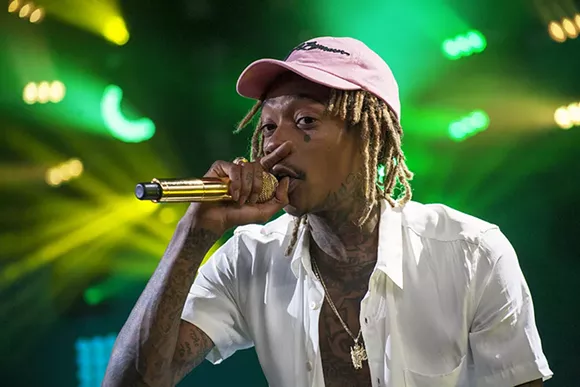 WHO: The Boys of Zummer Tour starring Fall Out Boy and Wiz Khalifa
WHEN: Friday, July 10, 2015
WHERE: DTE Energy Music Theatre
Over this past weekend, music fans of metro Detroit were able to have their cake and eat it too. The Boys of Zummer Tour starring Fall Out Boy and Wiz Khalifa with special guests Hoodie Allen and MAX brought out the pop, rock, and hip-hop crowds, and everyone in between. On Friday night, DTE Energy Music Theatre became much more than an amphitheater. It served as a catalyst for breaking down the genre barrier.
During a pre-show conference call, Pete Wentz, bassist of Fall Out Boy talks about merging genres and having a show that lets fans just have a good time. And that they did."... One of the things that we think is interesting or are out to prove is that genres just matters a lot less now. Like Wiz is a rockstar. You know what I'm saying?" he said. "People love songs. I think the same people that love 'See You Again' would love 'Centuries,' you know? I think that's really important to us."
Hitting the stage first was alternate hip-hop artist Hoodie Allen, who served as the perfect warm up. His punk-like rap style helped bridge the gap between rock and hip hop. Then there's MTV's 2015 Artist to Watch, MAX who hits the stage with all the energy and passion you'd require of a new artist. During my interview with MAX, he spoke about his unique sound, saying "I'd like to think it's sort of soul-pop with rock 'n' roll influences. Whenever I do something in the studio I like to think of what it would be like performing it live and the energy of that," he said. "A lot of influence from the old school soul world like James Brown, Michael Jackson, Etta James and Prince. On the other side, I really like Billy Joel, Justin Timberlake, and Bruno Mars."
On Friday night, MAX certainly delivered singing his YouTube hit
"Gibberish."
Whether you knew all the lyrics or not his performance style was infectious. "I do a little bit of splits, some dancing and jump around a lot. I try to get the crowd involved right away," he said. If his album dropping in the fall delivers half as well as he does as a performer his fans and supporters will be pleased.
Khalifa also spoke of his influences and what inspired him to have a live band during the conference call. "Some of my favorite bands are Queen, Journey, the Police. I love Bob Marley and the Wailers, Red Hot Chili Peppers, and System of a Down," he said. "A lot of people who just really rock it live and kill it. I'm a huge George Clinton fan when you say funk music and Frankie Beverly and Maze. Yes I'm heavily inspired by live music and the band aesthetic."
Khalifa hits the stage and takes everyone from amped up to laid-back and chill real quick (in a good way). It's a strange yet natural vibe, the fans are excited and seeing a hip-hop artist with a live band is refreshing.
He wizzes (pun intended) through a slew of hits like "Black & Yellow," the Snoop Dogg collab "Young, Wild & Free," "Roll Up," and "Work Hard, Play Hard," which he turns into a crowd chant. He ends, of course, with his Billboard No. 1 for 12 weeks from the
Furious 7
soundtrack, "See You Again." I don't know if it was the huge inflatable joints bouncing around in the crowd or shirtless Khalifa but his set had charisma.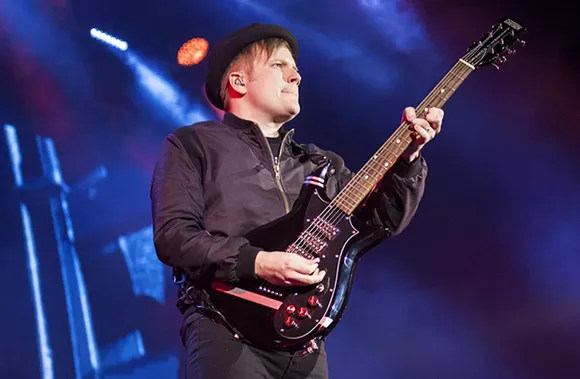 By the time Fall Out Boy hits the stage, you feel as though you've already seen a full show and have had a total experience ... but there's more. The band opens with one of their older hits, "Sugar, We're Going Down." If there was a person in the audience not singing these lyrics it's safe to assume, they literally did not have the ability to. It's one of those mainstream records that everyone knows. EVERYONE. Full, widescreen video backdrops and lighting special effects were cool but all the band needed was there non-stop talent and hits that has spanned well over 10 years. They delivered "Uma Thurman," "Centuries," and "Irresistible" off their six studio album,
American Beauty/American Psycho
. Closing the show with "Saturday" was the only disappointing part of the evening because now the fun's over. But definitely nothing for any of the artists to feel sorry about.
PHOTOS: Wiz Khalifa and Fall Out Boy perform at DTE Energy Music Theatre