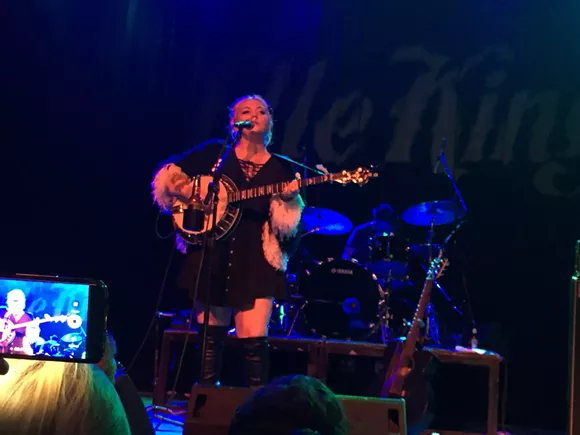 Elle King was definitely not above the influence but made up for her lengthy, alcohol-induced monologues with large amounts of stage presence and an attitude that screamed "it's my show and I will do whatever I damn well please" on Wednesday night at the Majestic. Despite the audience being really big on recording her every move on their phone, King came to party and wouldn't let a few distracted souls break her spirit. If it wasn't obvious from her beer and coaster attached to her mic stand, her "HAVE A GOOD TIME ALL THE TIME" tattoo on her thigh told the Detroit crowd she was here to do a rescheduled show how she wanted but also put on one hell of a show.
As audience members from their mid-twenties to mid-forties filled the medium-sized theater, many stopped at the bar in the back because they were not about to experience this show sober. Even veteran Elle King fans who knew it was best to have a few drinks in them to really get into her brand of alt rock did not know what was coming.
As the opener Horse Thief took the stage, a million assumptions were made. If you are opening for a Southern rock singer, your name has the word horse in it, and the lead singer is wearing a jacket with fringes, you can basically assume you are in for a trip to Bob's Country Bunker from
the Blues Brothers
. However, Horse Trio was not that. Whether I would have preferred the prior is still up in the air, but the interesting cross between Kings of Leon and Passion Pit piqued the interests of a small part of the audience. Props to the synth for bringing the band out of a Texas rut. After a cover of "Rebel, Rebel" honoring David Bowie and other musicians that left this world too soon in general, Horse Thief left the stage and essentially warmed up a buzzed crowd.
Elle King exploded onto the stage after a short intermission and immediately translated her energy to the crowd. With a triumphant "WHAT THE F*CK IS UP DETROIT" (trust me there was more of that theme to come), King had the audience in the palm of her hands that were probably wet from the beer bottle she took swigs from between songs. When she wasn't playing the hell out of her acoustic or picking a banjo that she learned to play because she "saw a hot guy playing one," she was strutting around the stage and laying in front of lucky front row audience members. If you haven't had the privilege of seeing her live, expect a sailor mouth no matter where in the country you are. Some may say it sounded like she was insulting the audience but I stand by the opinion that it only reinforced her headstrong attitude that is rarely seen in the mainstream music scene.
Speaking of mainstream, King's recent Canadian and eventually US hit "Ex's and Oh's," the song that was arguably the least musically complicated of the night, made the crowd jump and look like a wave pool at a water park. Other tracks off her recent album "Love Stuff" such as "Song of Sorrow" and "Under the Influence" reached the die hards but banked on the newbies to search her on YouTube when they got home. King did not leave that concert without at least half of them becoming larger fans.
As the night went on, King continued to exude personality and individuality by constantly changing the set list and screaming "skip that slow one, I want to party." At some points I couldn't tell if her band (which was excellent and tight) was starting to get upset or just desensitized to this since it was a common occurrence. However, King brought an abundance of covers to make up for long interludes of storytelling and telling people from her past to stick it where the sun don't shine. Her famous cover of "My Neck, My Back" made an appearance and watching middle-aged white dads scream the lyrics made my night. A mashup of Nick Jonas' "Jealous" and the Weekend's "Can't Feel My Face" with a southern twist created a craving for a studio version that we know will never happen. Finally as an encore, King busted out all the lyrics to "The Real Slim Shady" by Detroit's own Eminem and made jaws hit the beer covered floor.
As King proved, she is definitely not America's sweetheart. But we'll take her over any fake, bubblegum pop princess any day of the week.