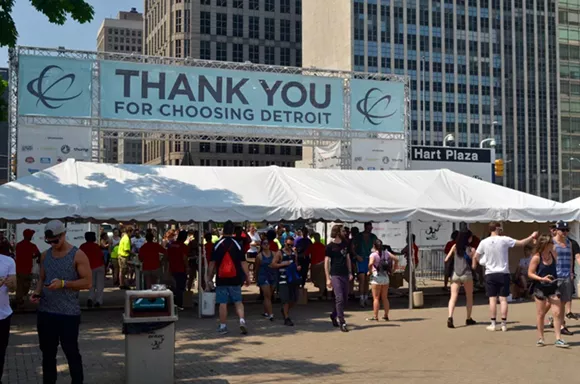 A Movement Review or: How I Learned to Stop Worrying and Love the Techno Bomb
We sent Julian Kendall — a talented local DJ who you might have met as he works at Hello Records, and is super friendly and knowledgable — to Movement for the first time. This is his report back.
Instead of trying to cover everything I saw, I thought it would be best to just focus on the first day, Saturday, where my perspective was new and fresh. This also was the day were I thought the music was the strongest.
It all started around 4 p.m. My first thoughts walking around was that Hart Plaza is kind of the perfect place for this big festival: the outdoor architecture works really well with the different stages, and the views of the city are really beautiful. As I walked around in a weird maze of suburban freak day ravers and constant booming bass, it made me think about the space in a different way than I was used to.
The first stage I hit was the Red Bull stage, for part of Kyle Hall's set; it was solid, but the area felt a little to big for me and I felt out of place. So I left to explore. After a little confusion and bumping into people, I made my way over to the "Opportunity Detroit" stage where local label Interdimensionnal Transmissions had taken over for the day.
I had really wanted to catch Scott Zacharias' set, but had missed it. I also meant to catch some of the other sets at different stages such as Dam Funk that day, but with a really solid line up and cozy canopy stage with trees in the shade, I pretty much stayed at the IT Stage the entire time I was there.
When I got there, Mike Servito and Derek Plaslaiko were playing a back-to- back set and it instantly captured my attention. The sound wasn't the best over at this stage. It had way to much booming bass, which at times really distracted from the sound, but nonetheless the quality of the music made up for it. They played what I would describe as a lot of classic WBMX-era Chicago house tracks with a lot of acid bass lines, hip-house vocals mixed in with some newer music that fit in nicely. Their track selections were on point and they did an amazing job playing back-to-back. It felt very natural, and I really thought they did a way better job than all the other generic house/techno DJ's I saw playing through out the festival.
After that were sets by Bath House Etiquette and Secret Mixes Fixes label honcho Gay Marvine — perhaps the best edits labels hands down?; Carlos Souffront — who has a better ear for mixing records than Carlos?; and Ectomorph — who has crazier synths than Ectomorph? They all played really excellent sets that made the price of admission well worth it.
Claude Young, who played last at the IT stage, was also amazing. In my book, he's a really overlooked Detroit legend, and this was my first time being able to see him play. He's such a good mixer and can do DMC scratch style quick mixes for days, perhaps in some ways similar to Carlos Souffront's mixing style where you are switching records quickly and dropping tracks and not being worried about perfection and correcting the pitch as you go along. This is what I would call a very Detroit style of mixing records, and his set was about as close as you you could get to trying to understand what Detroit techno is all about.
After all this, it was time to see Kraftwerk. This was my first time being able to see them, as I missed then when they played the Masonic Temple last year. I've been a big fan of Kraftwerk since high school and have most of their albums, and have played them to death. Their influence on the Detroit music scene and popular music in general is huge, and most people can gauge what a big deal them coming to play in Detroit is. As I walked over the main stage, it was beyond packed, and there was a lot of excitement and anticipation in the air. I didn't have 3-D glasses, but a nice person gave me theirs.
They started off with "The Robots," and proceeded to play a lot of their classic cuts such as "Numbers," "Computer World," "Man-Machine," etc. About 20 minutes in, I started to feel really claustrophobic and wasn't very into it. I felt that having Kraftwerk play at Movement wasn't the best environment to experience their music, and that the Masonic Temple show was probably ever so slightly more personal and intimate. I'm glad I got to witness the spectacle, but did not think it was essential to stick around and the see the whole thing through. I decided to beat the crowd and leave for the night.
I returned the next day to see The Black Madonna (who played a great set, after some initial technical difficulties), and didn't make it back on Memorial Day. Saturday's lineup had the most cohesion for me, and made the journey worthwhile.