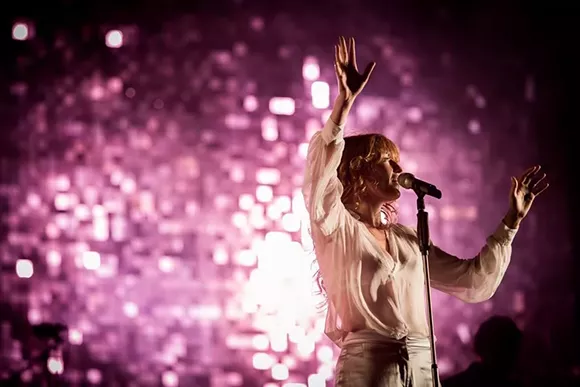 It's not every day that we are graced with the presence of part-human/part-creature from another galaxy Florence Welch and her wonderful Machine. Luckily for us mere mortals, tomorrow, June 11th, Florence + the Machine will take the stage at DTE Music Energy Music Theatre to put a spell over all of metro Detroit.
Take it from a guy who has seen Florence three times before (safe to say I'm slightly obsessed) you need to do yourself a favor and go to this show. Welch is so much more than a singer and performer — she is out of this Earth. The music completely consumes her and she becomes almost animalistic when she is on stage. Her voice wails over the crowd and you are mesmerized the entire time. It's one hell of an experience.
Another reason to absolutely love Florence + the Machine is that they are quickly pushing their way to being a top-billed festival headliners — and an important one because there is a serious lack of female artists that headline festivals. Just look at this year's
Austin City Limits lineup
where the first band fronted by a women is Haim and they are the twelfth artist on the lineup. And it's not like there is a lack of ladies worthy enough of headlining a major US festival (Beyoncé, Rihanna, Madonna, Lana Del Rey, Sia, Robyn, Ellie Goulding, Fleetwood Mac, Nicki Minaj, Missy Elliott, Patti Smith, Alabama Shakes, Blondie, Sleater-Kinney, do we need to keep on going?). So keep on killing it Florence!
Florence's latest album
How Big, How Blue, How Beautiful
came out around this time last year to fantastic reviews and is in the midst of touring the album. The last time Flo played in Detroit was at the Fox Theatre in 2012 (!!!) so she is well past due for a show here and we can't fudgin' wait.
Icelandic folk-rock band Of Monsters and Men are opening up for Florence. While Björk may be our favorite Icelandic singer forever and ever — Of Monsters and Men are a very close second.
Doors open at 6 p.m.; 7774 Sashabaw Rd, Clarkston; Tickets range from $35 in the lawn to around $90 for under the pavilion.