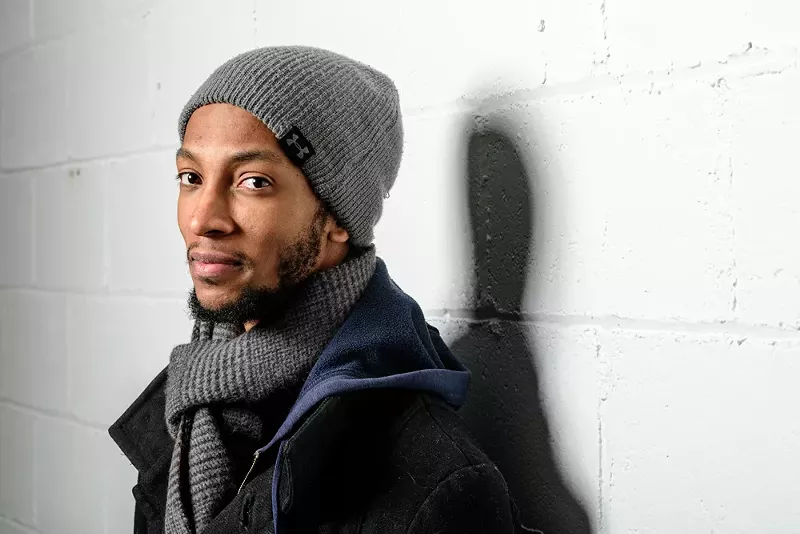 Jazz need not intimidate, and the emotive music of Marcus Elliot makes for one fine introduction to its healing, transformative powers.
The 27-year-old saxophonist, composer, and educator has been honing his skills since the tender age of 14 — when he began giving private saxophone lessons!
In the decade-plus since, Elliot has already accomplished so much, including a regular weekly gig at jazz club Cliff Bell's with the Marcus Elliot Quartet, which marks its final performance this month. He's played with everyone from local legends Marion Hayden and the late Marcus Belgrave to Tribe Records co-founder Phil Ranelin to hip-hop artist Talib Kweli; an ongoing engagement as director of the Detroit Symphony Orchestra's Civic Jazz Band; his current role as a graduate student instructor at University of Michigan teaching a course on beginning improvisation, as well as directing an ensemble there; and two releases, 2010's Looking Forward and 2015's When the City Meets the Sky.
Now, Elliot is preparing for his latest recording, which you may recall we were looking forward to in the spotlight on him in our own roundup of Detroit acts to watch in 2017 in January. The EP is called Sonic Refuge, and it consists of five tracks crafted over the course of a couple years, ideas that were explored and perfected during the Cliff Bell's gigs with his quartet.
While the month leading up to the final performance has been augmented with various guest performers (such as the aforementioned bassist Hayden, as well as saxophonist Diego Rivera, trombonist Vincent Chandler, and trumpeter Dwight Adams) the final one will solely feature the Marcus Elliot Quartet. The Quartet includes Michael Malis on piano, Ben Rolston on bass, and Stephen Boegehold on drums — a fitting tribute to the experimentation with expression they have been engaged in together during their four years at the venue. "We're going to go out the way we came in," Elliot explains with a laugh.
Elliot's jazz soars with poignant affection for the craft involved in both composition and improvisation, and Sonic Refuge captures it all in stunning clarity. It's hard not to pick up on the genuine love and trust the performers have for each other, as well as for the music itself, when listening to these tracks, three of which were written by Elliot ("Observer," "Amphion," and "Rhodes"), with compositional contributions from Malis ("Unity") and Rolston ("Are We Children Yet?") as well.
Appropriately, the EP is set to be released at the end of the month, coinciding with Elliot's final gig at Cliff Bell's. Elliot is quick to add that he is not leaving for any other reason beyond the fact that it is simply time for him to move on. His mindset has always been about growth, and the only way to grow as an artist, he explains, is "to let certain things go." Not all transformations are pretty, but that's a chance you take, and it's one that he feels is worth it. With the release of Sonic Refuge, Elliot is ready to take that chance.
In celebration of both the EP — Sonic Refuge will be available on any and all platforms that stream music, but your best bet will be to grab it from the Marcus Elliot Quartet's Bandcamp page when it comes out at the end of May — and his final Cliff Bell's performance, Metro Times spoke with him about what the future holds, what it means to come out of the jazz continuum, and more.
Metro Times: What does the name Sonic Refuge mean to you?
Marcus Elliot: One of the greatest things about playing with the quartet every Tuesday is that it has always been a place of refuge. We know that however crazy that day has been, getting there and being able to play with each other has been a place of shelter and serious healing.
MT: Did you know when you were writing these songs that you were going to put them on an album together?
Elliot: No. They were just ideas. That's how I look at a lot of the compositions; they're no more than ideas. We were fortunate enough to have a place to exercise those ideas. We present an idea, work through it, and see where we can take it.
MT: In terms of the style on Sonic Refuge, there's definitely a post-bop feel — how would you describe the sound?
Elliot: Instead of labeling it, where I'm coming from as a musician is definitely out of the jazz continuum. I've studied a lot of bebop, post-bop, as well as classical music, especially 20th century and late 19th century composers, and I have spent a lot of time with R&B, funk, and hip-hop, [as well as] singer-songwriter music. I look at my music as a combination of a lot of those things. With the instrumentation, it's clearly coming out of a jazz continuum, especially post-Trane or your classic quartet of saxophone, bass, drums, and piano. I would be lying if I said those things hadn't informed me on a deep level.
MT: Jazz continuum, that's a great way to put it.
Elliot: The first person I heard use the word continuum was Anthony Braxton, and I really liked that. If you try and talk about the music, and you talk about one specific thing, then you're disconnecting it from what came before it and what came after it. That's just not how anything exists, really, but especially music. It's important when we talk about different traditions or genres, that we talk about the whole story. Especially music like we do that's improvised, where the tradition is based in innovation.
MT: Is there anything else you would like to add about the new EP?
Elliot: It's a snapshot of what's happening right now, and that's all a recording can ever really be. ... I'm still growing as an artist and so are all the musicians in the band, and I'm really proud of this project, but whenever you take a picture of anybody, the next day, they're in the process of changing. There's much more to come, I have a lot of projects in the works, and I'm excited, but I feel this is definitely a closing of a specific chapter of my life. I've been doing the quartet for over 10 years. It's great and I love it, but it's time for me to express myself in different ways. I'm not saying the quartet is done; we will continue to grow, but there will be other ways you will see me expressing myself.
MT: Tell us about some of your other projects.
Elliot: Coming out this summer will be a project I have been working on with a very close colleague of mine, Michael Malis [the quartet's pianist]. We call [this group] Balance, and we will be releasing a full-length, self-titled album sometime in July. With Balance, we both write music specifically for us as a duet. I've been playing with Michael since I was 15, so we've really come up together through the scene and community. I'm really excited to keep working, growing, and making music with him.
MT: Do you have any specific long-term goals?
Elliot: The next thing I see myself doing is lighting other people's fires. I'm still young, but one thing that Cliff Bell's has done is that younger musicians have been coming in. I've always been a person looking up to people, and at the end of this, I have a whole generation of musicians that are now looking up to me. At least for now, the long-term plan is that I'm going to be here in Detroit, and I want to make sure that I'm helping out my community of musicians. There's so much music education for people in high school and college, but then people get out of college, it's just like, "OK. Here I am."
There's not a lot of support there, and in a way there shouldn't be, because at that point you need to be doing things on your own. But I've learned a lot in these past eight years of being out here on the scene, creating specific habits and some sort of financial plan, all the nuts and bolts. I would like to be able to share that with younger musicians in their early 20s who are just getting started and trying to figure this out. When you don't have a support group, it can really be a lot to take on. I'm not trying to start some kind of program, but I want to be here for people who want to take the next step.
MT: How do you see the role of the musician in the community?
Elliot: That's something I think about a lot, especially right now — how do you see it?
MT: This applies to artists of all kinds; they see what's going on, and they interpret it. They are able to share that with the community, and maybe it's easier to understand sometimes when it's in a song, or something you can feel, but it's a way of sharing with each other, and learning.
Elliot: That's how I feel too. There is a certain level of clarity that artists have, because we're always chasing after this truth, if you will, or light or God or whatever you want to call it. We're constantly digging for that. That thing that we're digging for is something that a lot of people, for whatever reason, may not necessarily have a chance to contemplate.
MT: On a broad level, can you speak to the difference between composition and improvisation?
Elliot: There's a great quote from the saxophonist Steve Lacy: "There is a music that must be composed, and then there is a music that can only be improvised." [On the EP], there are these forms and structures that we've created, and we are using them to guide our improvisations, but every time you hear us play them, they're going to be completely different because of the improvisations, or the x-factor, which is a Faruq Z. Bey term to refer to the factor of chance, of opportunity that's there for [the music] to go wherever it wants to go. That's why it's so much fun. That's why I love doing it. You just never know what's going to happen.
MT: How has the legendary Detroit saxophonist, composer and leader of avant-jazz group Griot Galaxy, Faruq Z. Bey, influenced you?
Elliot: I have a book of his — Toward a "Ratio"nal Aesthetic — that has been very helpful. One of the biggest things that I've gotten from Faruq comes from another quote: "The only real and viable form of discipline is self-discipline. All else, no matter what the ostensible justification, is oppression." In his music, you hear a level of discipline that is out of this world, but you also hear a level of freedom that just knocks you on your ass. That's what I hear in Faruq, that's what I want to do, and that's what I want to share with other people.
See the final Marcus Elliot Quartet performance at Cliff Bell's on Tuesday, May 23; music at 8 p.m.; 2030 Park Ave., Detroit; cliffbells.com; $10; reservations are available and encouraged.
Sonic Refuge is due for digital release at the end of May; look for it at marcuselliotquartet.bandcamp.com.