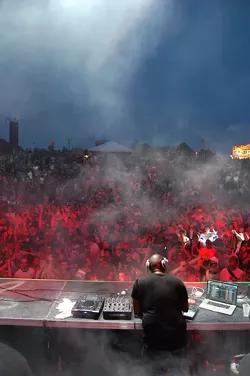 When Kevin Saunderson, along with his Belleville, Mich. buddies Derrick May and Juan Atkins all but invented the genre of techno music in the mid-'80s, the idea that he might be one of the most respected electronic musicians in the world — that he'd be one of the main attractions at a Detroit festival attracting people from all over the world and performing on the same bill as his son — must have seemed a long way off. Time, Saunderson told us, goes by quicker than you think. "It wasn't even a thought, a reality," he says.
However, that is the reality. At this year's "Movement" festival, the senior Saunderson and longtime friend May will team up to headline the Red Bull Music Academy Stage on Monday evening, May 27; earlier that day, at 2 p.m. on the Made in Detroit Stage, progeny Dantiez Saunderson will perform. Not only that, but the two Saundersons are currently working on a track together. Time really does fly when you're a world-renowned producer and DJ — and father.
Kevin Saunderson is excited to see his son perform at a festival they have seen evolve over the years. "It went from being a free festival to a paid festival, different producers and now with Paxahau," he says. "It's [changed] because of time, technology and the number of kids who get into it every year. It's grown, and it's not just local talent but it's one of the top international festivals. The production has grown a lot, too, from the beginning to where it is now. The evolution is positive because it's still going. People come out and the city makes money off of it, the local businesses. People get to experience music with no problems and see the local heroes as well as the outside talent."
As for performing on a bill with his son, Saunderson says the boy has evolved with the festival too.
"He's been coming since he was a little kid," Saunderson explains. "He's grown with the music scene and eventually decided to DJ and produce, too. You never know if kids will follow the parents' path. I think it's very cool that he has the opportunity to play the festival. Hopefully he'll have as long a career as I've had."
Dantiez Saunderson, 21, is understandably excited to be performing at the event. "After watching Dad, Derrick and Juan for all these years, because I went to the first Movement/DEMF, I'm very excited," the younger Saunderson says. "I had to be about 8 years old [at the first Movement]. I was dancing. I didn't know what was going on but I was dancing. This year, I'm going to start slow and pick up the energy as I go on. Start with house, then go on to tech-house, then finish with some techno, something a little harder, more upbeat. Take you on a little journey."
The pair is also working on a track together. "I'd started working on something that he pulled up on my old computer, and added some stuff to it," says Kevin. "We have the track together. We have a bunch of people making music around here."
"That should be a big tune," adds Dantiez. "He's been pretty busy and hasn't had an original tune in two or three years. My mom on vocals, one of the singers from Inner City, so it's a father/mother/son collaboration, which is pretty well unheard of."
Some might consider that a mildly risky move by Dantiez, who is having a tough enough time stepping out of his father's shadow. "It's a blessing and it's tough at the same time," the younger Saunderson explains. "You get people from two ends of the spectrum. There are the people that look at me as just 'Kevin Saunderson's son,' who has everything given to me. Then there are the people that know you've been around the scene for a while. Even though I wasn't always making music, I entered the scene at a young age. I have my own style and I'm working on creating my own image for myself."
Kevin Saunderson moved to Chicago a year ago, but he keeps a keen eye on what's happening in Detroit. "I still have my label [KMS] and I have a few tracks from Detroit people, including the nephew of Juan Atkins (DJ Aaron Atkins)," he says. "I'm very in touch with Detroit. I was just in Ferndale playing at the Grasshopper. It's still home. Every now and then, I've got a couple of spots I like to drive to in Belleville. I always drive by my old house, check out the high school. It's not really special, it's just the town I grew up in as a teenager, played sports and did a lot of fishing. It's where I met Juan and Derrick too. It happened because it was supposed to happen."
That lingering affection for his hometown and its surroundings is what keeps Saunderson coming back to Metro Detroit, and it helps maintains his popularity here. So what can we expect from his Movement set?
"I'm playing with Derrick May so we're going to be doing tag team," he says. "Four decks, multiple effects and loops, and all kind of great Detroit music and music from around the world. We'll be feeding off each other and giving a lot of energy, which is what a techno DJ should be doing. We work good together. It's not often that people get the opportunity to see us play together on a stage at the same time."
Kevin says that, while his music has evolved over the years, he hasn't been overly influenced by the multitude of electronica sub-sub-genres that apparently pop up every 20 minutes.
"My music is just what I do," he says. "I just make music that I feel people can dance to. I obviously have my different aliases, but in general all of my stuff connects in one way or another. I'm not against any different styles. Being creative is being creative."
Dantiez, who only started making music about eight months ago, is more specific regarding his own sound: "There's definitely a Detroit influence with a lot of upbeat energy. Mostly tech-house, house and techno. It's got a few different faces. I don't have one particular style. You can definitely hear Detroit in it, and lots of energy."
Meanwhile, Kevin has some exciting news regarding his chart-topping band Inner City. "We are working on some new material," he says. "We just did a tour of Europe, and actually we have to go back over there and do a big festival. It's been 25 years since Good Life came out, so we're working on some 25-year-anniversary remixes."
Saunderson Sr. says that he plans to spend the remainder of the year on tour following the conclusion of Movement. "I'll tour the whole summer," he says. "Every weekend I'll be somewhere from Ibiza to Amsterdam to you-name-it."
Dantiez has similar plans. "Working on tour dates and shows, and I'll keep everyone posted on those. Production too."
A chip off the old block, then.
Kevin Saunderson and Dantiez Saunderson both play the Movement Electronic Music Festival, which takes place at Hart Plaza in Detroit May 25-27. For more information, visit movement.us.