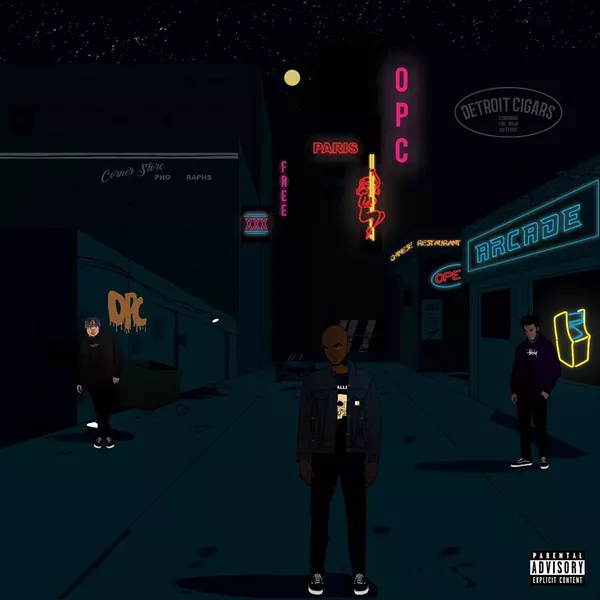 When you meet Sam Austins, it's not unlike meeting a celebrity — you feel his presence as he walks into the room, he greets you with a warm, welcoming charm, and he always has something profound to say. It's hard to say that this level of charisma is uncommon for a burgeoning artist, considering how many younger pop stars have emerged over the past few years, though it's safe to say that Austins could easily find company in that crowd.
It should be noted that
Out Past Curfew
is not exclusively Austins. The five-track EP was created together with John Groves III and Zips, and while they're credited most prominently as producers, they also rap on every song. "They helped crafted the idea that is
OPC
and without them, none of this would be created," Austins says.
Out Past Curfew
arrives two years removed from the first solo release from Austins, the
GOAT
EP. Listening to both releases side by side, you can recognize the pattern in mood that connects the two, while also appreciating the sense of direction that has been established. "I think OPC is a more mature project for all of us, in thought process alone," Austins says. "We did a lot of brainstorming when it came to creating this body of work and the packaging, where
GOAT
was more premature and the theme was missing."
This growth is evident from the very beginning. Appropriately enough, the first song is "Start," with Austins, Groves and Zips carving out an introduction that is equal parts unsettling and enticing. Groves' production is dark, slick, and pulls the listener in deep, while Austins lays down stark verses with a no-holds-barred vocal performance. This match is made elsewhere, as the aggressive "Splinter Cell" jolts in with a beat that'll have your head spinning, just a taste of Zips' heavy production. Meanwhile, languid vibes prevail on lead single "No Assist," which sparks with a glowing synth line that emulates the neon imagery of the album artwork.
The true apex of the record is reached with "Dub," the closing song, produced by Zips. The frantic soundscape here doesn't point to self-reflection—this is the musical equivalent of watching life flash before your very eyes, in just over three minutes. "I love
all
of the songs so much but as a group, we all agree that 'Dub' might be our golden track," Austins says. "It just sounds like such a dark, gritty night in Detroit. It also tells a bit more of our story than the other joints on the record so that's sweet."
Austins is involved in Assemble Sound, the collaborative musician residency in Corktown. It is in the many studios of this historic church building that Austins and fellow residents write and record, toiling through all hours of the night to hone their craft. Austins found out about Assemble in 2015, shortly after the release of GOAT. "Garret [Koehler, Co-Founder and General Manager] had followed me and we had short conversation from the Assemble twitter page but I never got to fall through," he says. "Around October 2016, we had got in contact again and I shortly became a resident after. I think I've recorded over 50 songs since then and a good 80% of them sound completely different from anything I've ever done."
Last month, Austins performed at Flint Eastwood's
Broke Royalty
release show at the Fisher Building in Detroit. In addition to singing alongside Eastwood for their collaborative track "Assemble Kids," Austins premiered an onslaught of new material with producer Seth Anderson (aka SYBLYNG), including a brand new track produced by Groves. With tour plans tentatively on hold, Austins hopes to formally release these joints and more in the near future. "We've been knocking away at my debut solo album for quite a long time now and everyone will hear about it relatively soon," he says.
With everything going for Austins and his crew so early in their careers, it's easy to lose your head. Despite being an idealist, Austins remains grounded and carries himself with a level of confidence that will certainly benefit him down the line. "I gotta admit, I'm still getting in the door myself so I'm learning as I go," Austins says. "One thing I can say to all young, inspiring artists is to be innovative and be genuine. Don't be afraid to talk and connect with the people around you. Learn how to become a leader."
Out Past Curfew
is out now digitally, streaming on Soundcloud and Spotify. Be sure to stay tuned for more to come from the trio.
Sam Austins' social media links
(No Facebook)
Twitter:
https://twitter.com/samaustins
Instagram:
https://www.instagram.com/samaustins/
Soundcloud:
https://soundcloud.com/samaustins