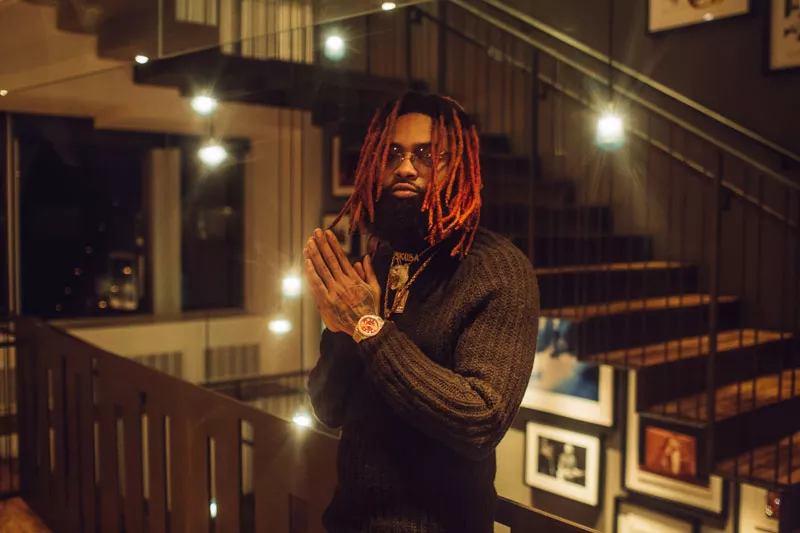 There's no doubt about Eminem's outsize influence in pop culture, especially here in metro Detroit. He's the most commercially successful rapper of all time and the top-selling artist of the 2000s, with 32.2 million records sold. "Lose Yourself" remains a workout playlist staple, "Rap God" is undeniably some varsity-level rapping, and his quasi-autobiographical 2002 film
8 Mile
still
holds up.
But in Detroit, Slim Shady is losing his cache, at least according to up-and-coming rapper Sada Baby.
In
a recent interview
with
Say Cheese TV
, Sada Baby says he wouldn't count Em among the top 5 Detroit rappers.
"No. Out of Detroit? Hell
nah
." he said. "You talking about my Detroit?"
He explained that he felt Eminem's experience was more relatable to suburban listeners than actual city residents. Eminem went to school in Macomb County.
"I ain't know we had trailer parks until I saw
8 Mile
," Sada Baby said. "And I still don't know nobody that know that nigga."
Eminem has been praised by critics for his decidedly postmodern take on rap, but Sada Baby says that at the end of the day his music just isn't danceable.
"Eminem gets to saying some shit that goes over everybody's head," he said. "I might be able to decipher some of that shit, but that nigga's shit going over everybody's head. The females don't know how to shake their ass to it, so they ain't listen to it."
Sada Baby conceded, however, that Eminem would make an "honorable mention" on his "Mount Rushmore of Detroit rappers."
"Just off the strength of
8 Mile,
" he said.
Current Detroit rappers that Sada Baby did give a shout-out to include Big Sean, Blade Icewood, DeJ Loaf, Tee Grizzley... and himself.
Eminem has continued to release music in recent years. His 2017 anti-Trump BET Awards performance
went viral
, though recent efforts
Revival
and
Kamikaze
have received mixed reviews. Many blasted his use of a homophobic slur against rapper Tyler, The Creator on his track "Fall" — including Em's own collaborator on the track, Bon Iver's Justin Vernon, who distanced himself from it.
While Em — and rap music in general — have long resorted to homophobia in lyrics, it seems that many fans agree that is out of step with the times.
Eminem eventually apologized, admitting in
an interview with Sway
that he went "too far."
"In my quest to hurt him, I realize that I was hurting a lot of other people by saying it," he said.
You can read our recent interview with Sada Baby
here
.
Stay on top of Detroit news and views. Sign up for our weekly issue newsletter delivered each Wednesday.