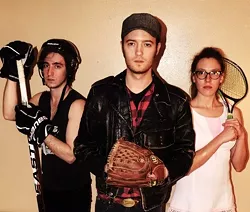 The Satin Peaches, when the band was together and regularly destroying Detroit venues, looked like it could break out of the local scene, a la Dale Earnhardt Jr. Jr. They seemed to have it all — raw, Motor City rock 'n' roll, soulful vocals, progressive instrumentation, and bags of sexual energy. Somewhere along the way, however, the band's label lost funding and the whole plan went pear (rather than peach) shaped.
Ronny Tibbs was one of those affected, seeing a whole lot of hard work go down the pan. Rather than pout and whine though, Tibbs got another band together almost immediately, the 305's, and now he's out and about again. And hey, if the Peaches play the occasional reunion show and call him up, all's the better.
"I was in the Satin Peaches and when that kind of dispersed, I started working on solo projects," says Tibbs. "I was in the Peaches when we got signed, and then I left when we went on hiatus. When the record label kind of started going under financially, obviously the smaller bands felt the shock of that. We stopped getting shows and tours, so it was time to finish.
"Ronny Tibbs & the 305's is basically [me] doing most of the recording and songwriting, and then the 305's has been an interchangeable group of friends and musicians. I think we're on maybe the eighth or ninth members. Last night was George Morris, who I have been playing with since I was 12. We were in the Satin Peaches together. He was drumming last night, and then a friend from middle school, a girl named Jessica Wildman, she's kind of doing her solo stuff too. She learned the songs and helped out."
Tibbs says that the differences in sound between his two bands basically stems from the fact that the 305's is a three-piece, which seems undermanned in comparison to the multi-multi-member Satin Peaches.
"Playing with those guys, the songs were more complex because there were four people writing. It was more of a progressive style of music, inspired by Yes, I would say. When you're doing a solo thing, it's more singer/songwriter. It's hard to write four parts by yourself. In terms of the style, it's rock 'n' roll with a little bit of surf rock. A lot of it was written when I was living out in California, so that might have a bit to do with it. A lot of sun."
The sound might have a bit of Cali about it, but the new band name is all Detroit. "I'm big into '80s cars — for no good reason at all — but the 305 is the engine that's been in three out of the four '80s cars that I've had," says Tibbs. Speaking of numbers, his debut album with this project is called 33. "That refers to the number that I would wear if I was a professional athlete. I'm very much into all types of sports, and especially Detroit sports; if I were graced with height or incredible muscle tone then I would be an athlete. Unfortunately I'd get my ass kicked."
That record basically saw Tibbs working more or less alone at home, playing a lot of everything by himself and using his own computer equipment rather than a studio to create the sound he wanted. So, did he capture the live energy?
"It's going to be a lot different because I'm basically working on the record in my room," Tibbs says. "I have a lot more control over it, but I feel like the live show is better in certain ways because it is a live show and we do it three piece. When there are 17 tracks on a song, we figure out a way to do it three-piece. The record's the record and it sounds good, but the live show's the live show and it entertains."
Fair enough. By all accounts, the band entertained the gathered masses perfectly well at its recent record launch show at the Lager House. "It was great," he says. "It was a really good showing of people that came out. The Handgrenades played and they were incredible. The Loving Touch has turned into a really great venue. It was a good night. I think our best show is yet to come. Playing with these guys has been the best lineup so far, if the shows continue, this is the lineup that's going to have the most success. Obviously Blowout is going to be great. Getting the record done was neat, because it's a copout to say it's on the way or the band doesn't have one right now. I felt like I had to get something accomplished before I could start booking shows."
Getting Ready for Blowout
This year, Ronny Tibbs plays the Blowout Festival for the first time with the 305's, though he has played in the past with the Peaches, and others. "I've played with the Peaches a couple of times, and I played with Mick Bassett & the Marthas," he says. "As long as I'm in town, I've been going to the Blowout, so even if I don't play it's a great time of year. We're gonna do most of this record, but we have a few surprises in terms of covers.
"We did a Pixies cover last night, and with a girl on bass it opens itself up to doing a few more songs like that. Maybe a Yo La Tengo song. I think we'll have a special guest or two. Maybe Jesse Shepherd Bates [the Satin Peaches/Jesse & the Gnome], he always seems to get his nose into everybody's thing. We like having him around. I love the Blowout though.
"I saw Prussia a few years ago and I was glad we weren't going on after them. Millions of Brazilians are insane to watch. My first Blowout I think was '08. I don't think we played that year but it was wild and we partied with Millions of Brazilians all weekend."
For now, Tibbs doesn't have much planned for the 305's besides the Blowout and the album, though he is open to any opportunities that come his way. He is performing with the Satin Peaches at Detroit By Detroit at the Magic Stick, and then he has some personal matters to attend to.
"I'm getting married in June," he says. "That's taking up a lot of time, in a good way. After that, I'll get back and this summer we want to get quality over quantity, booking shows that make a lot of sense for us to play, and hopefully make the most of them."
At this stage it's tough to tell what impact this rough, ragged, yet talented project will have. It might sound as innovative as the Peaches but there's plenty to enjoy in the garage-surf. Surely that's enough.
Ronny Tibbs and the 305's play the Metro Times Blowout.
Brett Callwood writes City Slang. Send comments to him at [email protected]