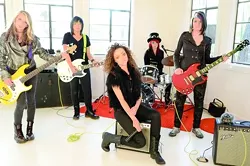 OK, let's get this out of the way at the very beginning — the girls that make up pop-rock band Electric Graffiti are 14 years old. FOURTEEN! Holy crap, most kids can barely get their homework done at 14. (This is likely due to the unholy inability to stop pining over a member of the opposite sex — either somebody at school or the latest pop sensation.) Not these girls. Rather than daydream about Justin Bieber, this bunch of fresh-faced youngsters says, "Fuck that!" (and then probably gets grounded for cussing).
The Rochester-based all-girl band, composed of vocalist Candace Grogg, bassist-vocalist Cecile Herledan, guitarists Izzy Hooper and Rachi Willard, and drummer-vocalist Brooklynn White, found one another in 2010 (when they were 11 years old, for christ's sake), discovered that they held a common interest in making as much noise as humanly possible, and put together Electric Graffiti.
Yes, the band's name is god-awful. It sounds like the title to a bad '80s flick about street artists struggling to keep their local youth center open and so they raise money by break dancing. (Either that, or it's a good name for a Debbie Gibson-inspired perfume.)
In addition, take a look at the picture and you'll see the girls are being a tad overstylized. Attention is being paid to every little detail of their collective image — pretty much the norm for a major label, foppish-pop-diva troupe, but it strikes a weird note for a rock 'n' roll band in Detroit.
But screw all that. Let them do what they want and make every mistake they and their management (their parents) can dream up. Because, the truth is, at 14, there should be no pressure on these young shoulders other than to go on a stage and have a great time playing whatever they want to play. They can sort out the details later, and they seem to be doing just that; and the music they are emitting is, frankly, impressive.
It's not gritty. But neither is it shinier than any of the adult bands smiling on the cover of Alternative Press every month. What the hell would they have to be gritty about at age 14 anyway? No, this band certainly sits a little further on the pop side of the pop-rock divide. What's astounding is the maturity of the sound. This isn't disposable, Britney Spears-esque pap, but rather joyful bubblegum pop that recalls the likes of the Bangles and the Go-Gos. Listen to the single "Nightmare Lullaby" for proof (the video is easily found on YouTube).
Nor are these young ladies slouches with their instruments. They've obviously practiced themselves into the ground.
The two guitarists can riff and widdle forever. Listen to "Sweet Revenge," and you'll hear some pulsing, beautifully restrained bass in the song's intro, courtesy of Herledan, who has formed an impressive rhythm section with White.
Eric Hoegemeyer (Charm Farm, Gold Cash Gold and After Dark Amusement Park) recorded the band's debut EP, Kicked off the Bus, last year at Rustbelt Studios in Royal Oak after seeing them at the Ferndale DIY Festival in 2011.
As a man of impeccable taste, that Hoegemeyer chose to make the band his special project speaks volumes. Kicked off the Bus contains the band's first original composition, "All My Girls," a song featuring a personal verse written by each member. The aforementioned "Sweet Revenge" is a breakup song, laced with sarcasm and the sort of bitterness most teenagers express about failed high school romances. "You want me back," sings Grogg. "Please."
And then there's "Norway," a song about the 2011 mass shooting that happened in that Scandinavian country when a maniac fired randomly on a summit gathering of teenagers. Displaying maturity beyond their years, the girls' lyrics shame people much older than them by highlighting the fact that when crimes like this occur, the name of the murderer is oft-repeated in the media while the victims' names are all-too-quickly forgotten. It's a good point and very well made here.
These girls apparently
have it all:
They are technically proficient and can harmonize beautifully; time is on their side; they can pen a tune; and they have a world-class producer on their side in Hoegemeyer — someone who can guide them in the right direction if they start to drift off course. At this early point in their career, what they are not is a great interview.
That's no great criticism. The two girls we spoke with, Grogg and Willard, know how to play music and pout on stage, but talking about it is still new and will take some time.
(This writer's inner teenager upped and left many years ago. Frankly, it was hard to stifle a chuckle when Grogg said the band's lyrical content is centered around "life experiences," but she's right. Just because they haven't had many yet, doesn't mean the ones they have had are irrelevant or unimportant to them.)
The girls, who claim to be influenced by the Beatles and the Stones, though they also love Coldplay and Muse, say they often struggle to get gigs because bookers don't always take them seriously. While that is kind of understandable, it's a problem they likely won't have for long. Word is getting out and, hey, if they have to play a few libraries and parks first, so be it.
In the meantime, they still have high school to survive and, as many of us will remember, that can be as much a crucible as tests administered by the teachers. Willard tells us some of their classmates like what they do, but "some are not so nice, but whatever."
Whatever indeed. The girls might get a bit of a hard time from some of the less intelligent around them. They are putting themselves out there, climbing up on stage and allowing themselves to be critiqued. It is perhaps a braver move than they realize.
If they receive a few digs from classmates, it's because those people are secretly envious of the attention. They wish they had the courage and the talent to do what the girls in Electric Graffiti are doing.
It is that talent which earned the girls a slot at this year's Blowout, performing in Ferndale during the festival's second weekend. Unsurprisingly, the girls haven't been to Blowout before, either as performers or as attendees, but they are excited — and should be.
This is where it gets serious. The daytime shows and glossy video shoots are nice, but it is when faced with a hardened festival crowd, used to quality after quality, that things maybe do get gritty real fast. These girls are up to the task though, of that we are sure. So leave any preconceptions in the car and allow yourself to enjoy pure potential.
Still, girls, have another think about that name.
Electric Graffiti plays the Metro Times Blowout.
Brett Callwood writes City Slang. Send comments to him at [email protected]