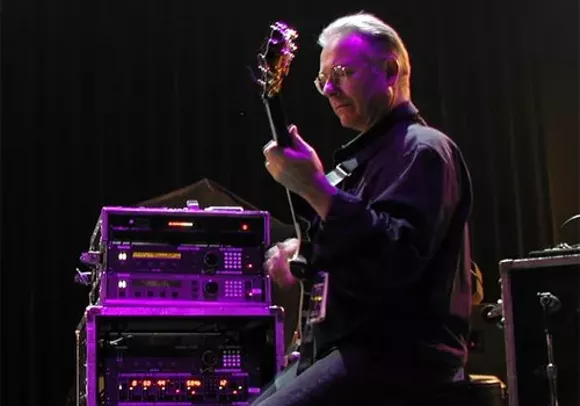 Robert Fripp
! You either love him, hate him, or have no idea who I'm talking about. Such is the life of the eternal cult guitarist, the architect of "Frippertronics" who for 25 years led his own "
Guitar Craft
" course. Fripp is, of course, also the co-founder of King Crimson. My own favorite work of his remains the several spellbinding albums of space age, deep-zone jams he made with Brian Eno back in the 1970s.
The composer and musician brings his large ensemble, the Orchestra of Crafty Guitarists, to the gorgeous Ste. Anne de Detroit Catholic church in Detroit on June 10. (Tickets are available
here
.) This show here is part of a four-city tour of the Midwest.
The Orchestra of Crafty Guitarists embodies an exciting, new approach to group playing developed by Fripp. The way it works is that as many as 100 acoustic guitarists, from differing musical backgrounds and levels of ability and experience, meet for an intense preparation period. "Out of a combination of concentrated effort, along with the joy of creation and improvisation, comes a concert experience unlike any other," the press release says. Given the unique surroundings of Ste. Anne and the absolute pedigree of Fripp, this is definitely a summer concert not to miss!