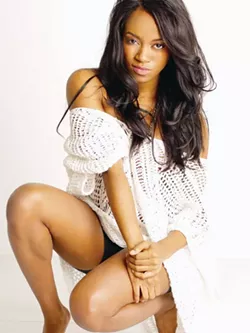 It's a cold, blustery Wednesday evening in Greektown and a heap of Red Wings fans are in the street heading to the game. Many of them hop on the People Mover to Joe Louis Arena and unknowingly join 24-year-old local musician Keely Ferguson.
To say Ferguson looks out of place amongst the sports-crazed crowd and the urban atmosphere of the People Mover is understating it. In the sea of red and white jerseys, the R&B singer is rocking a pink wool coat with matching beret and leather boots, looking more like she's going to hit Saks Fifth Avenue than attend a hockey game.
But the People Mover holds a special place in Ferguson's heart. She frequents the public transit system mainly for musical inspiration, which helps remind her of her roots. Her father, Keith Ferguson, is musical director for R&B group the Spinners and her mom, Leslie Ferguson, is a background singer for Aretha Franklin. Suffice it to say, singing is in Ferguson's DNA.
"What makes me different is my background," says Ferguson. "My mother took me to the richest places, but then she would come and give back to her community. I got a chance to see how everyone lived. That's what the People Mover reminds me of. It takes me around and helps me remember where I'm from."
From a musical perspective, Ferguson is much like the People Mover — diverse and unpredictable. She's a dancer, singer, songwriter and musician, and you never know what type of music she'll spring on a crowd.
With a style that can best be described as "Corrine Bailey Rae meets Brandy," she prefers not to be weighed down by any particular label. However, not wanting to be labeled has created its fair share of struggles for the songstress.
"It can be very frustrating with people not accepting the fact that you don't want to just be an R&B artist, or just pop," she says. "I would rather have my audience tell me how they feel about my music rather than put myself in a box."
If anything, Ferguson's dance background influenced her genre-less spirit. She's been dancing since the age of four and is trained in jazz, tap, hip-hop and ballet. At first, becoming a musician was the last career choice Ferguson would have considered.
"I used to hate singing. I went back and forth with music. I started songwriting at first and figured I would write for other people and I finally grew into loving to perform and loving my voice," says Ferguson.
She auditioned for a dance position with the artist development company Star Factory in 2010 and ended up getting the singing bug after Star Factory owner and operator Brandon Smith told her to go home and write a song. Smith saw something in her that she hadn't yet seen in herself.
"I always call her a quintuple threat because of her amazing ability to sing, dance, play guitar, play piano and write great songs. She has an amazing tone that sounds good over any musical bed," said Smith.
The song Smith encouraged Ferguson to write ended up being "Love Story," recorded with Big Sean for his second mixtape UKNOWBIGSEAN. The song garnered a lot of buzz and became an underground hit.
Ferguson did the whole L.A. thing, heading west to try and score a record deal, but what she didn't know was that a deal was waiting for her back home. Shortly after returning home, she landed a publishing deal with D-12 member and producer Denaun Porter's production company, My Own Planet.
Since then, she's recorded with some of Detroit's best rappers, like Eminem, Slaughterhouse and Royce da 5'9." She's on Slim's latest Marshall Mathers LP 2, providing the hook on his song "Survival," which is also featured on the Call of Duty: Ghosts video game.
In fact, she's been cosigned by a lot of artists, but Stevie Wonder has been by far the biggest artist to encourage her talent. While in high school, she met and played piano with Wonder after one of his shows.
"Stevie was backstage playing piano after his show and my dad is like, 'Go up there and start playing with Stevie,'" says Ferguson. "I introduced myself and Stevie told me to play and I played "Giant Steps" by John Coltrane and he started playing along. He said, 'You need to keep doing music.'"
It may have taken Ferguson a few years to fully realize her own chops, but now everything is coming to pass. She is about to drop her first EP, FREEFALL, early next year. Her first song off the EP, "Better Ones," is a folk-inspired tune and has a girl-power feel that encourages young women not to give up on love.
So the next time you see a young music artist on the People Mover deep in thought or doing something musical, it's most likely Ms. Ferguson. She sees more than meets the eye and is traveling down a path that is much bigger than downtown Detroit.
Keely Ferguson opens for Comedian CP on Thursday, Dec. 26, at the 1515 Broadway, Detroit; 313-965-1515.