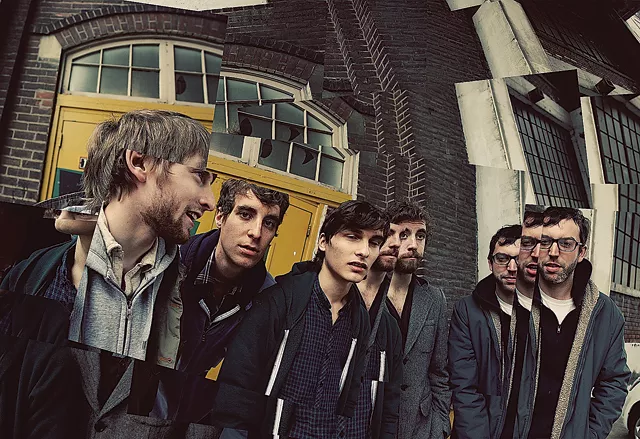 Last winter, Adam Pressley was living in Chicago, playing with Samuel Swinson's indie folk outfit, Ohtis. It was a good gig for the now 25-year-old guitarist. They made some beautiful tunes, as anyone can see online in the four quaint tunes recorded by music documentarians Single Barrel. But after band dynamics shifted from weird to rough, Pressley pulled a Mary J. Blige, said enough's enough, and looked east, to Detroit, where he'd made friends with fledging quirk-pop quartet Prussia.
That friendship happened, explains, Ryan Spencer, 25, Prussia's lead singer, by way of Woodbridge-based rust belt photographer Justin Ames' cantankerous musical taste. "Justin's my go-to guy for music recommendations," Spencer says. "He hates most new bands, hates local, Detroit bands — hates everybody. Not really everybody — you know what I mean. But he liked our band. And when Justin was living in Illinois, hating all their local bands, he really liked Ohtis. He hooked us up; we actually ended up liking each other."
"Liking each other" as in they eventually toured together and became friends.
So, the day after he quit Ohtis last February, Pressley rung up his Prussians comrades, who were on tour, letting them know of his recent escape from Ohtis and intention to immigrate. "I was like, 'Fuck this, I'm going to Prussia!'" Pressley recalls. "I pretty much told them I was going to join the band. Before I moved, we started sharing ideas. When I got there, we started playing. Recording came soon after that. Everything's happened kind of quick, but cool."
Having recorded two albums in 2008 and nothing since, the band was in need of something — or someone — to come along and shake things up.
One month after Pressley moved to Ferndale, into a house with the brothers Spencer (Ryan and brother-drummer Drew), the band started penning songs. Lots of them. Ryan Spencer, bassist Andrew Remdonek, 23, and multi-instrumentalist-vocalist Brenton Bober, also 23, handled most of the writing. Pressley proved himself an invaluable arranger and musician. "I suck at playing guitar," Ryan says. "Even just for playing out, it was awesome to have Adam with us because he can actually play it like it's an instrument."
Pressley busied himself with setting up Auto-tune Karaoke gigs — just what it sounds like — and he's developed a steady following for his gigs. But when he wasn't putting the T-Pain treatment on Journey for the drunk and the drugged, Pressley was working on producing beats for what would end up being last summer's Prussia Goes to the Disco: A Summer Mixtape, described aptly by the Mostly Midwest blog as "a viral digital release full of synth-y pop and notes of hip-hop." It's still available for download, but the 50 unique CDs distributed at a house party last August have, no doubt, been hoarded away by the same devout Prussian army types who recently packed the Old Miami, 300 strong, to catch a set by the band.
Whereas Prussia's previous releases — Dear Emily, Best Wishes, Molly and the follow-up EP, Blessed Be, Yours Truly in Spirit & Soul, both recorded in 2008 — are lush and instrument-heavy, Disco is cleverly constructed from electronic elements. The 14 cuts include what might become signature originals, such as "Girl Cops," "Annie" and "You Ain't No Sailor," along with unlikely covers of Joanna Newsom and Jonathan Richman, and a few sensible collaborations with Coyote Clean-Up.
But Disco was an appetizer.
Poor English is the record we should be talking about.
A song cycle — akin to albums such as the Beach Boys' Smile and Marvin's What's Going On?, Janet Jackson's Rhythm Nation 1814 and (to a lesser degree) Marilyn Manson's Antichrist Superstar — Prussia's yet-to-be released long-player achieves a bold audible cohesion. Tracks begin and end on the same notes, and, if listened to on a CD, the record loops. If not, it's a bookended experience. Either way, patience is a virtue. Save for Ryan Spencer's dexterous delivery of the words "fuck" and "fucking," Prussia doesn't do cheap thrills. What Prussia does is hard work.
"All the songs were recorded in B or B-minor," Ryan Spencer says. "We rewrote songs to fit that key, knowing that when we were in the process of recording we could find a suitable part of a song to end on that would blend in well with the beginning of the next one, which is also why there really aren't any singles."
And though an avid listener might argue the band has been working toward some sort of homogeneity since the nerdy psych-soul of Dear Emily, drummer Drew Spencer says otherwise. "I think trying for this kind of cohesion was a new thing for us," he says, looking straight at Pressley. "And I think our sound has changed, and the addition of different members has changed it."
"We wanted to sound distinctive in relation to everything else that's going on right now," Ryan says, of the disc produced by Joshua Epstein (Dale Earnhardt Jr. Jr. and the Silent Years) and mixed deftly by Miko Mader. "We also wanted to have all of our own musical fingerprints on it, so we could listen to it and say, 'Drew did that part, I did this, that part is all Brenton, there's Adam, and there's Andrew.' And we were really trying not to add things that weren't necessary. But we still ended up doing that."
Adds Pressley, "For this album — and I'm pretty sure even as the new guy I can say this — a first for the band was that, even while writing them, we were already thinking about how we were going to play these songs live."
Unlike some studio darlings, Prussia's an engaging live band, one of the most so in Detroit. And they play out a ton.
Upon finishing the record (this is before they'd retained a professional booking agent, publicist and manager), and out of sheer excitement, the band hastily, navely started e-mailing the record to anyone in the industry they could think of — friends, bloggers and perfect strangers. It was unconventional DIY publicity blitz worth applauding for its balls, even if it lacked sincerity.
"We had this plan where we'd kind of suck people's dicks for a bit, then give them the record," Ryan says. "I'd write to, like, the guy who runs My Old Kentucky Blog: 'Oh, I love your blog, man. I read it all the time.' That's total bullshit. So we sucked My Old Kentucky dick for a bit. Then I'd mention something like, 'I like Sufjan Stevens too! And did I mention I also write music and have a band? Here's the record. Seriously though, you don't have to listen to it. In fact, don't listen to it. But if you do listen to it, I'd love to know what you think.'"
In chimes his brother: "Then he wrote a blog post about the band, something like, 'Hey, these Prussia guys love me, they love my blog — and, also, they happen to make awesome music too.'"
The blog-dick-suck technique worked. But so did doing it the old-fashioned way, hitting the road, plowing through blizzards. The band hit the Midwest and East Coast twice last year, once this winter, and a spring tour is right around the corner.
In the meantime, they're shopping Poor English and already have six songs written for their next record, which Pressley says will sound more light and more folk. "We're just now latching onto the trends of 2005, when everything went folk," he says, fighting a smirk. "We're really just setting out to do something passé."
Prussia plays Blowout on Thursday, March 3, at the New Dodge, with Zoos of Berlin, Man at Arms and Child Bite.