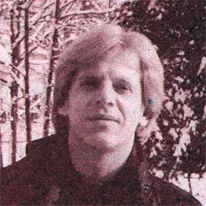 Today we learned that Detroit's great music writer Ben Edmonds passed away from complications of pancreatic cancer at the age of 65.
The Detroit News
has a lengthy obit
here
, and you might want to take a gander at our interview with him from 2005
here
.
Edmonds was a onetime
Rolling Stone, Metro Times,
and
Mojo
writer as well as a successful record label executive. Crucially, he recognized the importance of bands like the MC5 and the Stooges when few others did — when they were still around, and did all he could to support them. His role in producing the work of the later James Williamson era of the Stooges remains unheralded. Edmonds'
Marvin Gaye bio
is exceptional, and a treatise on far more than just the Motown singer. I read it just last year, and couldn't put the thing down.
He was a truly great writer and by all accounts a very sweet, funny, and erudite guy. A
Creem
editor from 1971-75, Emonds died just days after
John Morthland
, another
Creem
editor and excellent writer, died in Austin.