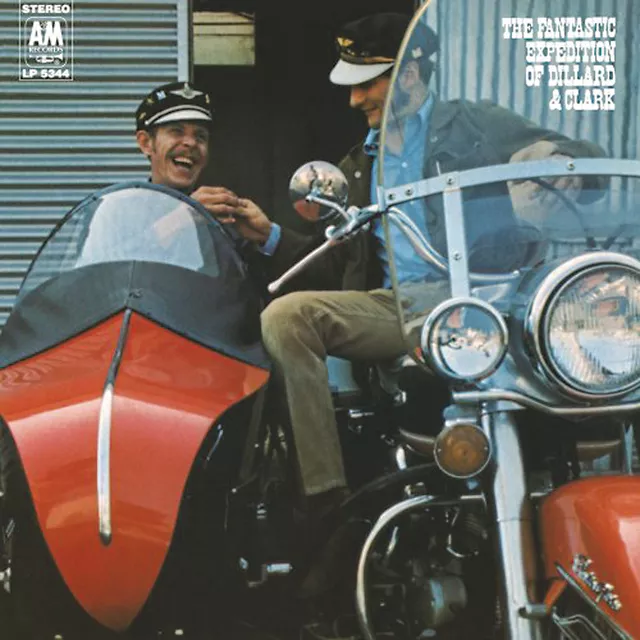 Gene Clark
Dillard & Clark
White Light
Roadmaster
Sundazed
Once guitarist-songwriter Gene Clark quit the Byrds in 1966, leaving behind "Eight Miles High," "I'll Feel a Whole Lot Better" and others (all penned before his 21st birthday), his career was never the same, pop-star wise. Neither were the Byrds, for that matter — the late Clark was their best lyricist and writer.
His great debut solo album, Gene Clark & the Gosdin Brothers (bros who did little more than add backing vocals) showed Clark's love of psyche-era Beatles, Byrdsian pop with hints of country. (The Sundazed 2007 reissue is highly recommended.) The album, released concurrently with the Byrds' Younger Than Yesterday, flopped.
Clark next signed to A&M Records, teamed with banjoist-songwriter friend Doug Dillard for '68's masterful The Fantastic Exhibition of Dillard & Clark. The LP also featured a future Eagle and Flying Burrito, highlighted by "Sneaky" Pete Kleinow's lovely slide guitar, alongside mandolins, dobros and other stringed things that hummed and plucked below Clark, Dillard and Leadon's open-highway harmonies.
The album is a sparkly collection of songs stripped country-bare, intimate — as if the musicians' elbows were touching during recording — but reconstructed on Clark's popish melodies, particularly on the heartbreaking "Out on the Side" and the dusty "Train Leaves Here This Morning," a Bernie Leadon co-write the Eagles covered on their debut. The decidedly un-hip record dropped when California was still dropping acid, and it stiffed accordingly, but dovetailed with Hollywood's rising country rock contingent, had a huge hand in defining that genre. (The second Dillard & Clark album, 1969's Through The Morning, Through The Night added even more bluegrass. Robert Plant and Alison Krauss covered that album's title song and lovely "Polly" on their massive 2007 album Raising Sand.)
Lots of influential records flop, so in autumn 1969, Clark, who was no stranger to booze and drugs, split Hollywood and its soul-corruptive vortexes with his wife-to-be and settled on a dozen ocean-adjacent acres in Northern California. Here he basically wrote White Light, an album of gentle power and absolute beauty.
Produced by sideman guitarist Jesse Ed Davis (Lennon, Harrison, Taj Mahal, Leon Russell, etc.), who, like Clark, had Native American blood in his veins and understood how pop music can sometimes translate to mythic Americana, White Light shows how the songwriter ultimately chose self-expression and solitude over simple ditties. Clark kept to his singsong inner-circle, a folkish-pop model created by Dylan, certainly, but if Dylan had some God on his side, then Clark had emotional verisimilitude on his.
The album is a slow riser, open-aired on acoustic and slide guitars, organ, harmonica, bass and drums, and Clark's plaintive wordplay. Its ghostly beauty is best heard on "The Virgin," "One in a Hundred" and a cover of the Band and Dylan's "Tears of Rage."
Clark could define loss and sticky personal scenarios in appreciable ways; his voice is inescapable as a transmitter of vulnerability, of experience. He incorporated the natural world around him on White Light; melancholic ideas of sea, land and love became places to disappear. "Spanish Guitar" balances a child's innocence against a beggar's life's regret and the song's ache deepens to the final line: "to never be found." Dylan would've been proud to have written it, he even said so.
Roadmaster collects full-band songs recorded in fits and starts with session stars, including Spooner Oldham and the Wrecking Crew, between 1970 and '72. Hard to believe this album won few fans and was all but relegated to a Holland-only release; though a few songs feel underecorded, there's great care in the writing and performances, including the untouchable "She's the Kind of Girl," and a revamped "One in a Hundred," both performed by the temporarily reconstituted Byrds. "Shooting Star" is self-reflection purposely vague in its lyricism, a fitting album closer — this was Clark's last for A&M.
From the original session reels, these remastered CDs sound natural and alive (also on 180g vinyl). Also, it's worth tracking down Clark's 1975 opus No Other and his "cosmic Motown" album Two Sides to Every Story, whose reissue is due soon on High Moon Records. —Brian Smith
1980s iPhone Case
$20
There are a few things we could say about Saved by the Bell's beloved Zack Morris, most of them involving acid-washed jeans, surfable bangs and Kelly Kapowski. But what might endure the test of time is his one contribution to the annals of technology: the brick phone. Too big to slip in your pocket, too bulky for your car's cup holder, 20 years ago, the brick phone — the first consumer mobile phone — was a sign of wealth and prosperity. For $20, you can give your iPhone the retro treatment. The case will indeed protect your phone, while ensuring you never misplace it. —Travis R. Wright
Nina Simone
The Complete Albums Collection
Sony/Legacy
She called her music "black classical," and so it is. Nina Simone was, perhaps, one of the most powerfully original and self-defining artists of her time. She was certainly one who understood her time and lived and created out of that understanding in the purest sense. This stunning collection of the nine albums she recorded for RCA between 1967 and 1974 is proof of that.
Who else could sweep through genres and interpret songs by Gershwin, the Beatles, Randy Newman, Bob Dylan, Willie Dixon, Aretha Franklin and the Bee Gees? Who else could move from interpretation to reinvention, taking possession of pop, folk, blues, gospel and rock 'n' roll, breathing through them like they were empty instruments? Only Nina.
This box set includes nine albums in replica mini-LP sleeves. Seven of the albums are fully remastered by Mark Wilder. It comes with bonus tracks, liner notes, and all the bells and whistles. But what you'll really hear is something like a heartbeat, songs you've heard before that have been erased and rewritten, unthought of, or given a second life. —Norene Smith
In the Garden
of Beasts
by Erik Larson
Crown, $26.95, 464 pp., hardcover
The fourth in Larson's series of gripping popular histories (most famously his stunning portrait of the World's Columbian Exposition, The Devil in the White City) is his most focused and sobering to date. You're bound to be riveted no matter how much you've read about the pregnant atmosphere in Germany during Hitler's sickeningly swift rise to power. By presenting the year leading to the Night of Long Knives through the eyes of displaced American ambassador William Dodd and his free-spirited daughter Martha, he offers a sparklingly clear sense of place; as the two of them grow mortified and disheartened by the influx of chaos throughout 1933 and 1934, we feel with them the ache of loss and impending doom. Unstated danger constantly lurks beneath the surface amid all the pleasantries of diplomatic parties and dinners. The book's conclusion is merely the beginning of the Third Reich, trailing off with Dodd's futile warnings to the rest of the world that echo into darkness, but seldom has that darkness been documented so rationally and vividly, in a book that reads like an expansive gothic horror novel, as savory as it is claustrophobic. —Nathan Phillips
Leonard Cohen
The Complete Columbia
Albums Collection
Sony/Legacy
There's a mid-career photo of Leonard Cohen on the cover of I'm Your Man (1988) that shows him in dark glasses and a tailored designer suit holding a half-eaten banana. The image transcends album cover art and reaches into the realm of icon. He's composed, seductive, fearlessly confessional, and at the same time, a representation of something bigger than himself. What a perfect reflection of what he was and what he's become.
A great way to experience that becoming is to open up this dense, vast and reasonably priced boxed set of the 17 albums Cohen made for Columbia Records. It begins with his magically croaky-croony poetry on Songs of Leonard Cohen (1967/1968), an audio love letter that introduced itself by saying "So Long, Marianne." It waltzes on through Songs of Love and Hate (1971) and into his post-millennial efforts, which started with the raspy, heart-wrenching and wistful wisdom of Ten New Songs (2001). That same year, Columbia also released Field Commander Cohen: Tour of 1979.
The progression through the years feels as natural and perfectly paced as Cohen's sacred songs. His voice deepens, and his vision expands. But he never stops peering through those sunglasses or peeling that banana. —Norene Smith
Vapir No2 POrtable Vaporizer
$179
Almost every other vaporizer out there requires you to have the thing plugged in to work. But the Vapir is powered by a rechargeable battery, so you can bring it with you anywhere, consuming cannabis like a ninja. You're able to get five uses out of it between charges. And you can use it while it's plugged in and charging as well. —Travis R. Wright
The Beach Boys
The Smile Sessions box
Capitol/EMI
Brian Wilson
In the Key of Disney
Disney Records
This is one Brian Wilson aficionado who wasn't waiting for the official release of Smile, probably the most famous "lost" album in the history of recorded music, with overwhelming excitement. The initial announcements were a little anti-climactic 44 years after the fact — decades that included numerous bootlegs imagining what the album might've been, as well as Brian Wilson's own solo, rerecorded version of the album, which he released and took on tour in 2004. It was that solo version that made this a reality, it would seem, or at least gave the compilers a template to follow. With only one exception, the song cycles here are almost identical. But, really, that's the only thing that's identical.
As nice as it was to finally have an authorized version of the album in '04, Wilson's voice today is pretty far removed from the beautiful, almost superhuman instrument it was in 1966 and '67. And as fine as Wilson's current band and vocalists are, there still was something that can only be described as magical, for want of a better word, when the Beach Boys — four of them blood relatives who'd been singing together almost since infancy — joined together in perfect harmony. And the instrumentation here — thanks to some wonderful remastering — is pristine, lush and luxurious; the beautiful piano especially taking a strong position as a lead instrument. In other words, it's a much greater album than Wilson's solo release. Van Dyke Parks' "acid alliteration" lyrics — a shared vision with Brian, using his orchestral pop to present a romanticized and surreal American history, delivered in the shadow of various Brits leading the new psychedelic revolution — come off as even more brilliant poetry in this context, with the hits — "Good Vibrations," "Heroes & Villains" and "Surf's Up" — sounding anew.
Songs such as "Cabin Essence" remain as gorgeous as any in the psychedelic canon. It may still test a few fans' patience during the long instrumental sections of the third suite, including the infamous fire reproduction. And for all its stark beauty, there seems to be a dark foreboding quality to Smile that might still be there even if one didn't know what was ahead for both the band and the culture. But presented, finally, as it is here, it's certainly a contender for greatest American pop concept album ever. (An expensive box set, which will undoubtedly be under many Christmas trees this year, features an array of special collectors' features. Some are perhaps superfluous, although most fans would probably like to have a copy of the accompanying book. Nevertheless, the five-CD "Super Sessions" will delight Beach Boys/Wilson fanatics and popular music historians in general. It's a little much to have an entire CD of the band building and recording "Good Vibrations." But it's fascinating to hear the power of Brian's genius at work, in full force. Plus, a lot of the in-studio conversations — some of which are included on the second disc of the much less expensive two-CD version, including talk of "hash joints" and "feeling the acid" — are a gas to hear.)
The Disney album is Wilson's latest solo release. And while it's no Smile, for all those various reasons mentioned above, it's mostly a nice, if extremely lightweight, effort. It makes sense in concept; for one thing, Wilson has always said that "When You Wish upon a Star" (a beautiful, sad version concludes this collection) inspired him to write "Surfer Girl." One wishes he'd have gone way back in the Disney catalog more than he does and concentrated less on the more recent, contemporary material. But it's hard to criticize Brian Wilson interpreting Randy Newman (twice, in fact – and "You Got a Friend in Me" does kick ass; Elton John gets double play as well). But when he takes on the stuff he knew and probably loved as a kid, he shines a lot brighter. "Baby Mine" is always a heartbreaker for children of any age but especially for those of us who are now children only at heart. And his version of "The Bare Necessities" is pure fun. —Bill Holdship
The AlcoHawk
Digital Breathalyzer
$40
This is genius. For $40 and the cost of a couple double-A batteries, you could, at the least, save $7,000 and a night in the drunk tank. At most, you could save lives, including your own. About the size of a small electric razor (the kind you can plug into your car, also never a bad gift idea), the AlcoHawk features a folding mouthpiece design and two digit LED display. It contains a very accurate oxide sensor matched by an advanced electric exhale pressure monitor, so you know whether or not you have an accurate breath sample (in five seconds or less). —Travis R. Wright
That Is All
by John Hodgman
Dutton, $25, 368 pp.
You can only take this book in doses.
John Hodgman, the author-humorist most known for being the fuddy-duddy humanization of a PC in Apple commercials, pitted against a younger, hipper looking Mac, is so masterfully facetious, so hyper-irreverent, so eloquent and scholarly in his bullshit, that it's almost too pungent — smartass is one thing, but this is genius. This may or may not be a book you could just drop into — as it is referentially tied to his other two abstruse almanacs, complete with continued pagination (All, for example, starts deep inside the book) with footnotes continuously linking back to often non-vital tidbits, tables or his previous revelations.
Where to begin, then? Well, how about appreciating the fact that Hodgman reveals here that there won't be a world much longer (completely rewriting the end times prophesies tied to the Mayan calendar and providing you an entire year of future events, including a great flood of New York — or "Spitspill" by Ujjjjjj the Slaverer on July 12, 2012). Hodgman's eerily convincing presentation creates a surreal, frightening, wonderful and uproarious world. What's scary is the precision of his aim — every sentence is packed with absurdist swagger — and the ostensible time on his hands is doubly scary – a 700-name list of the Ancient and Unnamable Ones (among dozens of eye-bulging tables). You know the person who would dig this at X-mas. —Jeff Milo
Phil Spector Presents the Philles Album Collection
Phil Spector
Legacy
Before he wigged out, Phil Spector was the mastermind behind some of the greatest pop singles ever made. You'll find many of them on this seven-disc set, along with lots of other cuts — 87 in all — by his stable of singers.
The box includes the first six albums released by Spector's Philles Records, plus an extra CD of instrumental B-sides. The Crystals (with and without Darlene Love) are the stars of three of the albums and show up on a 1963 compilation, but best is the Ronettes' 1964 debut, which includes the timeless "Be My Baby," "Walking in the Rain," and "Baby, I Love You."
There's some filler here (most of Bob B. Soxx and the Blue Jeans' first album is forgettable), but the hits — "He's a Rebel," "Da Doo Ron Ron" — are the foundations of Spector's sturdy Wall of Sound. —Michael Gallucci
Yonanas Deluxe
$6
Here's the hottest kitchen appliance on the shelf this holiday season. It turns frozen fruits and other inventive ingredients into delicious, healthy (that part's up to you) treats that look and taste just like soft-serve ice cream to be enjoyed at breakfast, lunch, dinner or whenever you feel like it. It's fast and easy to clean, pretty much dishwasher-safe, and it comes with a recipe book to get you started. —Travis R. Wright
To What Strange Place:
The Music of the Ottoman Diaspora, 1916-1929
(Tompkins Square)
Here is the music of Lebanese, Greeks, Turks, Armenians, Assyrians and others who came to America as the Ottoman Empire's six centuries ended in the chaos of World War. Two discs cover music the immigrants recorded, mostly in New York; a third is filled with cherished music direct from the homelands (recorded back as far as 1907). It's an exotic stew of folk and classical pieces, improvs, high poetry and even low comedy; it's often virtuoso stuff, sung and played on violins, ouds, dulcimers (hammered and plucked), various lutes, the double-reed zurna, etc.; it's often largely monophonic, but the harmonies can be jarringly beautiful; some of it's hermetically pure, other pieces are in the process of Americanizing. The most amazing example of the latter is Tetos Demetriades' original 1927 recording of "Miserlou," later covered by everyone from Charlie Ventura to the Beach Boys — including the Dick Dale, surf-guitar Pulp Fiction opener. How American! With backstories of wars, atrocities, lives stretched across three continents, etc., these aren't your typical liner notes. —W. Kim Heron
Wynton Marsalis
Swinging into the 21st (box set)
Columbia/Legacy
The King of the Young Lions pride released nine CDs in 1999-2000 under the marketing slogan "Swinging into the 21st." They're boxed up here — for Wynton's 50th birthday — with the addition of two CDs of 2002's All Rise. It's a varied celebration of the Marsalis aesthetic from his early '90s septet captured live at the Village Vanguard to the massive All Rise, featuring three choirs plus the Lincoln Center Jazz Orchestra. In between, you get a soundtrack (rejected) for the film Rosewood; string quartets; two ballets; interpretations of Monk, Jelly Roll Morton and a suite based on Stravinsky's L'Histoire du Soldat; a disc evoking the train as musical metaphor; etc. Strengths are a swinging virtuosity and a sense of history (the aforementioned, plus Ellington, etc.). The limitations include the circumscribed sense of history in which nothing happened between the early '60s and Marsalis' arrival nearly 20 years later. This is riffing on the aesthetics laid out in Ken Burns' Jazz — but that's still a lot of work with, and more often than not, Marsalis really works it. —W. Kim Heron
Crosley CR249 BK Keepsake
USB Turntable
$120
Vinyl is back. This Crosley is pretty legit. It has the three-speed belt driven motor, the automatic return arm, and dynamic, full-range speakers built-in. As a stand-alone record player, it'll get the job done. But it also converts records to CD in just a couple minutes. And at only 16 pounds, its great for auditioning vinyl at the record store or throwing it in your car to take to a friends house if there music situation is at all lacking. —Travis R. Wright
Stanley Kubrick
Paths of Glory (special edition)
The Killing (special edition)
Criterion
Two recent special editions from Criterion, out on DVD and Blu-Ray, provide the definitive survey of Stanley Kubrick's early career. Their gorgeous restorations of the director's 1956 heist masterpiece The Killing and 1957 antiwar breakthrough Paths of Glory present them at last in their properly matted formats and with breathtaking depth and detail.
The Killing initially seems the sole Kubrick project to live up to his reputation as emotionless and detached, but repeated exposure to the tense, tightly structured tale of a perfect-crime racetrack robbery reveals a Hitchcockian subjectivity. Not only do we feel the agonies of Sterling Hayden's long-suffering criminal mastermind, we want him to beat the odds. Of course, doomed WWI parable Paths of Glory — with its melodramatic Kirk Douglas lead and the outpouring of the future Mrs. Kubrick's closing musical lament — is a more straightforward film, but no less impressive. The streamlined wisdom of both movies is an intriguing contrast to the filmmaker's future sprawl.
Amazingly, The Killing also includes a bonus restoration of Kubrick's preceding film, the curious B-grade thriller Killer's Kiss, a flawed but fascinating (check out the Clockwork Orange-predicting fight in the mannequin factory) complement to these two classics. —Nathan Phillips
Korg Nano USB Controllers
Nano Pad, Nano Key, Nano Controller
$50 each
Although Nanos can be purchased individually, being able to use any combination of the three simultaneously makes the complete suite way attractive. Three people can easily perform at once — one playing notes on the Nano Key and another playing drums on the Nano Pad, while a willing assistant mashes up the mix on the Nano Kontrol, interfacing with Ableton software. Or one person could produce a track at the coffee shop or on the go (think road trip, plane, train). If you're only going to get one, get the Nano Pad. Also think about picking up the carrying case for a breezy $15. —Travis R. Wright