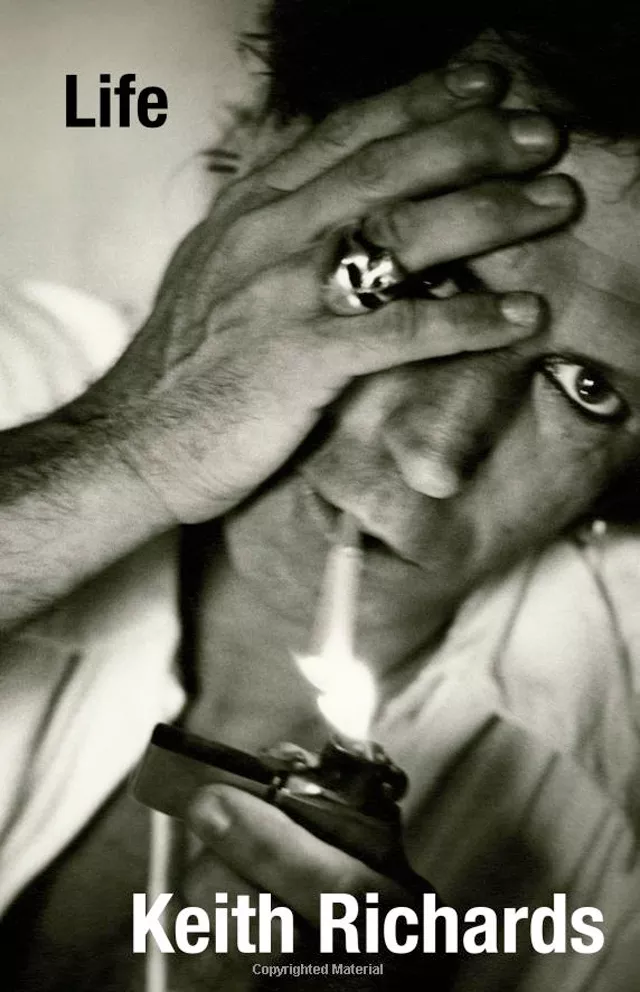 Book publishing may be on the skids, but the music biography is fortunately nowhere near extinction just yet.
The big news this year, of course, is Life by Keith Richards (Little Brown, $29.99), which has already hit No. 1 on the New York Times nonfiction bestsellers list. The Rolling Stones' musical architect claims inside the dust jacket that he hasn't "forgotten any of it," and, while there is the occasional memory lapse (he has Dylan going electric a few years before he actually did, for instance), Richards manages to leave very few, um, stones unturned. Those who still picture Richards as the Russell Brand-like wasted caricature the mainstream press has portrayed for years now will undoubtedly be the most impressed by both the honesty and thoughtfulness shown here.
But these 550 pages are especially meant for rock fans to relish. One can actually imagine Keith's famous voice relaying these tales; the book is that conversational in tone. So as not to give too much away — and leave it for you to relish — let's just say that the much-publicized tidbits, such as his "Brenda" nickname for Jagger or mistaking Johnny Depp as a drug dealer for two years before he finally caught on, are just the hilarious tips of the proverbial iceberg. Numerous rumors are addressed once and for all. It's the best rock autobiography since Dylan's Chronicles but much more complete and encompassing.
No book has ever been any more unapologetic about hard drug use as Life often is, whether addressing pal Gram Parsons' short life or law hassles; heck, even Burroughs seemed more cautionary. Many of us have often wondered what Richards thinks of those who followed his "outlaw" rock 'n' roll example, and, in many cases, entered a life of heroin addiction sans the luxury being a Rolling Stone provided. One such disciple was the great British rock journalist Nick Kent, whose Apathy for the Devil: A '70s Memoir (Da Capo, $17.95) is one of the more fascinating reads of the year. He goes even more personal here than in his essential anthology of rock profiles, The Dark Stuff, with reflections on, among other things, his affair with Chrissie Hynde and Sid Vicious beating him to near-death with a bike chain in London one night. He's often called "Britain's Lester Bangs" — so his long account of hanging with Lester and crew at the CREEM house in Birmingham while in Detroit for an early Bowie show is gold; later, he writes of being lost on the streets of downtown Detroit in a "drugged daze." Kent describes Bangs as looking like "a rodeo clown" without makeup, but writes: "Just thinking about his generosity of spirit still makes my eyes moist." And who can resist a section that begins: "Iggy Pop's penis is actually a bit of a thorny topic with me"?
Keith makes several appearances in Cheetah Chrome's A Dead Boy's Tale (Voyageur Press, $24) including once, with the other Stones, at a roller-skating (!) party. Keith's ex Anita Pallenberg (who introduces the two guitarists), Nico, and a Who's Who of New York City punk legends and denizens also appear in this very typical but highly readable tale of sex, drugs and music (with emphasis on the latter two), as do a slew of Detroit names, from Iggy to Niagara to Ricky Rat. While Kent and Chrome ultimately tell tales of redemption, Steven Adler's imaginatively titled Appetite for Destruction: Sex, Drugs & Guns N' Roses (It/HarperCollins, $25.99) demonstrates there's often a price paid for lives of excess, as anyone who's seen the stroke-inflicted drummer on Celebrity Rehab knows. And a story of excess (as well as a story of "Axl-Rose-is-fucking-nuts!") this is, featuring some of the best non-Internet porn material one is going to find in any of these books. "We both shot our come on their faces," he writes of a cocaine-fueled, Frederick's of Hollywood-themed Christmas Eve romp with Nikki Sixx and a bunch of groupies at the latter's L.A. home. "It was awesome." I imagine it was, even if Shakespeare this ain't. But then, Rick Springfield, whose main drug of choice is sexual addiction, doesn't write anything nearly as pornographic in his primarily aimed-at-fans autobio, Late, Late at Night (Touchstone, $26). So go figure.
Ms. Cherry Vanilla makes no apologies for her sexual addictions in Lick Me: How I Became Cherry Vanilla... (Chicago Review Press, $24.95), parlaying a legendary libido from groupiedom — including memorable encounters with Leon Russell and Kris Kristofferson, even an underaged Butch Patrick of The Munsters — to publicist divine for David Bowie during the height of his Mainman glam heyday to a cult rock stardom of her own during which she introduced the world to Sting — and she still offers no apologies.
Eileen Sisk would have us believe that Bakersfield country legend Buck Owens and Buckaroos' guitarist Don Rich got at least as much pussy on the road as Adler and Springfield used to in her Buck Owens: The Biography (Chicago Review, $24.95). Alas, the problem with biographies sometimes is that musical heroes don't always come off nearly as likable as you'd like them to be. And Owens is basically a dick in this one. It's not unfair like the material in Albert Goldman's notorious Elvis — which, unfortunately, is listed in Sisk's bibliography — and the impeccable research and detail make it very readable. It's just that Buck Owens was real nice the times I met him — so maybe a book that concentrates as much on the genius that was behind his best music as much as it does on the dirty details is in order.
Goldman's Elvis is used as a major source in Alanna Nash's Baby, Let's Play House: Elvis Presley & the Women Who Loved Him (It/HarperCollins, $27.99), which really could've been an excellent approach to the legend but takes material from enough highly unreliable sources — including the already much discredited Byron Raphael — to render much of it unbelievable (too bad because the anecdote about young Elvis meeting a super queened-up Little Richard is ... well, probably too good to believe, even if it is a great story). Elvis: My Best Man by George Klein with Chuck Crisafulli (Crown, $25) is more believable, balanced and, quite surprisingly, at this late date, offers a few new insider insights for those of us who remain obsessed. Dr. George Nichopoulos' The King & Dr. Nick: What Really Happened to Elvis & Me (Thomas Nelson, $24.99) is an interesting addition to Elvis lore, even if it does find the King's personal physician passionately presenting himself as the doctor who tried to get Elvis off drugs. Some people may view that as akin to, say, George W. Bush trying to present himself as the "dissenting" and "peace" president. Or, wait ... A fourth Elvis title — Gillian Garr's Return of the King: Elvis Presley's Great Comeback, (Jawbone, $19.95) — is exactly what its title suggests, exploring the '68 TV special and subsequent triumphant return to the stage.
The one Beatles book of recent interest is The Beatles vs. The Rolling Stones: Sound Opinions on the Great Rock 'n' Roll Rivalry by Chicago scribes Jim DeRogatis and Greg Kott (Voyageur Press, $35), although its very premise has always seemed a bogus debate in the first place. When I was a kid, my friends and I just loved rock 'n' roll in general, which meant we loved both the Beatles and the Stones. It wasn't an either-or proposition, although even Quentin Tarantino has confused the issue over time. Nevertheless, the book, which takes the form of the duo's long-running Sound Opinions music debate radio program, makes some interesting points, giving plenty of credence to both sides of the argument (though it could've exploited the historical detail of the bands' longtime mutual friendship, camaraderie and even collaboration more than it does).
Macca's got two new biographies this year — Peter Carlin's Paul McCartney: A Life (Touchstone, $15.99) and Howard Sounes' more exhaustive Fab: An Intimate Life of Paul McCartney (Da Capo, $29.95). Carlin's leaner tome is more a fan appreciation, similar to his reverent but mostly astute Brian Wilson bio a few years back, while former Dylan biographer Sounes gives his subject more of a warts-and-all treatment at nearly twice the pages. Both, however, can get behind Heather Mills being a nasty wench. "She's just awful," proclaims Ringo in the Carlin book. Meanwhile, two longtime L.A. power-"pop geeks" examine the legacy of John Lennon via John Borack's memorabilia-filled Life Is What Happens (Krause Books, $26.99) and Ken Sharp's Starting over: The Making of Double Fantasy (MTV Books, $26.99).
Dylan got two worthy books as well. Shawn Wilentz's Bob Dylan in America (Doubleday, $28.95) is one of the best Dylan think-piece collections in ages, featuring the finest account of the recording of Blonde on Blonde to date. Bob Dylan: Writings 1968-2010 by Greil Marcus (Public Affairs, $29.95) collects work from various publications and websites by one of the world's foremost Dylanologists whose obsession dates back to first seeing a "scruffy-looking guy with a guitar" sing a few songs at a Joan Baez show in 1963 ("I was just shit," Zimmy tells Marcus afterward, when the young college student approaches the aspiring bard). Said obsession then manifested itself via, among other things, one of the most infamous record reviews in history ("What is this shit?" began Marcus' critique of Self Portrait) as well as some of the more insightful reflections on the mystery and majesty that are and have been Robert Zimmerman.

MORE BIOS: Motown biographer Mark Ribowsky offers the same excellent, in-depth exploration he gave the Supremes last year in Ain't Too Proud To Beg: The Troubled Lives & Enduring Soul of the Temptations (Wiley, $25.95) and a less explored life in Signed, Sealed & Delivered: The Soulful Journey of Stevie Wonder (Wiley, $27.95). Andrew Earle's Hüsker Dü (Voyageur Press, $24) explores the career of the Minneapolis noise-pop pioneers, paving the way for Bob Mehr's upcoming Replacements history. Patti Smith's beautiful and poignant Just Kids (Ecco, $17.95), which was covered extensively in MT earlier this year, recently garnered a well-deserved National Book Award in nonfiction. And MT's own Brett Callwood revised and republished his MC5: Sonically Speaking — A Tale of Revolution and Rock 'n' Roll (Wayne State University Press, $19.95) in 2010. Neil Young: Long May You Run, An Illustrated History by Gary Graff and Daniel Durcholz (Voyageur, $30) is a visual treat for Shakey fans. Tommy James' Me, The Mob & The Music: One Helluva Ride With Tommy James & the Shondells (Scribner, $25) not only tells the story of one of America's most underrated pop-rock artists of the '60s, but also the story of the gangster model for music mogul Hesh Rabkin on The Sopranos. Scorsese and De Niro are very interested! Speaking of which, James Kaplan's Sinatra: The Voice (Doubleday, $35) is one of the most ambitious bios of its subject to date. Robert Hofler's Party Animals; A Hollywood Tale of Sex, Drugs & Rock 'n Roll (Da Capo, $15.95), which explores the rise and fall of Alan Carr, the man behind Grease as well as the most disastrous Academy Awards show in history, is a decadent delight. And Rosanne Cash's Composed: A Memoir (Viking, $26.95) is just the feisty delight you'd expect from this true chip off the old block, who recently called John Boehner an "asshat" on Twitter for co-opting the name of her late father.

COFFEETABLE BOOKS: Steve Kasher's Max's Kansas City: Art, Glamour, Rock and Roll (Abrams, $24.95) certainly takes the prize here, encapsulating the famed countercultural hub which helped give birth to punk and various magnificently "decadent" art scenes. The black-and-white photos are terrific — one wishes there were twice as many — with words from the wonderful Danny Fields, Lou Reed and Lenny Kaye. Beautiful. Rick Meyerowitz's Drunk Stoned Brilliant Dead: The Writers & Artists Who Made the National Lampoon Insanely Great (Abrams, $40) is exactly what its title promises. Although it can only skim the surface of that great publication, it will remind of a time when comedy, rock 'n' roll and counterculture were basically one, with a resultant humor that may have been vicious but never mean-spirited. Music by Andrew Zuckerman (Abrams, $40), features photos of subjects ranging from Ozzy Osbourne to Kid Rock and their various thoughts on the nature of music. And Ask the Angels: Photographs by Donna Santisi (Mixed Sources/Kill Your Idols, $29) is a black-and-white collection of the ace LA punk scene lens gal's shots of legends and hangers-on from the still innocent mid-to-late '70s.

NOTEWORTHY MUSIC DVDS: The last thing the world needs is another documentary about the overplayed Doors, right? But director Tom DiCillo's When You're Strange (Eagle Rock) — narrated by Johnny Depp — is a revelation, featuring footage you never even knew existed of things you'd only read and heard about until now, including the infamous Miami concert and the band recording The Soft Parade in the studio. It'll give you new appreciation for Jim Morrison as the pioneer he was. Iggy wouldn't have existed without him.
Best DVD box is Reelin' In the Years' five-disc British Invasion featuring mini-Beatles Anthology-like docs on the Small Faces, Herman's Hermits, Dusty Springfield and Gerry & the Pacemakers, with a disc of outtakes and additional scenes. Each is a gem in its own right, sometimes surprisingly so.
The Rolling Stones' Stones in Exile (Eagle Rock) documents the recording of Exile on Main Street in the year of its much-hyped re-release, featuring all the major principals. Still, it's a bit amazing that a story so full of brilliance and decadence could result in a doc that's actually fairly dull — fine for one visit but not repeated viewings. Yet, to bring this ramble full circle, it's always fun to see Keith make claims like "Mick was the rock; I was the roll" — something that's very obvious in the more essential Ladies & Gentlemen, The Rolling Stones (Eagle Rock). A full concert from the '72 Exile tour, taken from several different shows, the Stones released this originally as a touring concert film (with its own sound system!) in place of the shelved Cocksucker Blues. With Mick Taylor still Keith's most perfect guitar foil and the band (with Bill Wyman) at the top of their game — it remains some of the finest rock 'n' roll concert footage ever filmed. It's like an entirely different band than the much less dangerous warhorses we know today.