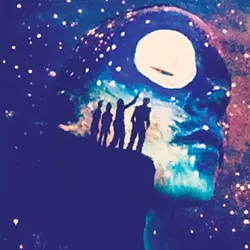 The High Strung
I, Anybody
New Fortune
The High Strung is beyond rougher-hewn, rambunctious rock — leave that for the wayward ramblers still on the south side of 30. They chart into more epic waters here, sounding particularly attuned with one another and somewhat enlightened. They're musing on heavier concepts, like what lies "beyond the coming-of-age?" They're singing of exploring "the Great Beyond!"
I, Anybody shakes it up, still quite poppy and, during certain fervent solos, a bit rambunctious. But there are softer, sweeter melodies, charmed with percussive bells and warm pianos. The lyrics return to themes of transition in every song, like "King Drum," which sets a unique tempo that lets you decide how fast or slow to march to it. From that re-start all the way to the Great Beyond, the High Strung have entered, as one stand-out song's title suggests, a new "Point of View."
George Morris
Black & White EP
Self-released
George Morris' voice was too pretty a thing to be drowned out by guitars, but such was the case through his tenure, fronting local psych-pop outfit the Satin Peaches. His high, hazy crackle is augmented by the minimalism of his second solo release, though the sparse blend of acoustic guitars, droning synths and sequenced beats have lately been built into a full live band (Helena Kirby, Aaron Nelson and Zack Pliska). The spread-out space and tempo help make Morris' vocals glow. Standout single, "Fuck It," invokes Morris' own personal stylistic reformation, trying on an electro-pop aesthetic over his rock persona, an agitatedly busy beat and swift slices of guitar, cut into synth-loops, building to a catchy chorus, mock strings and computerized choruses. This EP will get a proper release later in 2014.
Silent Lions
Compartments EP
Nah Collective
Take the grimy pop and blues of the Black Keys and hammer it into the distorted psychedelia of Tame Impala, and you'll get to the edge of the Silent Lions' den. The drums go from a fitful punk tempo into a speedier mutation of a disco hustle. Simultaneously, the muddied bass, eerie pianos and quirky caws of sax are sprinkled with spacey organ riffing off each other throughout a squall of distortion.
There's a hint of pre-grunge noise-pop — displayed in the band's knack for gearshifts in tempo, and from soft verses to quaking crescendos. "Stolen in the Heat of the Moment" best exemplifies the band. Pulverizing drums charge under a ripping bass, calmed only by the mid-high croon of the vocals, while the haunting melody at the refrain pierces through when things get pared back to just a soft piano and vocals.