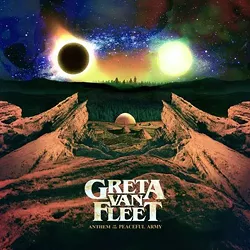 Retro-rock outfit Greta Van Fleet was certainly tasked with some heavy lifting ahead of its debut album Anthem of the Peaceful Army. Brothers Jake, Josh, Sam Kiszka, and non-blood brotherly likeness Danny Wagner were expected to shake the life into modern-day classic rock like possessed, feral, time-traveling wunderkinder. But now that the album is out, some critics are far from convinced.

"Greta Van Fleet sound like they did weed exactly once, called the cops, and tried to record a Led Zeppelin album before they arrested themselves," Pitchfork's senior editor Jeremy D. Larson says, giving the record an abysmal 1.6 rating — making it Pitchfork's lowest scoring record of 2018 so far.

"The poor kids from Frankenmuth, Michigan don't even realize they're more of an algorithmic fever dream than an actual rock band," he writes.

Larson throws around the terms "Carpool Karaoke" and takes jabs at the band's collective wardrobe aesthetic, suggesting their "hippie costumes" were "3D-printed" and/or outfitted by a "problematic Santa Fe palm-reader with a gift certificate to Chico's."

He slams GVF's overused psychedelic tropes mixed with watered down pseudo-sexual imagery and refers to them merely as "proficient" musicians — which, in context of this review, is a glaring dig.

After making comparisons to outrageously campy glam rockers the Darkness (insinuating that GVF lacks the Darkness' self-awareness,) he suggests that what the band has perfected is not classic rock or original thought, but rather "the cheapest high in music." According to Larson, that's proof of the rise of the "streaming and algorithm economy," in which "a band doesn't need to really capture the past, it just needs to come close enough so that a computer can assign it to its definite article."

Rolling Stone's Will Hermes, who awarded the debut effort with three stars, throws fewer punches by suggesting GVF politely conjured moments straight out of Zeppelin's repertoire.

"Greta Van Fleet seem like they leapt fully-formed from the skull of a rock critic in 1975," Hermes says. "But the writing isn't there."

Perhaps the most well-rounded observation comes from The Ringer's Lindsay Zoladz, who suggests that what Greta Van Fleet set out to do was to impress their parents.

"It used to be that the chief goal of rock 'n' roll was to piss off mom and dad, " she says. "Now its greatest purpose is to pay them homage."

Zoladz admits that Anthem of the Peaceful Army left her asking one question: "Why does a band like Greta Van Fleet exist in 2018?"

To which her friend offered, "Because it's too expensive to clear the rights to Led Zeppelin songs."

You can stream Anthem of the Peaceful Army below.


Stay on top of Detroit news and views. Sign up for our weekly issue newsletter delivered each Wednesday.