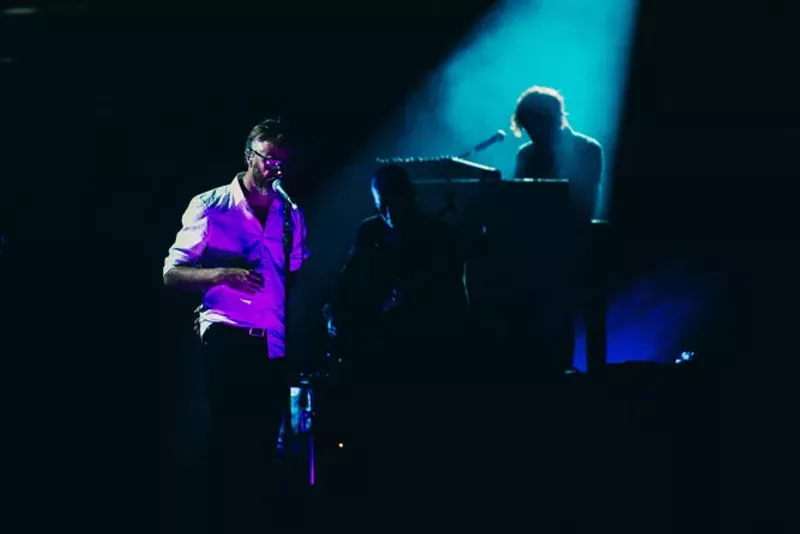 In wake of one of their most well-received records in their 17-year-long career, weary indie rockers (and unique coupling of brothers) the National brought their bruised, baritone heavy-brand of despair to the Masonic Temple on Sunday night. And truthfully, it wasn't nearly as murky as one might think.
It isn't a blow to label the National as the Death Cab for Cutie for 30-year-olds. In fact, it comes as a compliment. Seeing the National live is an adult conversation, one that is a nuanced invitation to a dinner party you bring the "good" wine to.
Opening the set with four tracks from
Sleep Well Beast
, their latest record that artfully tackles the fear of fatherhood, corrupt governments, and the struggle to keep love alive with a consistently quiet potency walked the set into the speckled shadows of a career built on patiently innocuous rock 'n' roll.
Sleep Well Beast
follows suit with the National's ability to expand without explosion, perhaps the very quality that has kept them relevant and perhaps is what makes their uninhibited live show feeling more like a pre-tour rehearsal.
Frontman Matt Berninger — dressed in an effortless white button-up and large black rimmed glasses, like a scientist of sad bastard music — performs with an endearing neurosis; strumming a guitar that isn't there, pacing the stage with a red Solo Cup while sneaking hits from a vape pen between songs. It is on stage that Berninger is perhaps indie rock's everyman.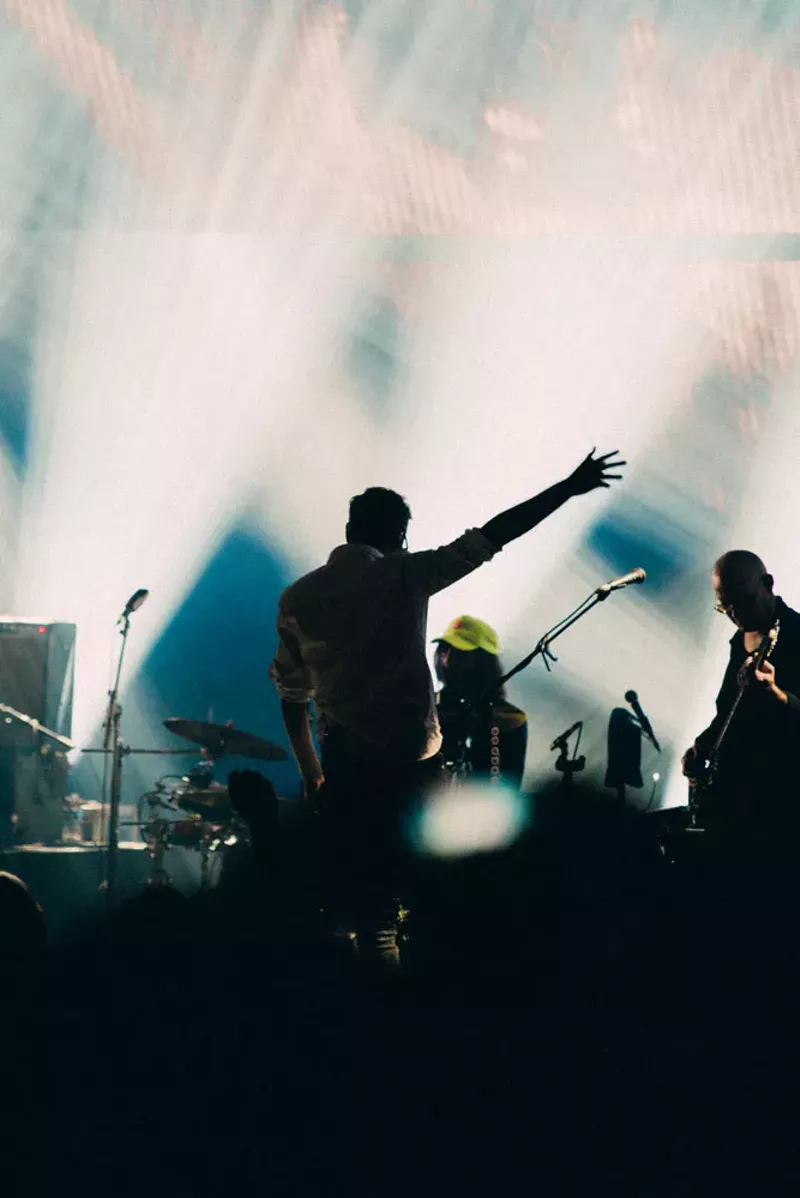 Former Ypsilanti resident and frontwoman of baroque pop outfit My Brightest Diamond, Shara Nova, made several appearances during the 23-song set to lend her eerie and piercing vocals (and in many ways a necessary second layer and disruption) to tracks "Dark Side of the Gym," "Born to Beg," "I Need My Girl," and Beast's "Carin at the Liquor Store."
After a somber cover of "Morning Dew" by the Grateful Dead, the encore introduced an untamed Berninger and company, as if their purposeful restraint throughout the set had reached a natural breaking point. "I won't fuck us over" Berninger screamed and seized with a tormented implosion during 2005's "Mr. November" as he wrapped the microphone chord around his neck. This bled into fan favorite "Terrible Love" which Berninger performed in its entirety somewhere in the center aisle of the audience.
Once back on stage, Berninger removed his monitor and stepped away from the microphone while guitarists Aaron and Bryce Dessner unplugged their guitars. While conducting a sing-along version of 2010's "Vanderlyle Crybaby Geeks," Berninger's voice fell into the background as he kneeled waving his fingers in the air, and the audience didn't miss a beat or a word — proving that the National's appeal reaches far beyond sad dads, but touches most everyone with a breakable heart.