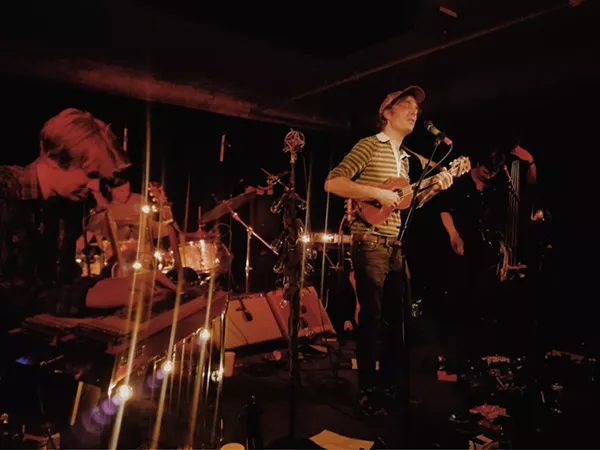 "We love you guys!" yells an impassioned fan from the small crowd in Pontiac's Pike Room.
"I didn't even know you knew us," replies Brad Barr, frontman and one-third of the Barr Brothers.
This aloof, self-deprecating sentiment is part of what makes the band so lovable. Fresh off a Europe tour supporting The War On Drugs, the Montreal-based folk-psych-rock band seems unfazed — almost unaware — that they are headlining their own North American tour. Instead, the performance feels like an intimate (and well-rehearsed) jam session between friends who don't know how damn good they are.
While the band — normally comprised of Andrew Barr on drums, Brad Barr on vocals and guitar, and Sarah Pagé on the harp — is noticeably missing Pagé, they make up for what may be lacking with Brett Lanier on pedal steel, guitar, and dobro, and husband and wife duo Morgan and Lisa Moore on bass and piano, respectively. The diverse instrumentation and eclectic rack of guitars adorning the stage hints at the tour de genres that is about to unfold.
The show starts off with a chilling acoustic folk version of "Beggar in the Morning," with the band huddled around a standing mic, sans instruments, crooning a gorgeous four-part harmony while B. Barr effortlessly strums the guitar. The crowd could easily stay enrapt in this stripped down performance style the entire show. Instead, the band quickly changes gears following with "Queens of the Breakers," the avant-rock title track to their latest studio album.
Throughout the set, Brad Barr masterfully rotates through his guitar collection, at times even shredding on the uke (at least as much as one can shred on a uke). His virtuosic musicianship is made blazingly apparent through complex guitar solos and sweetly weathered vocals. At one point, a rather inebriated man leans over to me and says, "I've been enamored with him for years, he's a musical wizard."
I don't disagree.
Brad Barr's bandmates are equal experts of the craft, making for a mind-blowing listening experience. While all of the songs are impeccably performed, there are a few that seem to have an especially hypnotizing effect on the audience. Brad Barr introduces "Even the Darkness has Arms" by moving a free string perpendicular through the guitar's strings to bend pitch and produce microtonal notes, creating an otherworldly and transportive sound environment.
The audience is brought back to Earth with a sobering version of "How the Heroine Dies," again performed huddled around a mic with a stunning vocal solo from L. Moore that soars over the crowd like a spirit on it's way to the heavens, or whatever.
These touching performances combined with the intimacy of the space made for a sacred performance that you'd be hard pressed to find again.