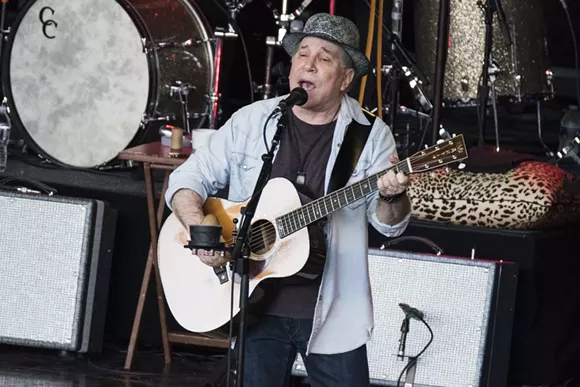 When Paul Simon finished "Sound of Silence," the encore of his Father's Day concert at Meadow Brook Ampitheatre, he looked reluctant to put down his guitar.


At the beginning of "That Was Your Mother," his onstage hand motions became a full-on happy dance.


And when a beach ball started making its way around the pavilion, 74-year-old Simon said: "Do me a favor. Kill the ball," telling the audience he and his band "work too hard on the music" for inflatables.


The overall impression is that Simon is as dynamic as ever — not an oldies act, but an ongoing creative force with a colossal back catalog. He plays "You Can Call Me Al," but "Wristband," the compelling single off his new album Stranger to Stranger, was well-received by the audience, too.


A pristine reading of "Duncan" by a spot-lit Simon was a highlight. So was guitarist Vincent Nguini's introduction of Simon and "Cool Cool River," from the first album the two collaborated on — The Rhythm of the Saints.


During "Diamonds on the Soles of Her Shoes," from 1986's Graceland, a mini-party erupted on the lawn behind the sound mix hut. Later, during "Late in the Evening," two women dancing on the top of the hut were stopped by security, but not before one of them did a handstand.


There was Dad dancing on display in the crowd during "Me and Julio Down by the Schoolyard," and it peaked during "You Can Call Me Al." Simon finished the Grammy-winning track elegantly, by waving bassist Bakithi Kumalo into the spotlight.


The holiday was recognized once between songs by Simon, and also in the lyrics of "Slip Slidin' Away": "And I know a father/Who had a son/He longed to tell him all the reasons/For the things he'd done."


Simon's voice is supple, and it was a pleasure to hear it blend in harmony with his fellow musicians in the aforementioned song, and also in pieces that are a showcase of his main instrument, like "Still Crazy After All These Years."


Sunday evening at Meadow Brook was a chance to see an icon at a venue tailor-made for him, with a career-spanning setlist, and an audience interested in what Simon has to say.