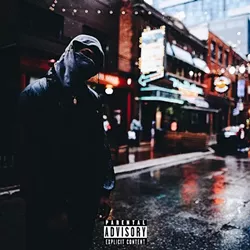 Detroit rapper MotorKam has made of strong name for himself over the last couple of years for his own brand of funk and ghettotech-infused hip-hop as his alter ego, BlackDaddy. His previous two projects,
BlackDaddy: Greatest Hits
and
BlackDaddy's Birthday Suite
both carried the vibe of a millennial dancing across three different eras of music.
For his 2018 project
NewBlackCity,
the Detroit native incorporates a slightly more boom-bap approach with his usual batch of quick witty rhymes. There aren't any throwback '90s chants and not the huge dose of synthesized voice effects that we're used too. The album starts off with "NewBlackCity," his verbal declaration of musical dominance. "See I done came here, and saw that and I conquered/ So I pushed that to the limit, the grind done turned me to a monster," he raps, while in "BigBankNoLimitTank" he's aiming for financial prosperity over Detroit trap.
"YouAintGoinNowhere" is the most challenging and creative track on the album, where MotorKam sings a modified chorus of Sade's "No Ordinary Love" as he's trying to court a love interest. In most musical situations it would be blasphemous to recreate a song with Sade's fingerprints on it, but MotorKam's appropriation of the legendary singer's hook is slick and creative without being insulting — or whack.
"FuckWindows" is a politically charged cut in which the emcee tackles Detroit's gentrification and its racial renovation. "I know you smart, it ain't hard, connect the dots/ you love the city but your whole family left this bitch to rot/ Took the tax base, vacate from the black space/ talk down on your hometown then dump tires like we lack waste," he raps.
The project is seven cuts strong, and production is handled by LandManDXN and Marshall Law. Ultimately, MotorKam has shown that he doesn't have to be BlackDaddy to make good music.
Stay on top of Detroit news and views. Sign up for our weekly issue newsletter delivered each Wednesday.