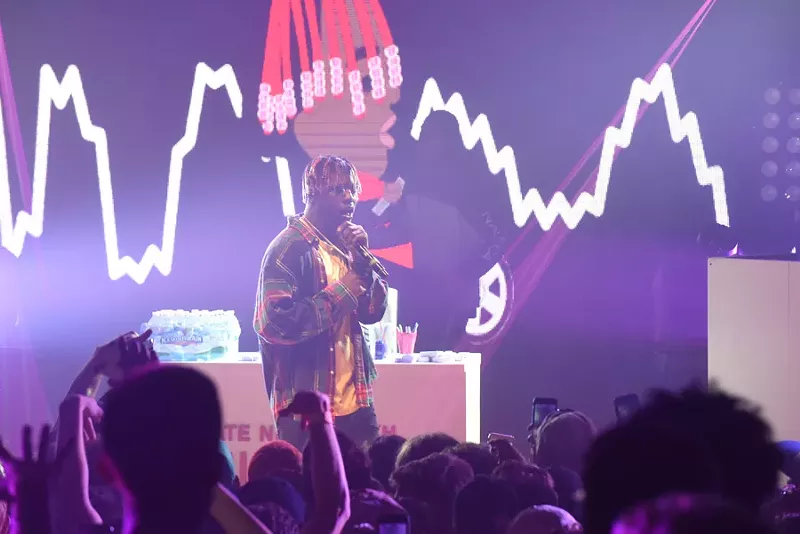 More than a thousand teens and young adults piled into the Royal Oak Music Theatre to see rapper and pop star Lil Yachty on the 13th stop of "The Teenage Tour." The rapper's youthful fans hummed with enthusiasm as their parents wore looks of irritated amusement. Texas rapper Evander Griiim (with Ben Wallace-type hair), known for his single "Right Now," started off the night with a 30-minute set. Yachty's crew, the Sailing Team (TheGoodPerry, Byou, K$upreme, BigBruthaChubba,) primed the crowd for another 90 minutes with an explosion of musical energy and theatrics.
A little bit past 9 p.m., the 20 year-old Georgia emcee appeared through the pattern of laser lights and fog, wearing his signature pink beaded braids and Nautica jacket. He jumped right into cuts from his Teenage Emotions album ("Peek A Boo," "Like a Star," "Lady in Yellow"), threw several bottled waters into the rear of the crowd, and sprayed water on fans in the front.
Yachty was interactive, inviting fans to sing his lyrics on the mic, encouraging the mosh pit, and delving into cuts from his Lil Boat mixtape. He waited till the second half to performs hits, "1Night," and "Broccoli," and everyone seemed to leave feeling like they got what they paid for.