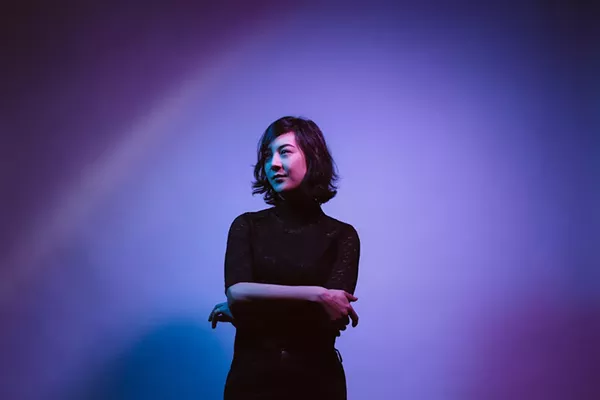 Just a few years ago, Michelle Zauner of Japanese Breakfast almost gave up music for a 9-to-5 advertising job in New York City. After releasing her debut album,
Psychopomp —
which she wrote as an emotional, therapeutic response to the death of her mother — Zauner was ready to settle down into more of a dependable career. The masses had other ideas.
Fast forward a few years and another full-length album later and Zauner is sitting in the basement of PJ's Lager House — a noticeably too-tiny venue for the amount of people that are about to cram in to see her on her show last Friday — ready to take the stage on her first headlining tour. Zauner explained the band had initially planned to play at UFO Factory, but was relocated to PJ's after the
controversial structural damage
that happened in August. Zauner says she recalls playing the venue a few years back, with about seven people in the audience.
After releasing
Psychopomp
and touring with Mitski in 2016, Zauner accrued a loyal fanbase across the nation, Detroit being no exception. PJ's was packed to the brim with the usual suspects, the mid-to-late twenties, indie rock-loving, Stroh's-drinking types, along with a healthy sprinkle of angsty minors who precociously and boldly stepped on the scene (Zauner remarked that a good deal of her audience is in the late-teen demographic, and they get angry with her when she doesn't play all-ages venues.)
The band played mostly songs from Japanese Breakfast's latest album,
Soft Sounds from Another Planet
, which sounded pretty spot on to the album title's promise. Zauner explains that despite their airy and otherworldly nature, most of these songs are about "how to not let something so tremendously unfair and painful and dark turn you into a bad person." Sitting in the dingy PJ's basement with a stoic smile and more-than-easy to talk to personality, it seems that Zauner has accomplished this.
Japanese Breakfast gave a stellar performance in their sardine-crammed venue, having nearly the entire audience hooked on their every note. Zauner's seemingly endless energy and flawless vocal delivery speaks to her music-as-catharsis explanation. It was as if every song touched on and released a painful emotion. Perhaps this is why she has such a loyal, passionate following. I can only imagine the end of the concert was met with roaring applause. I wouldn't know — I had to step out a few songs early after the impassioned teenager in front of me took her shirt off and spilled my beer during "Road Head."