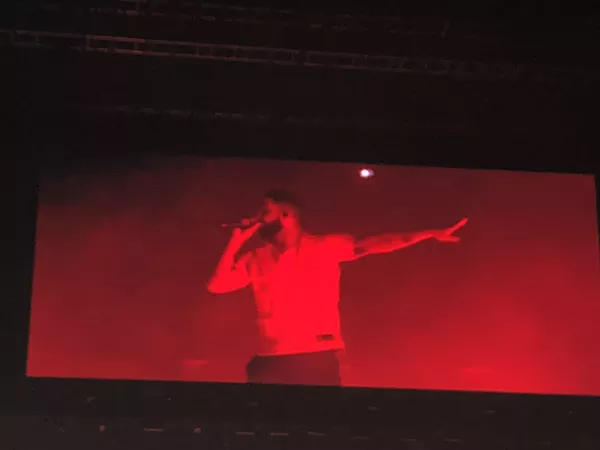 With three of the biggest acts in music performing on back-to-back days, Detroit has been at the center of pop and urban music for the last 72 hours. Detroit music fans had to expeditiously recuperate from
the Carters' visit to Ford Field on Monday
in order to get ready for "The Aubrey & the Three Amigos Tour" at Little Caesars Arena on Tuesday night, in which Detroit was the second stop. The 18,000 fans had extra time, because the show was delayed for almost an hour due to technical difficulties (opener Roy Woods' set was cancelled).
were
up first: emcees Takeoff, Quavo, and Offset stormed all corners of the open stage with their custom brand of
staccato
trap. They started off by taking it back to older fan faves like "Freak No More" and "Fight Night," then mixed in tracks from albums
Culture
and
Culture II
like "Slippery," "T-shirt," "MotorSport," "Bad and Boujee," and "Narcos." They dropped their bars from Gucci's Mane "I Get the Bag," and tore the crowd up with "Ric Flair Drip." The obvious familiarity was there as the crowd seemingly knew all the words to every Migos song. Their set lasted roughly 40 minutes but could have gone on for 40 more.
Ultimately, Migos are the perfect pairing
to
Drake. They are reminiscent of a southern trap version of the '90s hip-hop group the Lost Boyz, and they thrive in a space of hip-hop that's more grimier than the clean-cut Drake (a dynamic similar to the "Summer Sixteen" tour in which Drake toured with Future, aka Captain Lean).
After about a 35 minute intermission, the lights darkened and Drake entered the stage through the cheers and screams of fans with their hands and cell phones raised high. He opened with
Scorpion
cuts "Talk Up" and "Mob Ties" as a frosted scrim lowered around the rectangular stage, accompanied by hued red lights which made LCA feel like a large photo dark room.
Drake spent a solid 20 minutes going through first verses and hooks of notable songs; "Started From the Bottom," "Both," " Blessings," "All Me," "Best I Ever Had," and "Energy" (just to name a bunch). Migos joined him back on stage for
dope
performance of "Walk it Talk It" and "Versace." While the Migos stayed on stage to perform "Stir-Fry," Drake dipped out and returned wearing all black, performing many of his R&B hits "Hotline Bling," "
Controlla
," "One Dance," and more songs from
Scorpion
.
Drake's charisma was iridescent — he talked to the crowd regularly, took a selfie with someone's cell phone that they threw on stage, mentioned Detroit every chance he got and primed the crowd for more energy without overdoing it. His set was complex but simple. The graphics weren't anchored by multiple monitors or elaborate theatrical props (other than a floating Ferrari), but the stage itself was the canvas for an array of graphics, lasers, and lights. Sometimes the stage appeared to be a pool with mermaids swimming below him; other times it resembled outer space, or a basketball court, and converted into a gigantic cellphone as Drake performed "In My Feelings." At times all lasers and lights were a distraction, but most times it enhanced the show.
Drake closed out his set (which went into overtime) with a video roll of old footage from early in his career that
lead
right into his song, "God's Plan." Overall, Drake fit in 40 songs into 90 minutes. The emcee talked to the crowd at LCA one more time before exiting the stage:
"There's a lot of shit going on in the world right now," he said. "And these concerts always open my eyes, because I look around and I see people from all races, from all places, with all different kind of faces. We're all inside one building — smoking and drinking and listening to music and getting along. This building tonight is how the world is supposed to be."
Get our top picks for the best events in Detroit every Thursday morning. Sign up for our events newsletter.