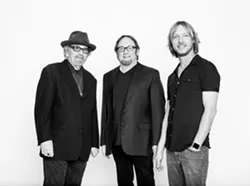 Stephen Stills, Kenny Wayne Shepherd, and Barry Goldberg played the rarest of shows Friday at the Michigan Theater — a set of almost entirely fresh material that was welcomed by the audience.
With CSN possibly finished for good
, the blues-rock supergroup showcases Stills, 71, in a different light. The Rides' second album,
Pierced Arrow
, dropped on the same day as Friday's show.
From the moment the band opened with "Kick Out of It," a Stills track from the new record, the virtuoso guitarist looked like he was genuinely having fun, playing more theatrically, and using more of the stage than he might at a gig with David Crosby and Graham Nash.
Shepherd, 38 — whose guitar tone is heavier and firmly rooted in blues — traded on lead vocals and lead guitar with Stills all night. Their interplay feels natural, and there were moments Friday when the two were playing side-by-side or soloing on each other's songs that confirmed the magic of Stills working onstage with another guitarist. The new track "By My Side" was a high point for Shepherd on Friday.
The Rides are backed by longtime CSN and Stills bassist Kevin McCormick and Shepherd's drummer, Chris Layton.
The strongest song from the group so far may be
"Virtual World,"
a song that's been debuted at CSN and Stills shows in recent years but makes its first recorded appearance on
Pierced Arrow
. Stills introduced the song by describing his frustration with friends distracted by technology and disengaged in conversation, and pantomimed dropping a cell phone in a pint of Guinness.
Stills brought out his iconic Gretsch White Falcon for the track, which has lyrics and an arrangement that speak to the nuance and social commentary of his best work.
Keyboardist Goldberg, 73, first shared an album credit with Stills on the 1970 Stills-Mike Bloomfield-Al Kooper LP
Super Session
. Goldberg's body of work includes his band Electric Flag, alongside Bloomfield and Buddy Miles; a recording debut on "Devil with a Blue Dress On" by Mitch Ryder & The Detroit Wheels, and playing with Bob Dylan and Phil Spector.
The Rides play a superb rendition of "I've Got to Use My Imagination," a Goldberg-penned tune that was a Top 10 hit in 1974 for Gladys Knight & the Pips. A surprise local connection was made for the Ann Arbor crowd with a cover of The Stooges' "Search and Destroy."
Shepherd's biggest hit, "Blue on Black," was originally sung by Noah Hunt. With Shepherd on lead vocals, a different key, and changed arrangement, the version heard in Ann Arbor Friday lost some of its oomph, but it was still terrific to hear the guitar work on the song to which Shepherd owes much of his fame.
Stills introduced "Love the One You're With" with a tongue-in-cheek dedication to friend Terry O'Connell, a 1967 University of Michigan graduate who Stills says "came back (from Vietnam) to declare war on war," and now works for the Department of Defense.
The polite audience was seated for most of the show, and Stills urged the crowd to its feet to sing and clap along: "Well, there's a rose/in the fisted glove/and the eagle flies/with the dove/and if you can't be with the one you love, honey/love the one you're with."
The man who wrote "Suite: Judy Blue Eyes" and laid down countless air-mixed three-part harmonies with Crosby and Nash has profound hearing loss, and his vocals are more raw than they once were. He tends to come through when it counts, though, such as with a beautiful high note at the end of "Don't Want Lies" that drew strong applause Friday.
Stills has described his sunburst Fender Stratocaster as an extension of his body, and Friday's second encore — the Buffalo Springfield's "Bluebird" — is a track where he always showcases this, with soaring, bending, emotional notes. The night closed with a cover of Neil Young's "Rockin' in the Free World."
The Rides are a chance to hear Stills channeling his creativity in his seventh decade alongside two of the country's finest bluesmen, in a group that's clearly excited about its songs. We are, too.