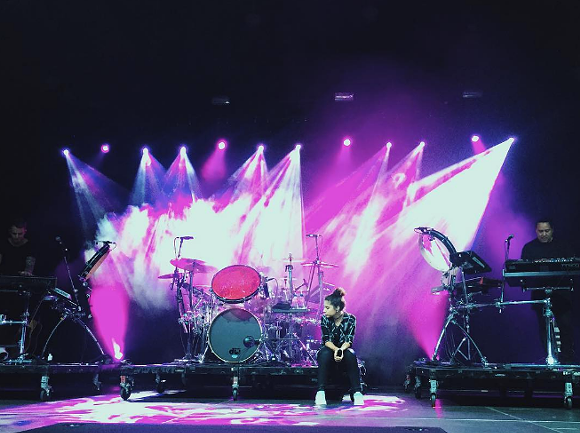 There was a moment in the middle of Alessia Cara's headlining set at the Fillmore last night where she said she was going to cover a Frank Ocean song. I immediately thought it would be something off of Ocean's new work
Blonde,
but then she surprised the hell out of me and did "Swim Good," one of Ocean's first singles back from 2011.
It made me realize that Cara isn't just some young singing sensation that is manufactured and manipulated by some record label. Granted, Cara already doesn't give the impression that she is that based off her aesthetic and vibe as a performer: no flashy dancers or stage gimmicks, just she and her band absolutely killing it at every song.
Cara definitely appeals to a younger crowd. At just 20 years old, she speaks a lot about loving yourself, appreciating your youth, and making it out of dark times. I'm almost 25 and I am just realizing that I'm starting to get old and how I long for the days of no actual responsibility. Songs like "Seventeen " and "Four Pink Walls" show wisdom way beyond her age.
On the other hand, Cara seems very hopeful about the world and her fans. It's very easy to tell a crowd of adoring fans that you will be okay and there is a light at the end of the tunnel. But as many of us know, it's extremely hard to find that light. Is she being a little bit naive? Sure — but who isn't when they are 19 or 20 years old?
I'm really excited to see what is in store for Alessia Cara. She's young, full of bright, optimistic ideas, and has one hell of a voice. Her perspective on growing up and being young is inspiring to her younger audience and it will hopefully take her a long way. Just make another album, girl! We're all ready for it.