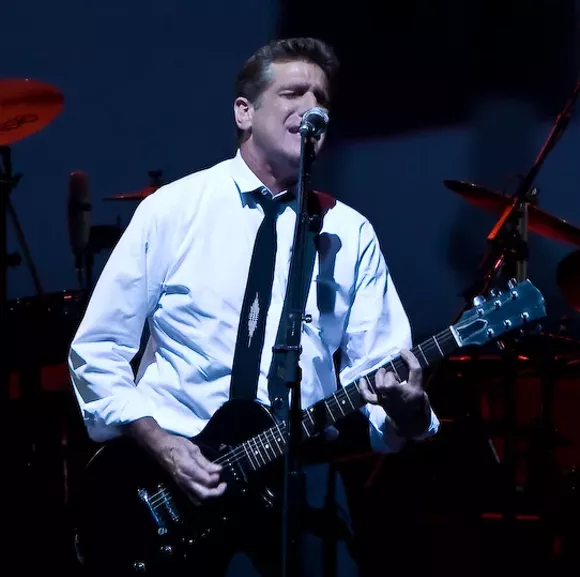 This evening we have learned that the legendary guitarist, songwriter, producer, actor and vocalist
Glenn Frey
has died at the age of 67. Frey was one of our own — he was born in Detroit and grew up in Royal Oak.
He played in a host of local garage acts in the 1960s, including the Subterraneans, Four of Us, the Mushrooms, and the Heavy Metal Kids. His first recording gig was as the background singer and guitarist on Bob Seger's excellent 1968 recording "Ramblin' Gambln' Man." Moving to southern California in the late 1960s, he soon fell in with local artists and musicians, notoriously living in the same house as Jackson Browne and J.D. Souther for a spell.
A founding member of supergroup the Eagles, Frey had a strong solo career as well.
The Eagles' Greatest Hits album
is one of the best selling records of all time, and the band popularized country rock by modernizing it and making it more lyrically relevant to a generation numbed by Watergate, the oil crisis, and the humiliating end to the Vietnam war.
Their anthemic songs summarized the California lifestyle with sometimes ironic precision, but they also had universal elements to them which helped make so many of their tunes big sellers. Mostly, they just sounded great inside a Trans Am drifting along any highway at night. In the 1980s, Frey had a popular solo career, transitioning from folk rock to an updated, smooth-jazzy rock sound with ease.
The news was announced on the band's website,
Eagles.com
, where it was revealed that the cause of death was a cluster of causes: intestinal disease, pneumonia, and arthritis.
"The Frey family would like to thank everyone who joined Glenn to fight this fight and hoped and prayed for his recovery," it was posted on the website. "Words can neither describe our sorrow, nor our love and respect for all that he has given to us, his family, the music community & millions of fans worldwide."