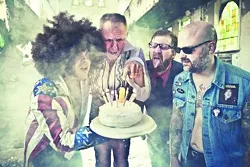 Tesco Vee is not just a pioneer — the leader of the Meatmen made himself the singularity when it comes to shock-rock. Over three decades, this animated agitator ruthlessly discharged the crudest lyrics, with salacious stage shows and devastating satire. Nothing's been off-limits: From lesbians to disabled children. Giant strap-on dildos adorn fur suits and other provocative props for these vile vaudevillians, so you're either left incensed and speechless or laughing unguardedly because you got the joke.
Tesco Vee's goal is to goad you, relentlessly. Having founded both the Meatmen and the seminal punk-zine Touch and Go more than 30 years ago, the singer (and former schoolteacher) really thought he was done with it all once he reached 50. But a fateful call-up onto the stage at St. Andrew's Hall in Detroit from longtime friend and collaborator John Brannon (of Negative Approach) during a show five years ago made him realize he still had some bile left in the tank.
After rebooting Meatmen in 2008, he looks back on four busy years: 150 shows, a European tour, and a fierce new lineup (Danny Dirtbag, Hindu Kush and Swarthy "Bun-Length" Franklin). His compendium, Touch and Go: The Complete Hardcore Punk Zine '79-'83, will be back in print this summer and the band just began recording the first Meatmen album of original songs in 18 years.
Metro Times: You started your own Xeroxed zine back in the day. What's your take on modern DIY culture, modern music press and the spread of blogs?
Tesco Vee: The old man in me wants to say the Internet ruined it, but who's to say anyone's opinion is less important on a blog. I like holding a magazine but I'm not opposed to online publishing. You could say it's been diluted and there's lots of shitty writing out there, but I'm sure there was lots of shitty writing back in the Pony Express days when I was doing Touch and Go for a handful of people.
MT: What can we expect on the new album?
TV: I'd say it's an amalgam of everything I've done and then some. I don't want to let the cat out of the bag, but I think old-school fans will be happy, the fans who like the later muscle-head '90s stuff will be too. [The band has] always been my creative brainchild; I can take it anywhere, so we're not stuck to playing any style or genre. We make fun of everything while still paying homage.
MT: What can Blowout attendees expect?
TV: Oh, it'll probably be a tad sacrilegious in terms of the visuals we have in mind, particularly for the opening; that should raise an eyebrow or two. Suffice to say we'll be swimming against the tide of political correctness, which is kinda my purpose on the planet.
MT: Ever any apprehension that you push the envelope too far?
TV: Burn the envelope, stomp on it, poop on it. I'm going for the throat 'cause I'm going for a reaction. Back in the day, I was sitting on my couch in my shitty house in Lansing, thinking, "What's the most inflammatory thing I could write to get people's attention?" And came up with the song, "Crippled Children Suck," and it succeeded, but obviously I don't really think that. Making people laugh or making them get pissed off, I don't care, just have a reaction. If I get a rise out of you, great. If not? Oh, well, move on, go listen to some other, lesser, punk rock. We're punk rock antiheroes and we certainly haven't been embraced by the mainstream punk rock community, but I just want to be doing my own thing.
MT: But Detroit has embraced you. You transplanted to D.C. for many years but have been back a while now.
TV: I'd always come back and play the Falcons Club or the Graystone, where back in the day I almost got killed, but — still, I've always loved Michigan. I knew someday I'd move back and I love being back.
MT: And some contemporary, younger punk-rock outfits are on the Meatmen's Blowout showcase; do they get your envelope-pushing seal of approval?
TV: Nice Hooves and Child Bite I really like. Against the Grain is an awesome Detroit band too. I'm really excited. Detroit is an [amalgam] of musicians who are all doing lots of different styles, lots of creativity, but not a lot of rivalries. There seems to be a pretty healthy, friendly camaraderie, which I like; a very healthy music community in the Motor City.
MT: That might surprise those convinced that you hate everyone and everything.
TV: I once heard someone say, "Some of the nicest people make some of the angriest music." I'm not anti-camaraderie. Band [members] who rip your throat out on a nightly basis are actually the coolest people on the planet."
The Meatmen play Friday, April 26, at the Polish National Alliance Hall.
Jeff Milo writes for Metro Times. Send comments to [email protected].