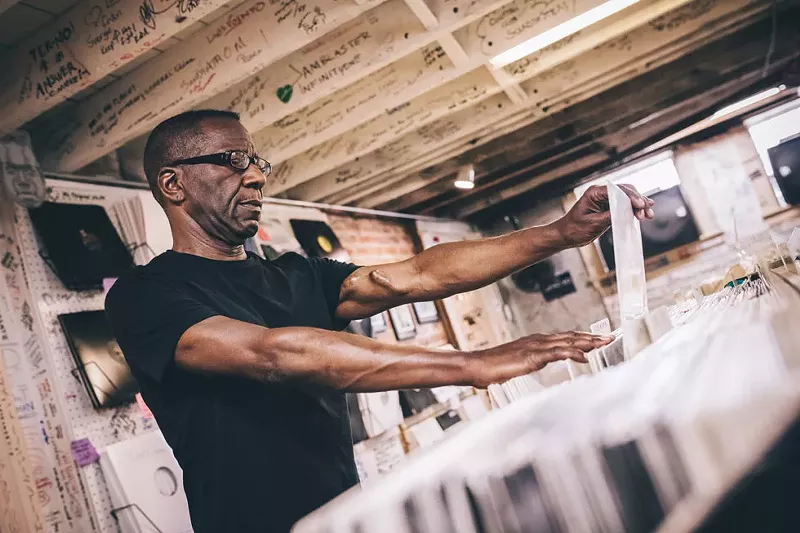 Starting Oct. 1, Red Bull Radio will launch new Detroit-centric programming. The shows feature a spectrum of Detroit artists, including John Collins, Stacey "Hotwaxx" Hale, Shigeto, DJ Minx, K-Hand, and others.
"Known for its infamous sounds of Motown, jazz, gospel, and techno, Detroit's atmosphere is so ripe with ingenuity that one can almost feel the creativity in the air," Collins says in a statement. "The Motor City has produced some of the world's most brilliant singers, musicians, producers and DJs, all of whom have brought international acclaim, awareness, and respect to a city that has struggled, maintains, and continues to prosper."
The hosts say they hope to continue Detroit's legacy of trailblazing radio DJs with the streaming show.
"From Electrifying Mojo, to The Wizard (Jeff Mills) and many other disc jockeys on WJLB in the '80s you can hear that some of their knowledge has trickled down to our mass radio airwaves here in Detroit," says Hale. "If you are lucky you may still hear
'It's Time for the Percolator'
during your lunch time here."
The internet radio station's dedicated Detroit programming includes:
• DJ Holographic presents Stardust
1st Sunday of each month from 12 p.m.–2 p.m.
DJ Holographic is a tireless champion of Detroit's underground community and its musical past, present and future, while cultivating a devoted fanbase with her distinctive voice and single-minded dedication to the craft. On her monthly show, DJ Holographic ties tracks together in ways you'd never expect.

• Andrés presents New For U
1st Sunday of each month from 2 p.m.–4 p.m.
Andrés is one of the most versatile dance music figures in Detroit, counting credentials with Theo Parrish, Moodymann, J Dilla and more – along with his own exceptional releases. Every month, Andrés spins a mesmerizing all-vinyl selection. You might know the record, but you've never heard it like this before.

• House of Minx w/ DJ Minx
2nd Sunday of each month from 12 p.m.–2 p.m.
The "First Lady of Wax" founded the all-female DJ collective Women On Wax in 1996, extending the name to her own label in 2001, creating an outlet for her own productions and those by unsung local talent. For her monthly show, the house music veteran heats up the airwaves with her lush grooves and positive vibes.

• John "Jammin'" Collins presents the Soul of Detroit
2nd Sunday of each month from 2 p.m.–4 p.m.
John "Jammin'" Collins has anchored Detroit's electronic music scene for three decades. A locally and world-renowned DJ and superlative record producer, Collins conducts tours of Exhibit 3000, the only techno museum in the country. Each month John Collins takes listeners on a journey from house and techno to R&B and disco, spinning vinyl from his collection during the first hour and getting into a heated mix for the second.

• Shigeto & Charles Trees present Portage Garage Sundays
3rd Sunday of each month from 12 p.m.–2 p.m.
Shigeto's sound folds in hip-hop, IDM, and elegant techno. He recently launched Detroit-based label and studio, Portage Garage Sounds. Charles Trees' sound includes hip-hop production, far-out jazz, and techno. For the first hour of their monthly show, old friends Shigeto and Trees trace the lineage from old to new Michigan artists, and in the second, they anchor a back-to-back DJ set with members of the PGS family.

• Generations with Stacey "Hotwaxx" Hale
3rd Sunday of each month from 2 p.m.–4 p.m.
Godmother of House Music and Detroit's first female DJ of the genre, Stacey "Hotwaxx" Hale is the assistant musical director of Black Women Rock, teaches after-school programs at Girls Rock Detroit and performs with the band Nyumba Muziki. On her monthly radio show, she presents up-and-coming and established Detroit musicians, artists, and influencers in conversation.

• The K-HAND Music Show w/ Kelli Hand
4th Sunday of each month from 12 p.m.–2 p.m.
Expertly versed in both Detroit techno and New York and Chicago house music, K-HAND has been unleashing dancefloor weapons for nearly three decades. On her monthly show, K-HAND presents music from a well- known place to an unknown destination, from techno to deep house to experimental.

• DM Nation with Black Noi$e and SKYWLKR
4th Sunday of each month from 2 p.m.–4 p.m.
Michigan production cohorts Black Noi$e and SKYWLKR are behind some of your favorite trippy Midwest rap beats for Danny Brown, Zelooperz, Cashout Ant, Lucki, and more. For their monthly two-hour Red Bull Radio show, they keep it simple: rap bangers only, of the gritty underground and forgotten classic variety.
The Red Bull Radio recording studio is located at 1325 Broadway St. in Detroit. More information about Red Bull Radio is available
here.