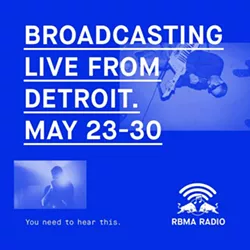 Red Bull Music Academy Radio is going live in Detroit once again to celebrate Movement with a week of live festival set broadcasts May 23-30 — and exclusives with Motor City musicians such as funk pioneer George Clinton and proto-punk rockers Death.
More than 20 artists are performing on Red Bull's Movement stage during the festival, including Tiga, Kyle Hall, and Get Real: Green Velvet & Claude VonStroke.
You can
view the full lineup online
and buy tickets
here
.
The station will play "interesting sounds for truly adventurous audiences," according to Red Bull. Broadcasting will be done from a custom studio on Broadway Street before moving to the Red Bull stage when Movement begins.
Programming includes: A daily show from Detroit label Interdimensional Transmissions that highlights the history of the city's techno and electro underground; a showcase by Brooklyn label and nightclub The Bunker; and "Counter Intelligence," a radio series that profiles iconic record shops and will visit Detroit Threads, Hello Records, People's Records, and Street Corner Music.
The energy drink company's reach has broadened in Detroit in recent years, with the
Red Bull Hart Lines skateboarding competition
held in Hart Plaza, and gallery exhibitions at the Red Bull House of Art, which opened in Eastern Market in 2012.
During Movement 2015, RBMA Radio
broadcasted live
with exclusive interviews and performances. They are doing the same this year, and you will be able to tune into Movement on their
website
.
Red Bull Music Academy, which broadcasts in 102 countries, promises to "present audio that will enlighten, entertain and possibly even shake up listening habits, day or night."