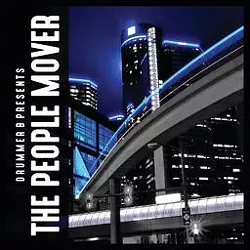 Record review: Drummer B presents the People Mover
Over the last 15 years, there have been several projects that have attempted to capture the essence of the Detroit sound. In fact, it's debatable what the Detroit sound has actually become ever since the Motown era.
Is it the house and ghetto tech that began in the early '90s? Or the Dilla-ish and Detroit trap/boom-bap sounds that continue to be reborn? In all honesty, it's probably all of it combined.
Enter Detroit producer/DJ
Drummer B's project The People Mover
(titled after Detroit's train-in-the-sky transit system). Drummer B has been a mainstay on Detroit's music scene for over a decade, serving a constant blend of tech and hip-hop (coined tech-pop).
The People Mover
continues his approach.
All the tracks are named for Detroit landmarks. The project begins with "Fort/Cass," a handful of vocal hums from singer/poet Pierre Anthony while the People Mover's electronic voice says, "This is the Fort/Cass station" in the background (the voice makes other appearances as well). "Michigan (Time and Place)" is an old school groove track instrumental that feels like it should be the score for a Shaft 2.0 movie, while "Times Square" and "Cadillac Center" (with the best Bobby Brown voice sample ever), perfectly capture Detroit's tech vibe.
Detroit Che comes through on "Grand Circus Park" with her usual 16 pack of bars and rhymes which have made her a national name. 50 Feet and Sheefy McFly trade street stories over a Detroit trap beat in "Millender Center," while the trumpet heavy instrumental ,"Financial District" is too damn good not to have any bars to go with it (Guilty Simpson would have murdered this track).
The project features several instrumentals that are actually well composed cuts instead of random break-beats. "Renaissance Center" feels like a '90s D.M.W./A.W.O.L. beat, newly home Stretch Money makes a dynamic appearance in "Greek Town," and Pierre Anthony closes the project out how it started.
Overall,
People Mover
has a time capsule type feel to it. Drummer B succeeds in telling where Detroit has been, and also where it's at.