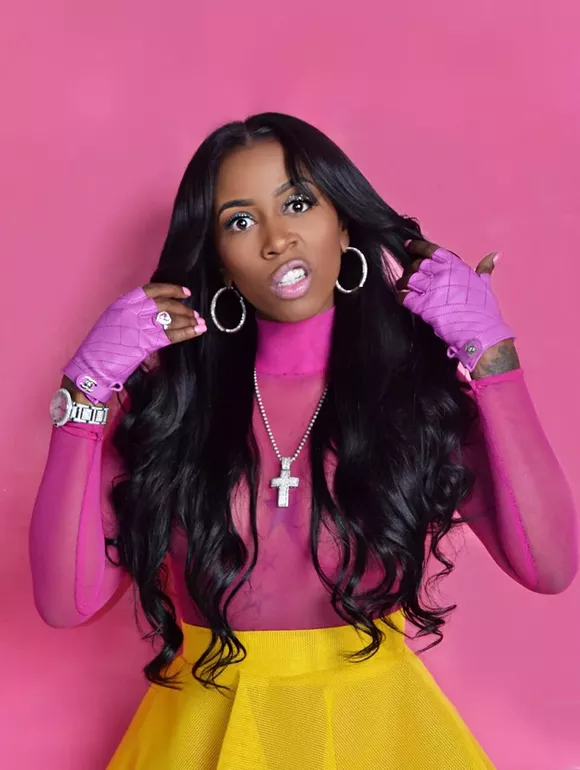 Brash, bold and beautiful, Arkeisha "Kash Doll" Knight emerged on Detroit's underground hip-hop scene in early 2014 like a thunderbolt clap. She was instantly crowned "Detroit's next big thing."
After her reign in the exotic dancing industry, even earning $26,000 in one night, she decided to retire her g-strings and lucite stilettos to pursue a full-time rap career. Capitilizing off her growing fan base of "baes," she is not only a "femcee" but a businesswoman. Launching Kasa de Doll Boutiques and Full Service Beauty Bars, currently located in Detroit and Columbus, Ohio, Knight continues to dabble in many avenues. Proving her ability to multitask and be a "boss chick", she's released popular singles and remixes since. The "femcee" has taken her time in crafting a full-length statement, Keisha vs. Kash Doll, which is out this week.
With millions of YouTube views attached to those singles and remixes, and sold out shows across the country, Knight seems ready to leave the underground behind.
She has temporarily relocated to Atlanta (with rumors that it might be because of a certain reality TV show) but still spends plenty of time in Detroit. She's here this week for a release party for her highly anticipated full-length debut, in fact, we sat down to catch up with her beforehand.
MT: When did you know it was time to leave your job as an exotic dancer?
Arkeisha Knight: When I was dancing, I was stressed out, because I knew that was something I didn't want to do. I wanted to stop because I just wasn't comfortable. But I kept my faith in God, and prayed that he would help me figure out what to do next. The money was good, and I kind of liked the lifestyle. And I started to get a lot of little fans for my music, and it was a lot of high school girls. I didn't want them to think that stripping was a way out.
MT: When do you pinpoint things starting to take off for you?
Knight: When Tinashe came out with that song "2 On," I liked it so much. So I said, "Let me try to put my own little twist to it. Something for the ladies because we all can relate to being 'on.'" I did my remix, and baby did that take off! I did a video with Joseph McFashion and Mula Films. We put it out, and it went crazy, viral on the Internet. The radio station even started playing it. Jay Hicks on 107.5, I love him so much. I was played on air at least six times a day. I'm like, "Hold on, wait, what?"
People started booking me to come out to perform. It was no more getting booked to dance or to be a vixen. People wanted to hear me perform. I didn't even think about the retirement party at the strip club, and leaving dancing alone; I just left it alone.
MT: So how did you get into rapping in the first place?
Knight: I've wanted to rap ever since I was a little girl. I always wanted to be an entertainer — not even just rap, because I can sing too. That's just my life.
I wake up, and I love getting my hair and makeup done for videos, and going shopping, all of that. First I told a guy, Dex Osama, that I wanted to be a rapper. Me and him were kickin' it at the time and he was like, "Aww man you can do that; you got the look, let's go the studio." We went to the studio and did a freestyle to a Notorious B.I.G. beat and we put it out. The response was good. At that point, I was geeked because someone asked for a feature [rap appearance on another song] and wanted to pay me $2,500 for it. Later Dex passed on, and I've kept his encouragement in my heart.
MT: And now, you are finally releasing a full-length mixtape. What's behind the title for it, Keisha vs. Kash Doll?
Knight: Keisha is the real me. Keisha vs. Kash Doll will give people a little bit about Keisha. They know about Kash Doll, but I feel like Keisha balances it out. Keisha is more humble and down to earth; she's going to talk about things she's been through in life. Kash Doll is going to give you the mentality of "I'm a bad chick and I'm going to always be that chick and no one can tell me nothing."
Keisha is going to give you those love songs and Kash Doll is going to come back with some "Fuck these dudes and get money" songs. [Laughs] It's all going to balance itself out. I just wanted to give people a variety. Every song that I have put out so far has been my alter ego — nobody knows the real me and how I grew up.
MT: Alright then, where and how did you grow up?
Knight: My father passed away on my first birthday. I never got the chance to meet him or know my father. I want to make him proud and keep watching over me. I always wanted that love from a father figure, but I never got it.
I grew up on the west side of Detroit. I was kind of bad in high school. Henry Ford is where I started off at, and then I went to another school. I got kicked out of there; then I went to Detroit City High. I used to fight, but I did come out on time. I went to college and everything. People need to understand that. I got my diploma and I have a degree. I'm not "ignant." [Laughs]
MT: How long had you been working on this project?
Knight: I just started working on it really in October, and I just felt like it was time because I had been holding on for so long, and I'm ready. I met a couple of people, great producers like Timbaland and Zaytoven. I was mostly in the studio during the week, and on the weekends I would do my shows. I do have two businesses; I have two boutiques. Everything pulls me in different directions, but I always make time for the studio. It is important to make sure I have the record done, because my fans were going to kick my butt.
MT: What is your favorite song on there?
Knight: All of them are my favorite songs because they mean something but "I Hate Cheap Shit" is my favorite because I had everything to do with that [track]. I love it so much, it's fun. It's versatile — that's my shit!
MT: How was it working with Timbaland?
Knight: Timbaland was such a ball of positive energy. He made me feel so good about what I have going on and what I am trying to do, just with supporting it. He was just giving me pointers with my growth and what I have going on. He was telling me older people expect the new generation to do the same thing they did, but they have to understand there are different ways.
MT: Will there be any featured guest spots on the mixtape?
Knight: I'm really trying to make it more about me. There are a lot of big artists ready to work with me, but I feel like [for] my first project I want to be able to let people know about me. So, I wasn't pressed on like trying to get features on there. I do have people singing hooks, but I don't want to talk about it — it's a surprise.
MT: What artist would you to collaborate with the most?
Knight: Rihanna — that's somebody who I would love to work with.
MT: Often in the industry, they pit female rappers against each other. How do you feel about that?
Knight: It's petty. There is room for more than one female rap artist. All women are not the same just like all men are not the same, so why does there have to be one dominating female rapper? There are a lot of talented women out here, and I feel like we all should come together. I don't have nothing against these girl artists. I'm excited for all of them; I give them all of their props.
MT: You are still an independent artist. Do you have a desire to go more mainstream?
Knight: I don't want to separate myself from the mainstream just because I want to be independent. I feel like anything is possible — you can create your own label and put your own stuff together. I would love to be mainstream, but I feel like I have time and I'm not really going to rush it. I feel like it will happen.
MT: Who else has asked you to collaborate?
Knight: People that are up, and coming like Migos, Shy Glizzy, Zaytoven, and DJ Mustard who actually made the beat for Tinashe's "2 On." Mainstream people seem to have this little pride about them, but I know Drake follows me on Instagram. So he likes the movement obviously. Also people like Lil Boosie and Yo Gotti, they know about me and they respect and like what I'm doing.
MT: Why do you feel like your fans gravitate to you so much?
Knight: Because I'm 100 percent real, I'm myself. You can tell when someone is genuine, and you can tell when someone is not and just trying to please their audience or the media. My fans know that and appreciate it. Can't nobody change me; I will never let nobody come around and change the person that I am.
I'm not going to feed the negative stuff anymore, I'm going to feed my audience, my "baes," with positivity. I'm going to starve all the negative stuff. Whether you're doing good or bad, somebody is going to have something to say. So I'm happy that I am doing good and I know that I'm the shit and everybody else is supposed to feel like they're the shit, and if you don't it's something wrong with your self-esteem. Not mine.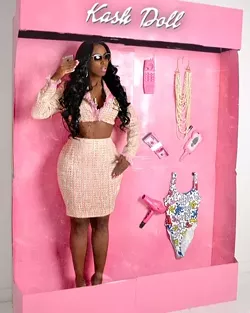 MT: Why do you call your fans "baes"?
Knight: Because they call me "bae"; ever since day one, even when I was a dancer, they used to call me that.
MT: What is one of the craziest things a "bae" has done?
Knight: I was at Red Lobster one day, in Columbus, Ohio, and a girl couldn't make it to the grand opening of one of my stores. She went to every place I was at, trying to meet me. I had posted something on Snapchat saying I was at Red Lobster. She came there and walked over to me and gave me a hug because she wanted to see me real bad. She just started crying. Some of my baes even have tattoos, and they also put me on their birthday cakes, get shirts made, all that stuff. It's just mind-blowing to me.
MT: What's next on the business tip?
Knight: Let me tell you a little something about me: I'm a boss chick straight up out the 313. [Laughs] I'm going to open up more Kasa de Doll Boutiques in Atlanta, Miami, and Houston, just to name a few. I can't wait. I love the grind; it's going to be real big.
I'm going to get some Barbie dolls made, just like the Barbie doll I had uploaded. It's definitely in the making and it's definitely going to be done for sure. I don't know if I am going to do a tour and pass them out and sell a couple of them in each city, but I know I want to give one person one in every state I go to. It's going to be limited edition. I don't want that many out. They are going to be limited edition, and I'm going to get a good 65 made.
Keisha vs. Kash Doll has a release party Friday, Dec. 18 at Post Bar, 22065 Michigan Ave., Dearborn.