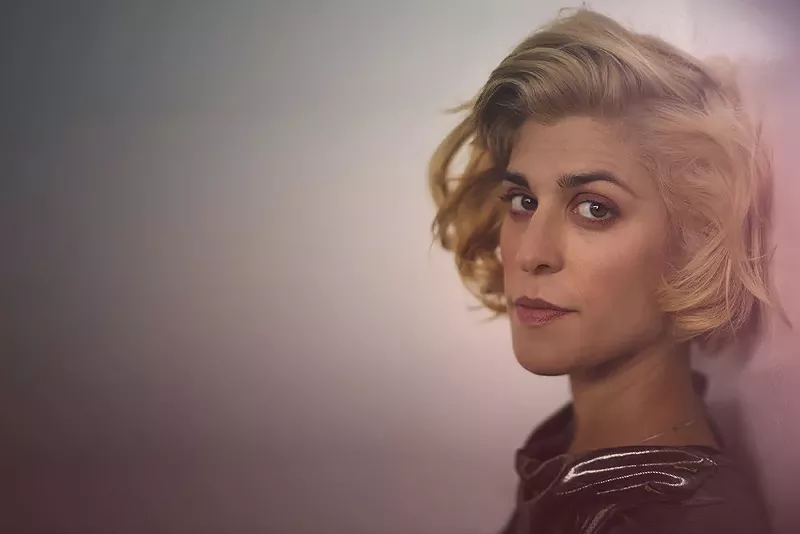 Dessa — the Minneapolis-based poet, rapper, and songwriter born Margret Wander — can now add "scientist" to her long list of talents. The 36-year-old hip-hop artist turned to the scientific method in the creative process leading up to her latest album, Chime. After trying and failing to deal with heartbreak for nearly 12 years, Dessa thought that if she could pinpoint the part of her brain that made her fall in love, she might be able to fall out of it.
Working with a professor and brain imaging expert at the University of Minnesota, Dessa underwent a series of tests involving looking at two photos — one of her ex and the other of a platonic male friend — while inside an fMRI machine. The results showed that certain parts of Dessa's brain — the anterior cingulate, the ventral tegmental area, and the caudate — lit up only when she was looking at her ex and not her friend.The goal was to use this newfound awareness to train her brain to behave the way she wanted it to instead of the way it was — obsessive and heartbroken.
"I didn't lobotomize myself," she says. "I wasn't trying to unnaturally inhibit an emotional response. I was trying to train my brain like you train a muscle at the gym, so that you can move it freely the way you want it to."
Dessa would watch her brain waves in real time and try to get them to behave differently. She says the method — known as "neurofeedback" — didn't cure her completely, but it helped. The next time she saw her ex, she says she still had the same feelings of love, attraction, and sadness, but they weren't as intense or compulsive.
This "falling out of love" experiment and the brutal 12 years of mourning that preceded it are central themes in Dessa's latest album release, Chime. "Velodrome," a track sung mostly in the style of spoken-word and accompanied by swells of heart-wrenching strings. Opening with the line, "I don't believe my will's quite free/ I'm half machine, at least, half steam," Dessa starts to dissect whether or not humans have any control over who they love. For Dessa, the velodrome, an oval shaped cycle-racing track, symbolizes the seemingly never-ending cycle of breakup and heartbreak that she experienced in her last relationship.
"It took forever to end, years and years," Dessa explains. "Part of it was chemistry, part of it was that it was so volatile, it was really up and down and never settled. ... There was nothing to acclimate to, so it stayed fresh for years."
But Chime's sole purpose is not to dwell on an infinite undulating romance or ponder life's unanswerable questions. Dessa also makes room for cheeky, power-infused rap interludes like, "Shrimp" and "5 out of 6," where she flaunts her innate proclivity for metaphor and sharp-tongued delivery. At times, it's hard to believe that the bold, self-assured woman who raps "I'm here to file my report as the vixen as the wolfpack/ Tell patient zero he can have his rib back" on "Fire Drills," is the same person singing about powerlessness in the face of love on "Boy Crazy." However, this emotional elasticity is what makes Dessa human — and, thus, relatable.
Dessa will perform on Sunday, April 1 at El Club; 4114 W. Vernor Hwy., Detroit; 313-279-7382; elclubdetroit.com; Doors ar 8 p.m.; Tickets are $20.