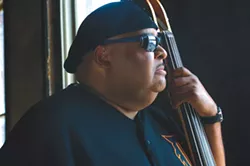 One of the most-asked questions about jazz bassist Ralphe Armstrong's debut album, HomeBass, was why it took him so long to release it. Not that he hasn't been busy. For years, Armstrong has been playing all over the world with such names as Aretha Franklin, Carlos Santana, John McLaughlin, Sting and James Carter, so it's not as if he's had much time to focus on a solo project. What's more, the album he has released, HomeBass (out last month on the jazz label Detroit Music Factory), is his performance at the 1996 Detroit Jazz Festival — that's been "in the can" for 17 years.
Seated at a table at Bert's, a reopened club next to Bert's Marketplace in Eastern Market, nursing a cranberry-orange juice drink, Armstrong reflects on longevity.
"When something is good it's good, and when it's bad it's bad," he says. "Let me rephrase, What I'm trying to say is I've listened to a lot of recordings over the years of myself and of other musicians. And when musicians say that a performance was killer and we should've recorded that … Well, I had a killer performance in 1996, and I recorded it. In the words of Count Basie, if it was good then it's good now."
HomeBass is a big deal for Armstrong. The album is a mix of acoustic jazz and jazz fusion played by a group Armstrong dubbed the International Detroiters, including trumpeter Rayse Biggs, drummer Gayelynn McKinney, pianist Henry Gibson and guitarist Toty Viola.
The album represents all Armstrong is, which is, for starters, a selfless bandleader, a big ham and one of the finest all-around bassists Detroit has produced. Notably, he's not reluctant to allow his bandmates to share the limelight. Biggs, for example, blows a bigger hole than the one in the ozone on "So What." McKinney's sounds as if she played two drum kits simultaneously on "Freedom Jazz Dance."
"If you listen to the CD, it shows the real Ralphe Armstrong. I play jazz bass. I play classical music. You can hear that on 'Dear Old Stockholm.' Then the album also shows me with the electric music. The only thing I didn't do was sing the blues, or do standard blues," Armstrong said. "This album showcases my styles; that's why I did it live. The most important thing about it is I'm showing my city, Detroit. That's why I called it HomeBass."
On the bandstand and during interviews he can be comical, poking fun at his bandmates. The joking can be corny. Introducing the band on the album, he told the audience Henry Gibson won a Hennessy drinking contest when he actually won a jazz contest Hennessy sponsored. Asked how often Armstrong tours, he claims he flies so much he's grown feathers.
However, when the music starts Armstrong is strictly business and he damn near plays the strings off the bass. The standup practically has to gasp for air after his solos.
Some of his bandmates consider him more of a big brother than a boss. Gayelynn McKinney, the drummer with jazz combo Straight Ahead, who was featured on HomeBass and who is herself daughter of the late jazz legend Harold McKinney, tells us, "He's always looked out for me. He has been the musician that helped me get out there. My father put me out there musically. Straight Ahead put me out there another kind of way by being signed to Atlantic Records, but Ralphe put me out there playing with big-name people that he was connected to. He got me a gig with Chaka Khan."
Then again, Armstrong's brotherly affection for McKinney makes a lot of sense. Like McKinney, Armstrong is a son of a legend. His dad, Howard Armstrong, was a larger-than-life character who played with the likes of Sleepy John Estes, Big Bill Broonzy and Memphis Minnie during the Great Depression. Director Terry Zwigoff made the elder Armstrong the central figure of his 1985 documentary Louie Bluie about the last of the black string bands.
Armstrong, the son, was exposed to all that music as a child and his own career took flight before long. As a teen he was subbed in the band behind Smokey Robinson and the Miracles, and then toured with John McLaughlin's Mahavishnu Orchestra and Carlos Santana. To this very day, Armstrong can recall every detail of landing that gig with Santana.
"I got this call on the phone. It was Mahavishnu [McLaughlin] and he said, I want you to talk to somebody. Guess who that somebody was on the other line? It was Carlos Santana," Armstrong recalls. "He said, I want you to play in my band. I was holding the telephone, shaking."
As one of the busiest jazz bassists to come from Detroit, and given all his accomplishments, it is odd Armstrong never saw himself an all-star. He certainly has the credentials.
"I guess Ralphe didn't feel the need to have his own project," McKinney says. "Now, he felt it was time for his voice to be heard … now it's time for people to hear what he has to say as a solo artist." mt
The Ralphe Armstrong Quartet plays New Year's Eve at the Dirty Dog Jazz Café, 97 Kercheval Ave., Grosse Pointe Farms; 313-882-5299 for reservations; dirtydogjazz.com.