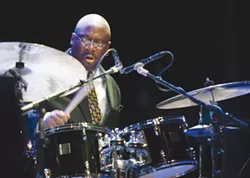 Jazz at the Centre's 2013-2014 opening season promises to be "true to the music" by presenting a wide range of artists representing some of the best creative jazz artists performing in the world today.

"Jazz at the Centre will build a dedicated audience with great music, great sound, a great venue and a great ticket price," says Skip Norris, managing and artistic director for Jazz at the Centre. "We're presenting these artists in one of the best venues in the Midwest."

Norris is the former jazz director of the Music Hall's Jazz Café and is considered one of Detroit's most knowledgeable and respected jazz promoters and music aficionados.

Ralph Peterson, Jr. says he was "predestined to be a drummer." He was born into a musical family with four of his uncles and his grandfather all being drummers. He first starting playing at age 3 and used to play along with records by James Brown and the Parliament-Funkadelics, "… where the beat was powerful and primal."

Almost 40 years later, Peterson ranks among the top drummers in jazz, having played with everyone from Art Blakey, Count Basie and Betty Carter to Terrance Blanchard, Michael Brecker and countless others.

His Detroit performance will feature a band consisting of Craig Handy on tenor saxophone, Josh Evans on trumpet, and Jake Sherman on Hammond B3 and keyboards. They will be playing a lot of new material contained on Peterson's newest album, Alive at Firehouse 12, released on his own Onyx label.
Norris has also booked "The Cookers" for one night only on Dec. 14. This all-star band consists of Billy Harper, David Weiss, Dr. Eddie Henderson, Gary Bartz, George Cables, Cecil McBee and Billy Hart. Also scheduled is Roy Hargrove's Quintet on Jan. 10, 2014.
Jazz at the Centre kicks off its debut series with drummer Ralph Peterson Jr.'s "Unity Project" at 8 p.m. Friday, Nov. 8, at Detroit's Paul Robeson Theatre in the Northwest Activities Center. General admission tickets are $28.