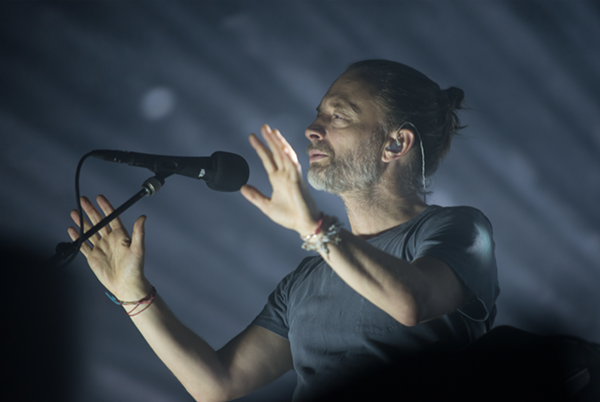 When Radiohead comes to Detroit, you'll know. And it's not merely because they are the greatest living rock band (if you can reduce them to that, even), but because it is such a rare occurrence that it renders a celebration.

In the band's first performance since 2012, when they visited the late Palace of Auburn Hills in support of The King of Limbs, Radiohead gave its third Detroit performance in nearly 20 years Sunday night at Little Caesars Arena to a crowd that was fitter, happier, and more than willing to wait.

Thom Yorke commanded attention by kicking off the career spanning 25-song, two-encore set with "Daydreaming" from the band's ninth studio record, 2016's string-heavy A Moon Shaped Pool. The choice to open the set with such a sparse and guttural track (the song has been said to reference his separation from longtime partner Rachel Owens, who died of ovarian cancer just months after its release), was, in fact, a grand gesture.

"We're just happy to serve you," Yorke whispers over a near-silent, though far from sedated crowd, hypnotized by the scintillating dance of white lights.

And for the next 135 minutes, Radiohead would serve.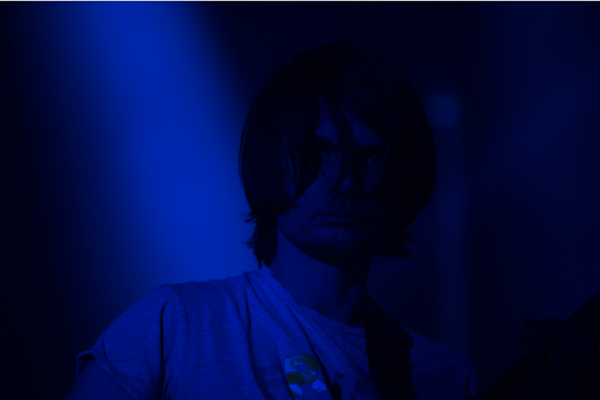 With the first three songs from
Moon Shaped Pool,
the band transitioned from the album's biting centerpiece
"Ful Stop"
into the chasmic thrashing of
"2 + 2= 5"
and
"The Gloaming"
off of
Hail to the Thief,
an album that was represented with five songs during the night. But it was when the band revisited 2007's
In Rainbows
that Radiohead's cutting catharsis and often contemplative control was on full display, though to thousands of people,
"All I Need,"
"Nude,"
and the album's closer
"Videotape"
could have just as well have been a cut from the band's
From the Basement
sessions.
Forty-nine-year-old Yorke — whose presence toggled between convulsive and meditative — kept the stage banter to a minimum, except for a notable audience flirtation, asking coyly, "Hello, what's your name?" Launching into
"Bloom,"
one of two
The King of Limbs
tracks that made it onto the set, and his intro for 2011's
"The Daily Mail"
— "What they like to do is tear people's lives apart," Yorke said of the English newspaper.
"Fake Plastic Trees"
made an appearance, showcasing Yorke's pristine and fragile falsetto, and the transcendent afterlife lullaby
"No Surprises"
brought classic Radiohead to life with a shimmering release.
In closing, the band drew their most anthemic weapon —
OK Computer's
"Karma Police"
— a song that is over 20 years old and hauntingly suited for today's climate. Though far from a protest song, it's still threatening all the same.
Perhaps the most tangible example of Radiohead's emotional staying power and of Sunday night's sprawling display of bloom and doom — "For a minute there, I lost myself, I lost myself," Yorke sang stepping away from the mic while quietly conducting the audience with only his acoustic guitar.
For more photos click
here
.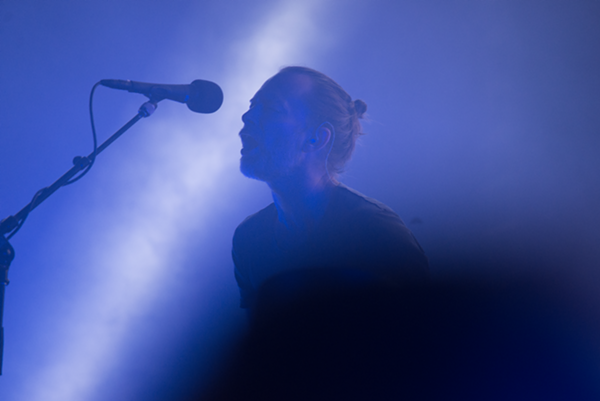 Get our top picks for the best events in Detroit every Thursday morning. Sign up for our events
newsletter
.