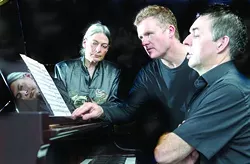 Quercus, which is the Latin word for oak, is also the name of a trio consisting of English folksinger June Tabor, Welsh jazz pianist Huw Warren, and English jazz saxophonist Iain Bellamy. Although they've been playing together for seven years, they are just now putting out their first album, a self-titled release on ECM.
Their sound is quite eclectic, combining traditional and non-traditional songs, some ancient, some contemporary, including works of Robert Burns, William Shakespeare, Gregory Norbet and others. The music connects jazz with folk and early music, making it appealing to a wide range of listeners.
Although Tabor's mesmerizing voice has a strong presence and the trio's musical compatibility is astounding; they truly have one voice — a goal most music groups strive for but few attain.
In "Come Away Death," which is based on Shakespeare's text from Twelfth Night, Tabor's voice works in unison with Ballamy's tenor sax. They are so in tune with each other, in every respect, they almost cancel each other out! It's a very uncanny sound. With Quercus, the simple instrumentation of voice, saxophone and piano allows the music itself to flow through, free of amplification and a rhythm section.
Tabor's career spans across four decades and 19 solo albums, and she is one the world's foremost performance scholars of English folk music — old and new. You may remember her collaboration with Steeleye Span's Maddy Prior, in their "Silly Sisters" project in 1970s, or her beautiful first solo album Air's and Grace's; or perhaps the recordings with the Oyster Band, including their famous rendition of Jefferson Airplane's "White Rabbit."
She is self-taught with no formal training, yet her use of sophisticated performance techniques shows a deep understanding of the theory and stylistic nuances associated with various historical periods. With Quercus, you hear everything from Elizabethan madrigals to improvisational jazz and traditional folk.
Tabor's deep, rich alto voice is adaptable to the many styles on the album. On some songs it has an authentic ancient quality with little or no vibrato, just pure straight tone. While on the jazz ballad "This is Always", she gets into character and uses contemporary jazz vocal techniques to sound stylistically accurate.
The album opens with the Quercus version of Robert Burns' "Lassie Lie Near Me." Warren's lyrical piano, mixed with the doubling of saxophone and voice, sets off the harmonic rhythm of moving choral figures. A modern take on ancient music. Warren's solo track "Teares" finds him drawing on traditional modes while taking us far into an intricate jazz improvisation experience.
Quercus has a sound all its own, drawing upon centuries of improvised musical forms bringing it all into the present.