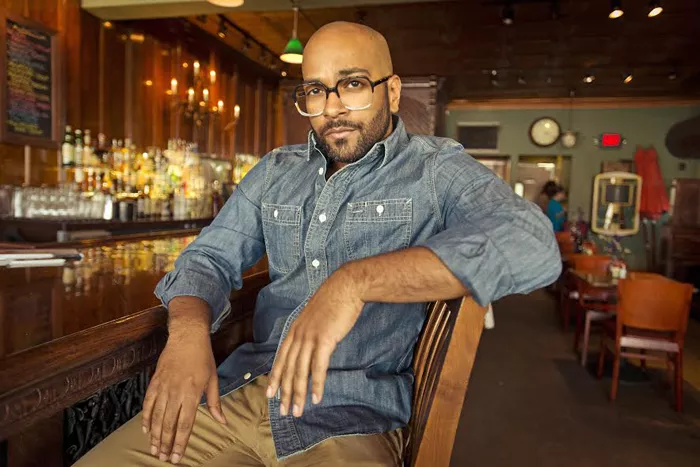 Welcome to Lawrence "Kopelli" Young's party. The Gentleman Jack debut solo album is a big deal for the local emcee; nine months ago he nearly left the rap game altogether.
Even so, as of last summer, he still had some raps to record, with no intention of just throwing his songs away. Artists from a range of genres started connecting (and creating together) across his stomping grounds around Eastern Market and Midtown, but also spreading to Hamtramck and up to Ferndale. "Those relationships between those different crowds have grown," says Kopelli "and to have seen a scene just create itself has been inspiring."
"Iron sharpens iron," Kopelli says, quoting the Bible. Being one rapper of a four-part hip-hop collective called Cold Men Young has helped light a motivational fire for him these last few years. "I wouldn't want to be the weak link in the chain," he says, taking this solo album's completion to be a healthy challenge. His co-rappers in CMY keep quite busy themselves, with Brent "Blaksmith" Smith recording and performing with Passalacqua, Chace "Mic Write" Morris recently releasing a solo EP, and Miles "Mic Phelps" Stewart also working with a hard-rock and hip-hop hybrid band called the House of Wax.
Kopelli, 34, grew up in southwest Detroit. He says that he "100 percent means it" when he declares Digital Underground's "The Humpty Dance" to be the "best rap song of all time." His brother was in rap groups, and he took inspiration from him to start some "wordplay" of his own. "Play" is a key word for Kopelli though. "To me," says Kopelli, thinking back to his younger self as he started out with early raps, "it was all about having fun."
Metro Times: What really got you into rapping when you were young, and how did you start performing around Detroit?
Lawrence "Kopelli" Young: When I was really young, I would rap at my elementary school assemblies during those "Drop Everything and Read" campaigns. I would rap about why it was important to read. It was just fun putting words together into rhymes. But I was a late bloomer. I don't think I ever believed it was something I could ever do. I always rapped for fun, as a hobby. But after leaving both an unhappy relationship and unhappy job a few years ago, I finally said: "Why can't I do the things I really wanna do? Why not try?" I started doing my own stuff in 2006 and hooked up with the guys from Cold Men Young in late 2007 on the open mic scene.
MT: You'd mentioned "Humpty" earlier … And a lot of the songs on Gentleman Jack exude a hip-hop sound more inclined to pop or suited for a bigger, bassier club setting. In other words, more fun than the edgier stuff in the current spotlights … like Danny Brown or Kendrick Lamar.
Kopelli: I rap about more relevant, serious things every now and then that aren't party-related, but for me it was always about the art form of putting words together. I'm usually having fun with my friends or the people I work with and make music with, so I wanted to put those appreciative vibes out on this album. (Danny) Brown used to be on that real dark side, the underbelly-of-Detroit kinda stuff, but he found a way to make it digestible.
MT: Your raps still sound sincere, though. Even so, is there ever a voice in your head saying you have to be edgier?
Kopelli: It occurred to me, yeah, that that's what people like. But I think in every genre of music, artists find a form that works for them, like "Trapp" music lately, if it works for them, it works. Styles always shift. But I can't tell the same stories as (Brown), it would sound fake if I tried to do it. What I gravitate towards … are rappers who are making their art but you can see and hear that they're genuinely having fun. Interesting sound-beds with heavy bass, some fun party-time vibes yet still sounding abstract, like Childish Gambino or Chance the Rapper. Anyone I can see having fun while they're making their music…
MT: There's some darker electronica-stuff under your raps here. What else, beyond your closest collaborators, inspired Gentleman Jack?
Kopelli: I come from the background of "backpack-rappers" like Clear Soul Forces, Elzhi, Black Milk. But I've always had this vision, that you could have skilled rappers who were fundamentally sound in their craft but give them sound-beds that were more consistent with what the masses flocked to at the time. What's popular now is that dark electronica-stuff. But the Olympicks (one of Gentleman Jack's primary producers) make really big sounding records, in general, so … But I specifically asked them to send me stuff that could take me out of my comfort zone.
MT: What kept you going this year, even when you thought you were going to step back from rapping?
Kopelli: I always had the desire to be part of something that started organically from the ground up. That happened with Cold Men Young, but it's happening in the scene, where it's just all one big family. That had existed on a smaller scale beforehand, but nothing like now, with Jamaican Queens, Christopher Jarvis, Doc Waffles and Eddie Logix and the "CoOwnerz." I have more opportunities and avenues to create than I've ever had before. Why stop?
MT: What can someone walking in off the street expect at this show?
Kopelli: High energy, something to dance to a bit. You know, have fun and don't worry about the guy on stage trying to outrap everyone in the world. It's just a song you can vibe on. mt
Kopelli Album Release Party for Gentleman Jack with Microphone Phelps, Mic Write, Passalacqua and Macs the Realest is at 9 p.m. on Tuesday, Feb. 4, at the Grasshopper Underground; 22757 Woodward Ave., Ferndale; no cover; thegrasshopperunderground.com.