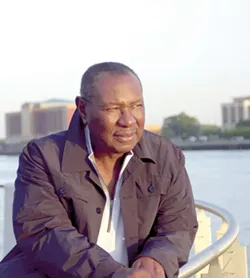 Jazz vocalist Freddy Cole never had a sibling rivalry with his older brother Nat, one of the most renowned male vocalists of all time and one of the first African-American entertainers to have his own television show. The late crooner immortalized such songs as "Unforgettable" and "Mona Lisa." Fact is, when the brothers got together they seldom discussed music and mostly talked sports.
Cole, 82, has a voice that's smooth and endearing with 30 albums to his credit. His 2010 album, Freddy Cole Sings Mr. B, was a tribute to his role model, Billy Eckstine, and garnered a Grammy nomination. Detroit is one of Cole's favorite cities to perform. In September, he sang at the Detroit Jazz Festival and he makes his second appearance this year at the Dirty Dog Jazz Café. We talked to Cole about his early memories gigging in Detroit and making his mark as a jazz vocalist.
Metro Times: Can you recall your first performance in Detroit?
Freddy Cole: Actually, I remember it vividly. The first time I played in Detroit, it was this month in 1953. I played at the Flame Show Bar on John R and Canfield. I played with local guys like Beans Bowles, and a trumpeter, I can't recall his name right now, but he ended up being Diana Ross' music director. The band I played with had a lot of Detroit cats. I got the opportunity to meet all the jazz cats like Donald Towns, who became my good friend.
MT: Back then, before you began gigging in Detroit, were you hip to its reputation as a happening jazz town?
Cole: You know, I'm from Chicago and being young back then, and being in the music business, I would hear things about all the cats that could play. Detroit is where I met and became friends with Kenny Burrell.
MT: Your older brother, Nat "King" Cole, was one of the greatest jazz vocalists of all time. Was there ever a sibling rivalry?
Cole: Surprisingly, there wasn't. When we used to get together, the music was the last thing we talked about. People have a hard time understanding that, but that's the truth. We were sports enthusiasts: baseball, football and basketball. Our conversations would drift to sports over music.
MT: Did being Nat's brother open any doors for you, career-wise?
Cole: There was no golden path laid out for me. I had to do what I had to do. Fortunately, I've made it. I didn't start to make any strides until I proved that I belonged with my peers. My peers started to recognize the work I was doing, that I wasn't up there on the bandstand trying to mimic my brother. I really started to put something together collectively around 1989. That's when I started doing a recording per year. Before then, I had recorded in Europe.
MT: Did the record companies ever push you to copy Nat's style and way of singing?
Cole: You know, I always rebelled against that kind of thing. I never did that. I was never a part of my brother's name being eight feet tall and my name being two feet tall. I wouldn't have any part of that.
MT: Musically, who was your biggest influence?
Cole: Billy Eckstine. He was everything. I first met him when I was 9. He was a family friend and he was a close friend with Nat. As I got older, Billy would offer me advice here and there. I watched how professional he was. I tell young musicians all the time, "You have to be professional." When he hit the bandstand, he was all business. To this very day, I look at it as: You came out to see me with your wife. You buy drinks and dinner. Right there, a couple hundred dollars are gone. You are dressed sharp and your wife has on her Sunday best. And here I come on the bandstand in torn jeans and sneakers? That picture doesn't look right to me.
MT: You're 82. What keeps you going?
Cole: The music keeps me going. It is the only thing that I can do. If there were something else out there for me, I would do it. Once a musician, always a musician. It's a profession you can't retire from. mt
Freddy Cole appears Nov. 22-23, at the Dirty Dog Jazz Café, 97 Kercheval Ave., Grosse Pointe Farms. For reservations, call 313-882-5299.