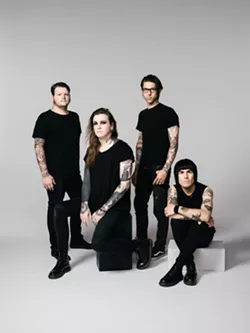 What started as a solo project for musician Laura Jane Grace 20 years ago has evolved to one of punk rock's most important bands ever. Against Me! has seen a cast of band members come and go, yet Grace has been the backbone.
She came out as transgender in 2012, and the band hit commercial and critical success when they released 2014's
Transgender Dysphoria Blues
. The record recalled early Against Me!, but felt a whole lot more honest and real. The band's latest album dropped in 2016 and the quartet will drop into Midtown's Majestic Theatre for a raw, honest showcase of punk rock.
Against Me! performs at the Majestic Theatre on Sunday, Oct. 1. Doors open at 7 p.m.; 4140 Woodward Ave., Detroit;
313-833-9700; majesticdetroit.com; Tickets are $20, $25 at the door.