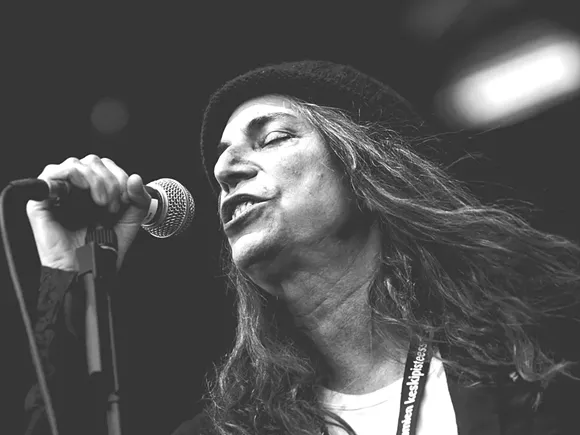 Writer, performer, and visual artist Patti Smith is perhaps best known for her singular fusion of rock music with freeform poetry, particularly in her adopted home of New York in the '70s. But through her long-term marriage to the late Fred "Sonic" Smith, the legendary local guitarist of MC5 fame, she also happens to be intimately connected to metro Detroit. We really do mean metro, too — the couple lived not in Detroit or even Ann Arbor, but St. Clair Shores.
Back in 1975, however, when her seminal debut album Horses was released, Smith hadn't met "Sonic" Smith quite yet. Born in Chicago, Smith's family later moved to New Jersey; in 1967, she ended up in Manhattan, where she met one of the most important people of her life: Robert Mapplethorpe, the photographer responsible for the iconic portrait of Smith that appears on the cover of Horses. Smith's pose has been self-described as "a mix of Baudelaire and Sinatra," a tellingly unusual combination — of two men, no less. Just from the cover alone we already get a sense of the non-typical nature of Horses. The record company wanted to make changes to the photo, but Smith refused. Thank goodness. Can you imagine Horses without her stark non-smile on its monochromatic cover?
Horses is not an especially difficult or complex work, but in 1975, the merging of simple rock chords with the power of poetry was to create something totally different, a new kind of art punk. The album was met with widespread critical acclaim; somewhat remarkably, despite a lack of airplay or even a popular single, Horses even landed in the top 50 on the Billboard 200. (Smith's cover of Them's "Gloria" was released as a single at the time. It may not have been popular then, but it is surely one of her most recognizable songs now.)
Apart from the mainstream success, which was a bit of a surprise, Horses also set Smith up as one of the biggest names in New York punk, right up there with the Ramones and Blondie. At the time, she and her bandmates were broke and could barely keep their instruments in tune, but the album's raw energy and jolt to the system propelled it to heights that no one could have imagined — and there it has stayed. The Library of Congress even added it to the National Recording Registry in 2009.
Smith's unrestrained lyrics and vocal performance, infused with the imagery of French symbolism and American Beat poetry, carries Horses, but what made it so near and dear to the punk world had to be Lenny Kaye's primitive guitar, tapping into the messiness of garage rock and the minimalism of simple chord structures in equal measure.
But the influences on Horses are vast — not just lyrically, where inspiration comes everywhere from fallen musical heroes to Peter Reich's A Book of Dreams to Smith's own sisters, but also musically. The improvisations of "Birdland" have more in common with jazz than punk, "Redondo Beach" thrums along a reggae vibe, and "Elegie," her tribute to Jimi Hendrix, is at once both haunted and haunting, with mournful piano to guide us to the jolt of guitar we know must be coming — and Smith herself at the center of it all, a wellspring of incandescent emotion and poetic despair filtered through rock music to produce something incendiary and entirely its own.
Now, 40-plus years later, Smith and her band are still performing the potent, dynamic songs of Horses, and doing so with grace, a true testament not only to the album's staying power but also to Smith and her band's impressive dedication to performance, essentially as much at the height of their game as they still could be.
Smith has released over 10 albums and even more books in her career since then, all to various acclaim here and there. Her latest album is 2012's Banga and the latest autobiographical book is 2015's M Train, which turned to out to chronicle a little bit more of her life in Michigan with Fred than originally intended. (Enjoy some of our favorite fun facts about their life together: They met at Lafayette Coney Island in spring 1976 and got married four years later; they didn't like the water but kept a '50s-era yacht in their yard; they liked to sit inside the boat and listen to Tigers games on a shortwave radio. Fred was a huge baseball fan and had once been scouted for the Tigers' farm system. As for the boat, it was destroyed when the oldest weeping willow in St. Clair Shores got struck by lightning and fell on it.)
But Horses will always be Smith's alpha and omega, welcomed by critics and fans alike to become a beloved piece of punk poetry and one of most influential albums in the history of the American punk, with a reach that can hardly be understated as its arm extended into the post-punk and new wave of the '80s before it made its way to the alternative rock and grunge that was to come next. Female-fronted acts as varied as the Slits and Siouxsie and the Banshees to Courtney Love and Garbage owe so much to Smith, in spirit if not in sound.
Now we get the opportunity to see Smith and her band perform her seminal album in Royal Oak, with a configuration that includes two members who played on the original recordings: Kaye, the guitarist, and drummer Jay Dee Daugherty. We can't wait to feel our hearts pound right out of our chests as Smith brings down the house with the trampling of Horses.
Patti Smith and her band perform Saturday, March 11 at the Royal Oak Music Theatre; doors at 7 p.m.; 318 W. Fourth St., Royal Oak; royaloakmusictheatre.com; tickets are available at resale outlets only at this time.