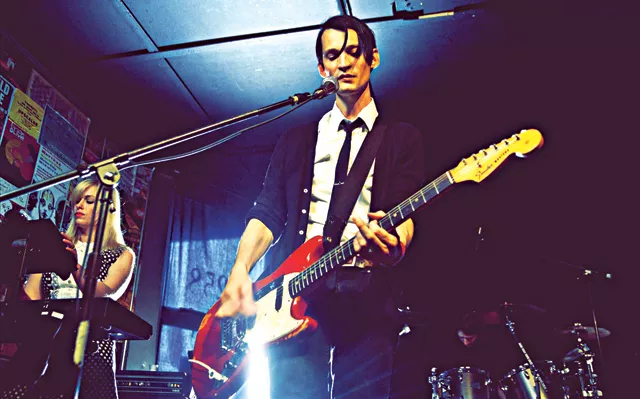 Trot out any clichéd adjectives — dark, intense, brooding — to describe local indie rockers Fur and the words will fit. See, the band has embraced the nihilistic, Eno-informed, wan-skinned swagger of the likes of Joy Division and Radiohead (when they were good) and added Detroit blood, sweat and terribly good songs. 
Singer Ryan O'Rourke, guitarist Michael O'Connor, drummer Zach Pliska and keyboardist Johanna Champagne — all late twentysomethings — are two EPs into their Fur career, and are now working on their debut album. Success came down after their song "Break Me, My Love" aired on Showtime's killer new series Homeland. The song is from Fur's second EP, Devastate the Details. City Slang spoke to O'Rourke and O'Connor to find who and what they are.
Metro Times: What's the genesis of Fur?
Michael O'Connor: The band formed in early 2009. Ryan and I had met each other through some family circumstances and we started talking long before we ever played instruments together. We had some similar musical influences and eventually realized that we both played. ... So we started to write songs together. Long before we really thought about forming a band, it was just for fun and seeing what we could come up with. Eventually, we went through trying to find band members — we had some typical Craigslist misadventures. We got a band together and started playing local shows. We started at the Belmont. ...
MT: You must reveal some of those Craigslist stories.
O'Connor: It's interesting to have people come through. You try to put a very specific ad up on Craigslist targeting exactly what you're looking for, and you get all kinds of people. We wish that we had filmed some of that, ... people who would show up and say they could play an instrument, and not even bring an instrument. People who would show up to sing, but instead of singing they'd say, "Oh, I just wanted to hear it the first time." People have a lot of thoughts about being in a rock band while in their bedroom with a tennis racket. You have to separate who's serious about it and who has the dream in their head. I think it would be an interesting movie. Obviously, you're riding the border of having really interesting, entertaining people and sort of making fun of people. I think you'd have to be really careful with that side of it. But isn't that how reality TV sells, essentially?
MT: Do you guys have day jobs?
O'Connor: I work as a counselor, Ryan is a professor, the drummer [Zach] works in horticulture at a gardening center and the keyboard player [Johanna] works at Lost & Found Vintage in downtown Royal Oak.
MT: What has been your favorite show so far?
Ryan O'Rourke: Definitely the first Blowout show in 2010. I lost a nail, broke my pinky finger (it's slightly angular now) and smashed my '65 Mustang. The show is also special because it was the first time people — like, actual strangers, other than my mom and dad — came to see us play and liked what they heard.
MT: How did you get involved with Homeland?
O'Connor: We've been submitting the tracks from the EPs to different licensing companies. We got a couple of hits back here and there — some things that were not too interesting and some things that were really interesting. Then this came along. We had a contact at [the Detroit studio] Tempermill, which had worked with these guys, and we just sent them our music. They came back fairly enthusiastic about what they heard, thinking that they could take some of this and place it. That was probably six or seven months ago. As a local band, you just forget about that stuff and go back to working on music and booking shows. They called us and said they had a placement for us in a new Showtime show, which is, of course, thrilling. It came to fruition about a month back. Now, we've seen the clip. It's pretty cool, because I think nowadays, the whole dynamic of record companies is a little bit different. It feels as if getting something placed for licensing is a nice accomplishment for a local band. Maybe it's similar to a band in the past getting signed to some minor contract or something. 
MT: Show placement seems to be the way to go now. ...
O'Connor: I don't know what the other avenues are, really, unless you're willing to hit the road and play 250 nights out of the year. That's not really possible for everybody, even though the High Strung do it to great success.
MT: Have you seen the song on the show?
O'Connor: We have, we've seen the original episode. The show looks incredible. It has Claire Danes in it. We were all happy with the show. The context of the placement is that it's about a minute, and it's in a kind of youth-related recreational drug scene where the mother catches the father and the son smoking a bong in a bedroom. 
MT: Have you considered more of your songs for placement?
O'Rourke: Hands down, my favorite movie is Vincent Gallo's first film, Buffalo '66. I've seen it at least 20 times and can quote most of the dialogue verbatim. A song of ours that I'd want in the movie is "I Want to Let You Down." It's bombastic, and self-destructive — just like Vincent Gallo. 
MT: What's next?
O'Connor: We're playing the Mike Anton benefit at the Lager House. ... We're doing YpsiFest, then Theatre Bizarre [for Halloween], then we're taking a few months off to complete the writing of the record. We want to release our first proper record, and then hopefully do some touring. We've never really been outside of Detroit, other than Ypsi — if you can count that.
MT: Where will Fur be in 10 years?
O'Rourke: My goals have always been humble, but they're becoming less humble as the band matures and I get more confident and restless: I'd love to score a film or, at the very least, be able to show my kids pictures of us playing shows in Europe. Either way, I know we'll be nursing our bruises, broken pinkies, and resituating our hearing aids. 
Fur plays the Mike Anton Benefit Friday, Oct. 7, at PJ's Lager House, 1254 Michigan Ave., Detroit; 313-961-4668; $6 donation. Homeland airs Sundays at 10 p.m. on Showtime and is available on demand.