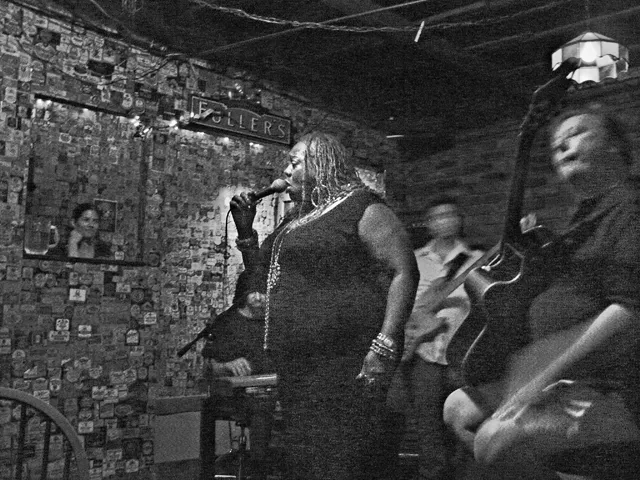 Thornetta Davis plays Friday, Aug. 17 at the Music in the Park Festival in Lexington. On Saturday, Sept. 1, she plays the Arts Beats & Eats festival, headlining the Pepsi R&B/Jazz Stage. She's on the recent Johnnie Bassett disc I Can Make That Happen on the Sly Dog label. 
If Alberta Adams is the queen of Detroit blues (as she is and will be as long as she's with us), then Thornetta Davis is the princess. Davis herself is honored by the suggestion — in fact, she shrieks with delight when it's brought up. However, there doesn't seem to be a "diva" side to Princess Thornetta; she's infectiously bubbly, humble and, like her lyrics, very honest. In contrast to the brassy blast of her singing, there's a breathy quality to her speaking voice, as if she feels what she says with every ounce of her being.
The day of the interview is a bittersweet one for Davis. Sweet because she has just returned from her first trip to Calgary, where she played a blues festival and apparently brought down the house. Bitter because her good friend, blues gentleman Johnnie Bassett, has just died.
"He was one of my favorite, favorite people," Davis says. "I loved him so much. I heard when I was getting ready to perform yesterday that he had passed away. I knew he was sick, and I was hoping and praying that he wouldn't be gone until I got back. He was very ill. It really hurts to the core that he is gone now. He just released a CD and I'm on it — we did a duet together called 'Teach Me to Love.' We never got to sing it after the recording. The last time I saw him I said, 'Johnnie, you gotta get better so we can do this song.' At the time, he was strong enough to squeeze my hand. I didn't get a chance to talk to him anymore after that."
Davis' voice cracks when she talks about Johnnie — the wound still very raw. That's in stark contrast, though, to her tone when reliving her early years growing up on the east side of Detroit. "I always loved to sing," she says. "I'd sing around the house all the time. I loved whichever singers came on TV — I was singing with all of them. I knew I loved singing early on. We had music going on in the house all the time, on my mom and dad's record player."
The budding singer entered a high school talent competition at 15 but didn't win. She got a second chance later though. "I ended up winning one when I was about 17," Davis says. "I was with a group called Jas, and we did a tune by the Jones Girls called 'I Close My Eyes.' We did it a cappella. I started it off a little too high, so the male vocalist singing the top note wasn't happy. When we got done, it was like, 'You started the song too high.' I was like, 'I'm sorry.' Then we were announced as the winner."
Jas would provide Davis with a launching pad to local success. "I was the only one in high school," she says. "That was a bunch of grown people who had heard me singing in a high school talent show. They called me two years later and asked if I'd like to join their group. My mom said it was OK, so I joined the group. We'd play the Pointer Sisters, the Jones Girls — a lot of female groups. I was sneaking into every cocktail lounge and wouldn't tell them my age. I wasn't drinking, so I wasn't going to get in trouble that way, but the guys told me not to mention my age. Everybody else was over 21."
When she left high school, Davis hooked up with a band called Lamonte Zodiac & the Love Signs (who later became the Chisel Brothers), first going to jam sessions and eventually getting asked to do gigs. "These guys would say that they don't do Top 40 or R&B," she says. "That's when I pulled out all of my mom's soul records. I became a blues singer that way. As you go through your experiences, you realize that we all get the blues. I was in love with it after that."
So that was that — Thornetta Davis the blues singer was born. However, her adoration for the blues didn't stop her wanting to cross over into other genres from time to time, and an on-the-surface odd collaboration with Big Chief provided her with an unconventional opportunity. 
Big Chief featured former Necros singer Barry Henssler and, visually, they were an imposing bunch. Musically, they merged jazz with hardcore punk and came out with something fascinating, though the masses never really took to it. The band was signed to Sub Pop Records during the grunge-boom, and Davis joined the band on the Mack Avenue Skullgame album in '93. Her soulful croon behind Henssler's grunts and roars created something very special.
"I loved working with those guys," Davis says. "I loved touring with them. I got a chance to rock out — that's when I was headbanging and wearing my flannel shirts. I'd get the sticks from the drummer and I'd be banging on the cymbals, flinging my hair around. I just enjoyed it so much. I could jump up and down with wild abandon. It felt so good to be a part of what was going on. It was very freeing."
Perhaps more surprising is the fact that Sub Pop signed Davis on for a solo deal, and put out her Shout Out to the Dusthuffer EP in '95 (with Big Chief repaying the favor and backing her), and the Sunday Morning Music album the following year with Big Chief again. 
Besides a live album (Covered Live at the Music Menu) and a Christmas album (Remember Love on Christmas Day), that has really been it for Davis on record. Davis would be the first to admit that she's not exactly prolific when it comes to studio work. And, to be fair, she doesn't play around town as much as she used to either. That makes a Thornetta Davis show all the more a treat.
"When I do play clubs, it's at places like the Harbor House," she says, referring to the place on Clinton near Greektown. "I don't have anything scheduled, but I'm doing a lot of festivals this summer including Arts Beats & Eats."
Even better, there's a new album on the way. "I'm going to go back to the studio because we just started recording," Davis says. "I hope to have the CD done and ready in the fall. Look for my CD to come out around November. I want to use all Detroit musicians. I want to represent Detroit. My mission is also to get the radio stations to play Detroit music. I believe that the music will help heal us. We need major healing in this city right now, and if we don't put our art and our music to work, I believe it will keep going down."
Thornetta Davis' career so far has been wonderfully diverse and storied. She has recorded with Bob Seger and Kid Rock, becoming the go-to soul voice for Detroit rockers in the process. But what has been her favorite experience so far? "That's hard to say. I've had so many great experiences," she says. 
The Calgary gig is still fresh: "People were just going off the buzz because they had never really heard me either. When we got done, people were telling us we were the best the whole weekend. That made me feel really good. 
"Performing with Bonnie Raitt was a great memory. She invited me onstage to sing with her. And there were the shows opening for Ray Charles and B.B. King at the Fox."
She pauses. "To perform at the Fox Theatre in my hometown, that was great."
Brett Callwood writes City Slang for Metro Times. Send comments to [email protected]