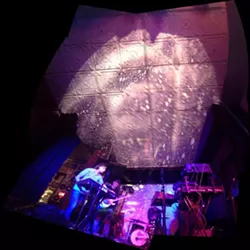 Multi-talented musician and producer Fred Thomas might not live in the Detroit metropolitan area any longer, but that doesn't mean that we can't regularly hear new releases he's played or worked on. In fact, he plays
a solo gig at the UFO Factory
this Thursday, May 19, with Stef, Minihorse and Dominic Coppola.
And then there's the deluxe, limited edition version of Hydropark's self-titled debut album. "After working on this thing for what feels like a small eternity, the debut album by Hydropark is finally available for streaming/download as well as pre-order of a super limited and really nicely packaged LP," Fred Thomas wrote the other day on his Facebook page.
"All synth, directionless feelings, tape delay demons and half-drunk soundtrack listening party energy, I'm really proud of this record and the work my homies Jason, Chad and Chuck put into its creation," he said. "Collaborating and hanging with them with Hydropark as a fantastic excuse has been a highlight of the last few years. Record release shows and a small tour coming soon. Thanks for listening!"
To be released in about a month, the LP will be limited to "only 300 copies made on army green wax with hand-stamped center labels and silkscreened covers on gold and silver reflective metallic foil," the group's Bandcamp page says. "A really beautiful object made with a lot of care and thought. Once these are gone, they are gone, so act while you can. Also be sure to note in your order if you prefer gold or silver!"
Have a listen to the entire thing for yourself via the Bandcamp link below, OK.