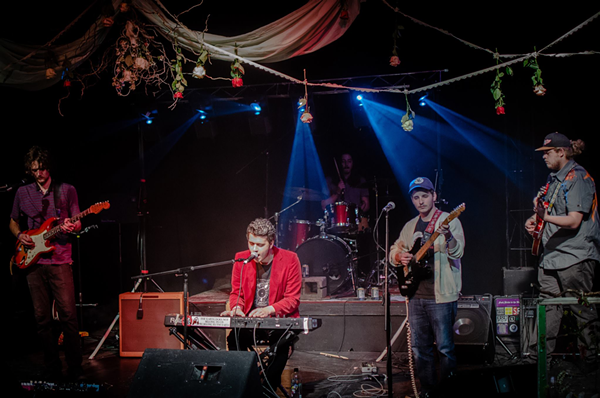 When tragedy strikes, it seems as though just about any band with more than three members will eventually reach its Arcade Fire Funeral phase. Such is the case for Detroit five-piece, Honeybabe, who are doing some major soul searching on "Everything Happens For A Reason."

Described as a "psychrockjazzpunk" outfit, Honeybabe is reeling with heavy shit; like the weight of life choices, loss, and unfavorable ends on the band's first single from its self-released sophomore record, In Living Memory (May 10).

"Everything Happens For A Reason" finds the band reaching into its collective knapsack of sad and sultry upbeat declarations, this time, abrasively calling out the song title in an attempt to cope and convince themselves that everything does, in fact, happen for a reason, while only half believing it.

In Living Memory will serve as a follow-up to 2014's full-length Creatures of Circumstance and 2016's EP, Velvet Gum. While "Everything Happens For A Reason" doesn't attempt to stray from the band's penchant for rotating vocals or its fuzzy lounge-act quality, it does turn up the volume, angst, while channeling some "Monster Mash" whimsy.

Honeybabe will celebrate their album release with a performance at the Loving Touch in Ferndale on Saturday, May 11.

Listen to the latest from Honeybabe below.


Get our top picks for the best events in Detroit every Thursday morning. Sign up for our events newsletter.