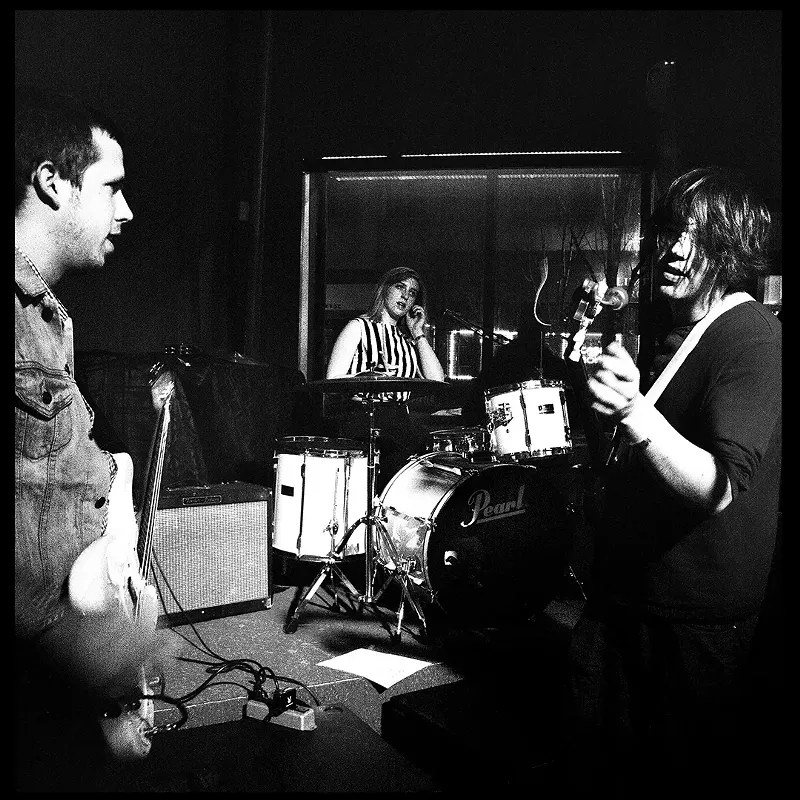 Detroit trio Deadbeat Beat has a penchant for forcing us out of our bleak day-t0-day bullshit, with heavy doses of sunshine and painfully real self-awareness.

Last year they made their contribution to the stalker pop genre with the big city, small town track "See You All The Time" (with a Baby Spice-spiced companion video) and the trio's "You Lift Me Up" shimmied its way to the top of Metro Times' best of 2017 list.

A follow-up to the band's sonic hair of the dog "Bar Talk" released earlier this year, Maria Nuccilli, Alex Glendening, and Zak Frieling are tipping their had to the drone-heavy psychedelic greats before them with their double-track "Tree, Grass & Stone" being released on 7-inch via Crystal Palace Records later this week.

For singer Alex Glendening, "Tree, Grass, & Stone" marks a new era of the band as they've bucked their own tried and true formula for one that allows the pair of songs to score some major air miles. The initial focus for Deadbeat Beat songs was on fast short songs, which eventually evolved into, as Glendening puts it, bloated songwriting.

"This song is kind of letting the air out of that period of songwriting," he says. "It's much sharper than other attempts at the long songs, consisting of a short pop kind of moment in the beginning, and then a free-form section at the end."

The plan to release a continuation track came from Frieling's affinity for 7-inch records that have a part 1 and part 2, which was in part inspired by the likes of "Red Moon" by Fugi, Television's "Marquee Moon," "Bad Girl" by Lee Moses" and "lots of James Brown and Funkadelic singles." Rather than release two separate tracks, Frieling and company liked the idea of expanding upon a song that has been serving as the band's closer for many of its live shows.

Recorded and engineered by Jeff Else and mastered by Fred Thomas, "Tree, Grass & Stone" cuts the cord on neat and tidy pop and, instead, offers two-sided, beer-spilling transcendence and is in immediate contention for Metro Times' best songs to make out to.

Deadbeat Beat will perform at 8 p.m. on Friday, Aug. 24 at Outer Limits Lounge; 5507 Caniff St., Hamtramck; 313-368-8192; outerlimitslounge.com; Tickets are $7.

Listen to Deadbeat Beat's latest below.


Get our top picks for the best events in Detroit every Thursday morning. Sign up for our events newsletter.