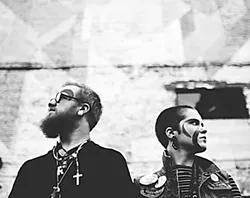 If you're a fan of TV crime dramas, then maybe you've seen USA's recent prime-time addition Covert Affairs. The show is decent enough, but, damn — that theme song's catchy, in'nit? Well, you can thank Clinton Township's Power for that. Back when the folk-flavored pop duo — composed of brother and sister Seth and Jax Anderson — were called Apple Tree and Tangerines, their then-publishing company, Black Unicorn Music, slipped Power's instantly hummable ditty "Can You Save Me" to the Covert Affair heads, who instantly fell for it. Not hard to see why. The song is brutally catchy with smart, interpretive lyrics. It wouldn't be much of a surprise if they became one of the more talked-about bands from Detroit.
The basement of the Clinton Township home the two share with their brother and his wife has walls lined with guitars and keyboards, while the gigantic Apple screen gives the room a deep monitor blue (which, given the band's nature, is no doubt full of digital recording software). Most of the instruments displayed were apparently acquired secondhand. "The most expensive thing in this room that we've purchased was these headphones," Seth says, wielding a weighty pair of cans. "Everything else is Salvation Army, hand-me-downs. We kinda built this record with hand-me-downs, really."
Both play guitar while Jax can pluck a mean banjo and Seth plays piano and keyboards.
All this talk of hand-me-downs is not to say that the performance royalties from Power's placed song on a national weekly TV show haven't been lofty. Hardly. This isn't a song in a show, this is the theme song.
"It's up there about as big as you can get as far as placements go," Seth says. "It's keeping us afloat."
The young duo (Jax is 20 and Seth is 23) has been writing together for a little more than a year, during which some 30 songs were written. The two condensed that mammoth load of songs into an EP entitled A, which they dropped back in August, principally online. They wrote and recorded the songs mostly within the four walls of their respective college dorm rooms (Jax attending Rochester College in Rochester Hills, and Seth attending Lee University in Cleveland, Tenn.). "We recorded it mainly by e-mailing back and forth," Jax says. "He does all the music. I do all the lyrics and melodies."
Jax comes from a history of folk bands, citing Joan Baez and Woody Guthrie as influences. She says her high school folk band is where the name Apple Tree and Tangerines originated — and why it didn't fit the band's new incarnation. "As we've progressed and as we've evolved, it just doesn't fit anymore," she says. "We feel that 'Power' really represents what we're trying to do as a band. We feel that there's power in numbers and that we're trying to start a movement of pop music, of good pop music that people will enjoy."
Before Power, Seth was a member of the St. Clair Shores-based group Love Arcade, which was signed to Atlantic during his tenure as bassist, and appeared on the cover of Metro Times. That group was led by Christian Berishaj, whose new band Christian TV is now signed to Motown.
"We did, I guess you'd call it, bubblegum pop," Seth says. "It was cool, not really my cup of tea. But, it was good for what it was. But, as far as styles and backgrounds, I've always done pop music, anything that's kinda Top 40, I guess you can say. I love it. I love that stuff. And then, her heavy influence in folk and indie music and all that kind of stuff. So, I think when we come together, it has a really awesome blend."
One thing about Seth is that whenever he needs a shot of inspiration, he'll turn to a specific composer who he insists on keeping a secret, most likely Ennio Morricone. "Whenever I need to get inspired, I'll put on a very special composer who does a lot of spaghetti western films, you know, that whole era of music. I'll listen to that and just instantly, within the first two songs, I'm ready to go. Something about it just switches it on."
See, in no way does Power consider the word "pop" a dirty word. Why should they? They craft gorgeously catchy songs. The stomping synths and soaring vocal delivery from Jax on "Billy the Kid" can suck you in. The song is, legitimately, one of the best pop songs this writer has heard all year, if not the best.
Softer cuts like "Lonelier Than I Should Be" could be called folk set to a pop beat — which sounds a hell of a lot better than it looks on paper. Every song on A hits with expertly juxtaposed pop mini-symphonies.
It's welcoming to see this sort of pop sophistication from a band in its infancy. Their first inner-city gig was at the Magic Stick in late September, though they had been playing suburban and out-of-state gigs since the beginning of the year.
Besides the sharp pop, the band sports a certain aesthetic sense that's its own, in many ways. It's not uncommon to see them perform decked out in cryptic, cool face paint, which they say sums up their pre-gig tension. "It's our way to symbolize going to war, in a sense," Seth says. "Because, I feel like, every show, you're on some battlefield. You've got to win them over. It's like you're going to war. How can we best describe that? Just throw on some warpaint and then go to battle."
Power plans to keep the gigging up and dropping releases. They're set to do Livestock '10 in Ooltewah, Tenn., soon and the CMJ Festival in New York later this month. They're planning to record a cover of Elton John's "Goodbye, Yellow Brick Road" ("We're kinda giving a new edge to it," they say) as well as an EP-length mixtape of songs coupled with songs of New York electronic duo Ratatat, due out free online.
And, of course, they're cashing the royalty checks and thinking big — a kind of, um, hippie utopian community.
"Looking into the future, we just would really like to build a community," Jax says. "Our main goal as a band is to be one of those bands like the Grateful Dead and like KISS, all those bands that, when people go to their shows, it's an experience and they're there to meet other people that tend to have to same kinds of interests as them because they're all of part of a community of people involved in what our band is all about. And to have that would be a dream. I don't even care how much money we make, I don't care how big we get, if we could have a following like that, it would be the best ever. I'd love it."
Power's Top 5 albums ever
Jax
• Joan Baez Blessed Are ...
• Tegan and Sara The Con
• Sufjan Stevens Sufjan Stevens Invites You To: Come on Feel the Illinois
• The White Stripes White Blood Cells
• ABBA Gold
Seth
• The Format Dog Problems
• Stevie Wonder Songs in the Key of Life
• Minnie Riperton Perfect Angel
• Ennio Morricone The Good, the Bad, and the Ugly
• Clipse Lord Willin'