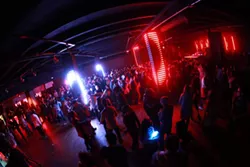 Populux just got in touch with us, they say this new Twitter account (which actually appears to be handling the whole issue pretty well) is fake and
not
in fact Populux. The wacky tech saga continues ...
Detroit techno nightclub Populux appears to be back on social media following a brief (one-week) hiatus after racist tweets (and re-tweets) from their old account stirred controversy and backlash.
For a super quick recap: Last Thursday, following the shooting of 12 Dallas police officers during a Black Lives Matter protest honoring the lives of Alton Sterling and Philando Castile, the Populux twitter account posted a derogatory tweet saying "#blameobama all you libtards caused these deaths. #dallasshooting #fuckblacklivesmatter" The tweet was removed shortly thereafter, but a second message — a retweet of a bigoted and hateful comment by divisive former congressman Joe Walsh — remained on the twitter page for hours.
While Populux maintains that their Twitter account was hacked, backlash against the venue gained traction. Acts, such as Chicago rapper Vic Mensa, pulled out of gigs and news spread that a protest was scheduled to take place in front of the Woodward Avenue club. In response, Populux announced last Friday evening that they would be shutting down for a bit. Their Twitter and Facebook profiles were promptly deleted. They announced that they were getting the FBI involved.
Well, looks like they're back and perhaps some lessons were learned? The new Twitter account @Populux_Detroit is busy posting messages in support of black lives (a demographic that makes up a big portion of their customers and performers) and reiterating the claim that they were hacked.
Hey, fam, we're still trying to figure out who hacked us, but we will be re-opening soon!

— Populux Detroit (@Populux_Detroit) July 13, 2016
Detroit! We want to thank you for sticking by us during this incident. We'll be throwing a free party for you in coming weeks! Stay tuned!

— Populux Detroit (@Populux_Detroit) July 13, 2016
Black lives matter!

— Populux Detroit (@Populux_Detroit) July 13, 2016
Detroit, we would like your feedback on our next steps toward fixing our mistakes. What can we do?

— Populux Detroit (@Populux_Detroit) July 13, 2016
Good night!

— Populux Detroit (@Populux_Detroit) July 14, 2016
When asked by Twitter users what was up with the new account and the sudden influx of messages, the account purporting to be Populux maintained the hack argument, but also appeared to be wagging their tail between their legs, acknowledging that they may not have done the best job handling the situation — hack or no hack.
@kissmeQuan / We were hacked, but have handled everything post-hack terribly.

— Populux Detroit (@Populux_Detroit) July 14, 2016
Notably Populux's new Twitter account began following Blac Magazine, whose editor-in-chief Aaron Foley
wrote an editorial
on the whole saga earlier this week, criticizing the new business for packing it in when the going got tough (Foley also isn't buying the whole hack nonsense: "I highly doubt anyone would want to hack the Twitter account of a random EDM club," he wrote. "I further doubt the FBI's Detroit Division – remember, these are the same investigators that lobbied, and successfully prosecuted, charges against former Detroit Mayor Kwame Kilpatrick, cancer-patient scam artist Farid Fata, and several corrupt Detroit Public Schools officials – would take the time to investigate a random EDM club's Twitter account.").